Make this Delicious Halloween Snack Mix
Try this Halloween Snack Mix and other delicious goodies! Life can dish out some unexpected turns, so I like to keep it delicious and easy! I never know what may happen. I also have had a little bit of a challenge getting into to the season. My husband recently lost his lovely mom and a few weeks later, I lost one of the loves of my life, my little, 17-year-old cat, Kiki.
So, I had really to scramble to get my Halloween party going and chose my theme in honor of my lovely Kiki, because my decorations are all black cats, I hope that you love checking it out and have fun with it like me and the kids! Let me know if you had a chance to give any of the recipes a try also or what other things that you were inspired to create!
Halloween Party Snack Recipes
Ghastly Baguette Pizzas
These simple little pizzas are made with sliced baguette topped with pizza sauce and topped with grated cheese and veggies. So easy that it's spooky! You can use a gluten free baguette if desired also. Purchase pizza sauce without onion, garlic or mushroom to keep this recipe low fodmap and use gluten free bread.
Makes about 24 mini pizzas
1 thin baguette sliced into 1/2 inch slices (gluten free if desired)
1 cup grated cheese
Sliced red bell peppers for the mouth
Small can of sliced black olives
1 can pizza sauce
Preheat the oven to 375 degrees. Place baguette slices on a cookie sheet and brush thinly with sauce. Top with cheese and made a ghastly face with two olives and a bell pepper for the mouth. Bake until cheese is melted. These little pizza slices can easily be reheated in the oven for a few minutes so you could be eating spooky food all week!
Pumpkin Truffle Lollipops
These pumpkin lollipops are moist and creamy inside and my Halloween younger guests just loved them. I drizzled them generously with melted semi-sweet chocolate chips. They would make a great fall dessert all season! These lollipops are gluten free! I think letting these lollipops set a day makes them even more moist and creamy! Portions are key to this recipe when on the elimination phase of the low fodmap diet, although pumpkin, the rice cereal, coconut, maple syrup are low in fodmap, only 1/4 of a date and 2 tablespoons of pecans are considered low fodmap portion so stick with 2 lollipops per day.
Makes around 30 lollipops
1 1/2 cups pumpkin puree
1 cup dates
1 cup pecans
1//2 cup fine coconut flakes
1 tablespoon Earth Balance margarine (or butter)
1 teaspoon vanilla
1/2 teaspoon salt
1 tablespoon maple syrup
2 cups rice crisp cereal (I used Erewhon Crispy Brown Rice Cereal
Drizzle with melted semi sweet chocolate chips
In a food processor, process pecans, dates, and tub margarine until smooth. Add these ingredients to a bowl and everything else except the chocolate chips. Roll into 1 inch diameter balls. Add mini shish kebob stick to serve or can even use a lollipop stick. drizzle melted chocolate over the lollipops.
Spicy Popcorn Snack Mix
Popcorn can be used in so many creative snack ideas. I love the savory options but you can try sweet combinations also. I used gluten free pretzels so this snack is gluten free. You can also skip the garlic powder and make sure your chili powder is free of onion and garlic powder for a low fodmap Halloween treat!
3 cups popcorn
2 cups gluten free pretzels
3 ounces grated parmesan cheese
1/4 cup mixed nuts
1/4 cup pumpkin seeds
1/4 cup dried cranberries
1/2 tablespoons chili powder
1 teaspoon garlic power
1/2 teaspoon salt
1/8 cup canola oil
Preheat oven to 3e degrees. In a large bowl, add popcorn, pretzels, nuts, seeds, oil and seasoning. Toss together and bake about 15 minutes. Toss in the cranberries after baking. Allow to cool and serve. Or can also store for two or three days.
And I just had to add one more thing last minute before my party guests arrived! Here are some Halloween Cat Cookies with Blueberry Icing inspired from The Foodie Dietitian Halloween Bat Cookies that I saw on the Wild Blueberry Blog
I used a little melted chocolate for the nose & eyes.
Here are a few pictures from our celebration!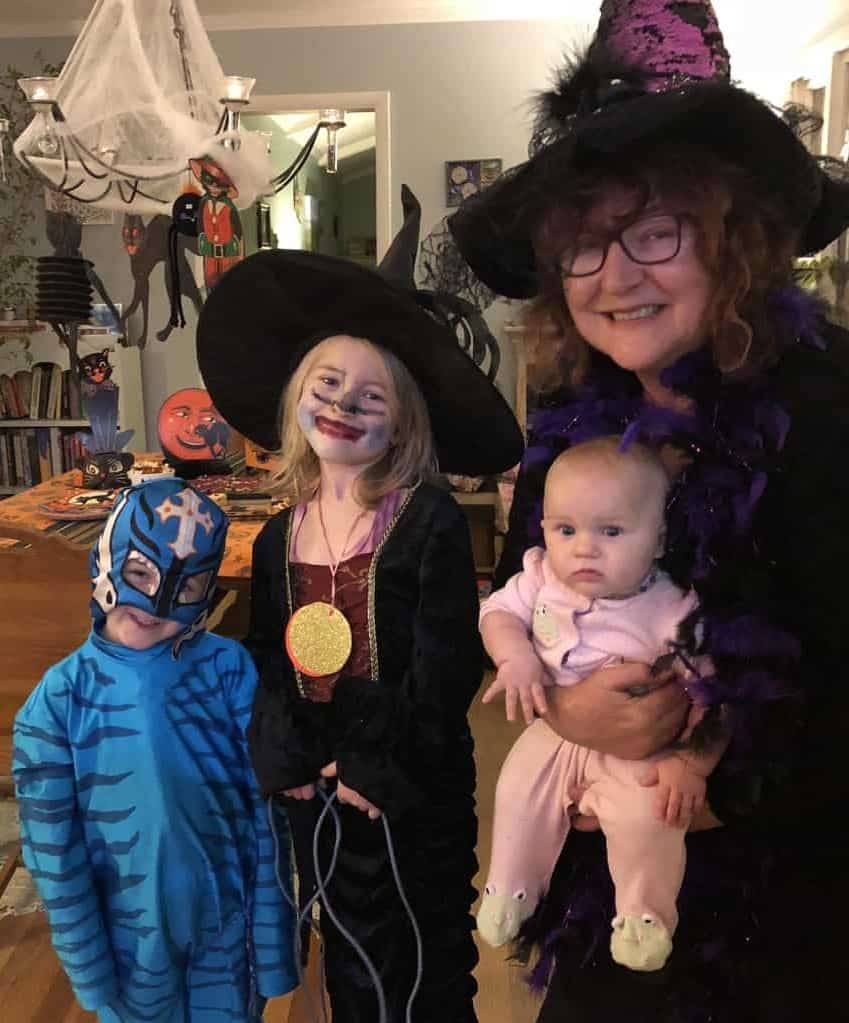 Halloween Beverage Ideas:
If you are looking for some tasty Halloween party beverages to go with this party menu try some of these punch ideas and also some of the past Halloween themed menus for lots of additional treats.
Make a Halloween ice hand to go in the Wild Blueberry Sangria by freezing water in a surgical glove and removing it just before serving!
Cider is a great fall beverage and to make it spookier, add a few gummy worms or bugs. Or you can peel grapes in there for the eyeballs!
Enjoy Some Halloween Snack Mix
Hope that you enjoy these delicious Halloween treats! And get a chance to make them especially the easy Halloween snack mix.
As a registered dietitian nutritionist living in Asheville, I love to share new ideas with clients, family and friends to make lives easier and tastier. Would love to hear what treats that you like to serve, and I hope that you stop by again soon! Here is a picture of my lovely cat, Kiki! She would love the decorations in her honor!
If you are looking for delicious brunch recipes the day after your Halloween celebration, you may enjoy these 10 Vegetarian Brunch Recipes for the Holidays – Vine Ripe Nutrition.