Apple Cider Punch
Let's make some apple cider punch for the holidays. Over the last 15 years the average calorie amount that adults have from their beverage intake has increased by 200 calories! That amounts to almost half of a pound gained per week! During the holidays there are many tasty drinks to choose from whether it be the non-alcoholic such as cider, hot chocolate, soda, or egg nog to the alcoholic choices such as wine, beer or cocktails.
Besides the unwanted calories that alcohol contains. It also can contribute to health and interpersonal complications. Health experts suggest no more than one alcoholic beverage for women per day and no more than two for men. We all know that drinking and driving is a serious issue, so if you do go over your limit, stay where you are and don't drive. Find a designated driver in place or take a cab or uber home.
Here are a few ideas:
If you don't want to deprive yourself of your favorite holiday beverage, have less and work in the calories. Spend more time exercising off the extra calories. Sip and savor! Switch to water when needed. Keep in mind that many drink may have an additional 300-400 calories.

Stick with low calorie beverages when you attend holiday parties. Sparkling water, ginger ale, diet soda, a small serving of juice or just plain water can quench your thirst. Add a garnish to make it more festive-see tip ideas below.

Hosting a holiday party? You can serve delicious low-calorie beverages. Start out with attractive glass ware and anything can taste better. Have a variety of low-calorie garnishes such as lemon, lime or orange twists, fresh peppermint and cinnamon sticks. My friend, Bobbi uses frozen berries, peaches and citrus slices instead of ice cubes in her punch bowl.

You can make hot chocolate with skim milk and chocolate syrup. Top with low fat whip cream or a marshmallow with a few chocolate shavings. Egg nog can also be made with low fat milk with positive results. If desired, make a small taste test to try it out and see you think to see if you need to adjust. Here is a recipe for low fat egg nog:
Healthy Nog
4 beaten eggs
1/3 cup sugar
1 pint plus one cup low fat milk
1 teaspoon nutmeg
1 teaspoon vanilla or rum extract
Heat milk until scalded. Add eggs and cook until slightly thickened. Add extract. Top with nutmeg. Makes about 10 one half cup servings.
Apple Cider Punch Recipe
Apple Cider Punch/Non-Alcoholic Sangria
1/2 gallon local apple cider
Sparkling seltzer, sparkling water or wine
1 chopped apple
1/2 cup chopped cranberries
cinnamon sticks
Add the ingredients to a punch bowl and enjoy!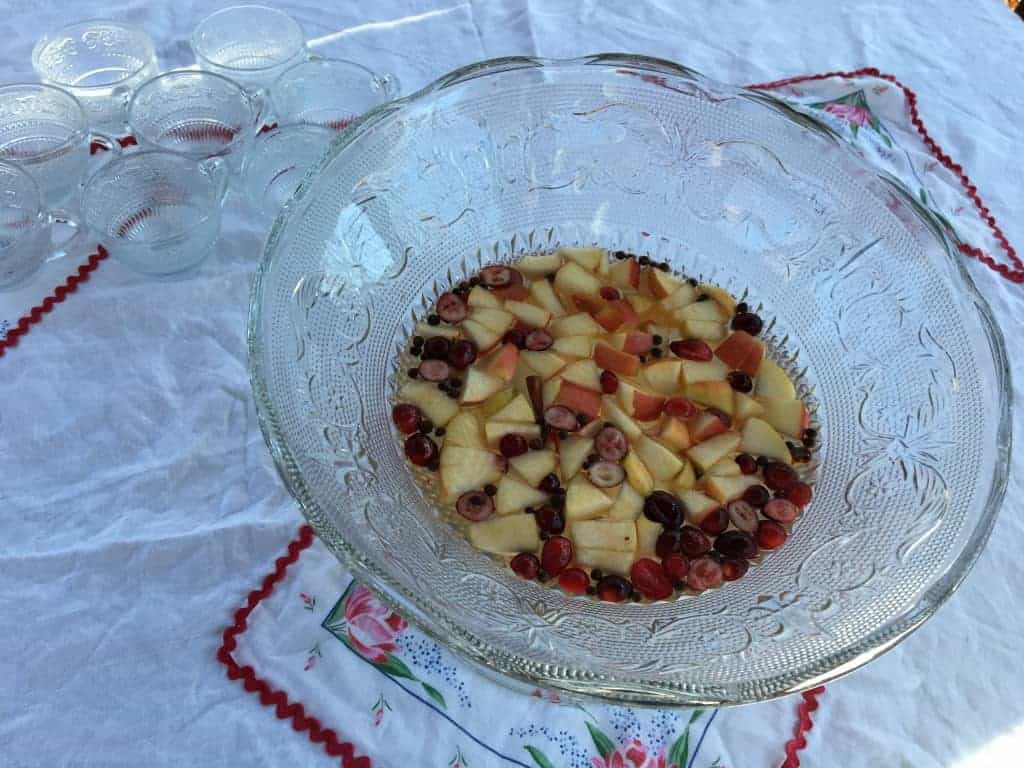 Make You Some Apple Cider Punch
I hope that you will make some apple cider punch. And try some of these tips can help you have fun without overdoing it! No one wants to feel terrible on the first day of the new year!
As a registered dietitian nutritionist in Asheville, North Carolina, I love to help others feel healthier and live happier lives. You can read more about me on my Bio page! Happy, Healthy new year to you!
You may also like some of these breakfast ideas10 Vegetarian Brunch Recipes for the Holidays – Vine Ripe Nutrition.