Sign Up for Your Personal Nutrition Session or Wellness Package
Are You Struggling to Make Healthy Meals During Stressful Times?
Sign up to get your Fresh Approach to Meal Planning Guide!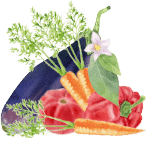 Receive a healthy meal plan with grocery list! This includes a week of easy & delicious menu ideas! You will also receive a meal planning & grocery store template along with a few expert tips!
Let's Work Together to Transform Your Health!
Registered Dietitian Nutritionist in Asheville
Welcome to Vine Ripe Nutrition!
I'm Denise, a registered dietitian nutritionist in Asheville, NC with over 20 years of experience helping people just like you learn how to use your food choices to transform your quality of life!
What does a Nutritionist Do?
As your personal dietitian, I can share tools, meal-planning, and recipe ideas to help integrate healthy eating habits into your daily routine.
There is no one-size-fits all when it comes to choosing the bedst foods or meal plan, so together we will build your personalized nutritional approach based on your goals, detailed assessments and existing health concerns!
Asheville Nutrition & Wellness Packages
Sign up for one of my three Fresh Approach to Eating Programs! These programs include your choice of Digestive Wellness, a Women's Nutrition Program and a Plant-based Eating plans. These three-visit programs help clients feel better and get back living their lives at their fullest! Read more here!
Do You Have Challenges to Healthy Eating?
If you are wondering if your nutrition knowledge is based on scientific facts or fake news…….
I can help you make healthy eating easier!
Are you overwhelmed with the changes needed to help you feel your best?
I have tools you can use and easy strategies!
Do you often get frustrated and lose your momentum to stick with your healthy routine?
Let's talk about ways to help you feel inspired to keep going!
I am here to support and encourage you to reach your goals and get back doing what you love to do!
Take Charge of Your Health
Don't delay taking care of you! Get started now by giving me a call or e-mail to schedule your personalized nutrition session. We can work together to create a customized nutrition package just for you!
Telehealth services are now available!
Not quite ready to jump right in but want to know more? You can also  sign up for a free 15 minute Get to Know Me call!
In addition, check out my recipes & information on living a healthier lifestyle on the Vine Ripe Nutrition Blog.
If you want to know more about what happens during our session and what is the difference between a registered dietitian nutritionist and nutritionist, I will be posting a page soon! Stay tuned!
My Areas of Nutrition Expertise Include:
Women's Health
Improved Gut Health
Low Fodmap Meal Plans
Plant-based eating
Time for a Change in Seasons
Fall is in the air! And our menus are changing to something warm like soups & casseroles. It is also a great time to take time to make sure that you are getting everything you need to stay healthy during the cooler weather, I can help support you if you need it!
Payments
As your registered dietitian and nutritionist in Asheville, I am a preferred provider for Blue Cross, Blue Shield of North Carolina and Federal Plans as well as the NC State Employee Health Plan. If you have one of these plans as your primary insurance, it may cover for your visits.
This includes telehealth services!
If for any reason, your insurance does not cover services, I also offer special discounted prepaid packages.
Since working with Denise, I feel more empowered around food than I have in a long time!
Denise inspires me to make healthy changes and helps me continue to evolve. Thank you for your encouragement!