Citizen Times | Food 'Gurus' Under Fire
Interview with local newspaper about how to be able to know the difference between nutrition fact or fiction.
WNC Magazine Mountain Living in Western North Carolina
What's Cookin'
Written By:
Three local authors pass the taste test with new titles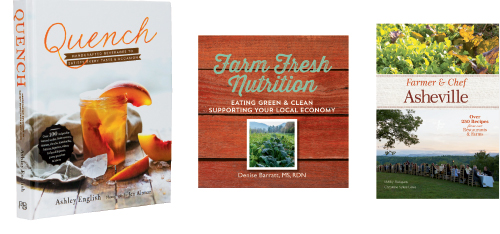 Farm Fresh Nutrition
Denise Barratt | self published (2014)
Breaking away from the heavily processed, chemically saturated fare currently dominating our nation's food system is crucial for our health and longevity. For those looking to enrich their diets with fresh, locally produced vittles, Denise Barratt's
Farm Fresh Nutrition
is a great place to start, as well as an excellent guide to Western North Carolina's thriving organic industry. The Asheville author first shares a story detailing her own relationship with food and evolution toward cleaner eating before revealing alarming concerns with our nation's food supply, and then stresses the importance of purchasing and consuming locally grown produce. From there, we meet a number of chefs, farmers, and other individuals who support our region's organic market and economy. Also included are a number of seasonal recipes that will allow readers to make the most of locally produced ingredients……. To read more check out
WNC Magazine 
Blog talk radio
Denise Barratt on Hitting the Festivals To Move Books With Jennifer Perry
Asheville Dietitian Denise Barratt talks about her book Farm Fresh Nutrition.
Listen to the radio show
Food & Culinary Professionals eat right. Academy of Nutrition and Dietetics
Tastings Eat, Drink, Savor, and Learn… Winter 2015
  Denise Barratt, RDN has completed a book, Farm Fresh Nutrition. The book provides menu plans and recipes to help consumer eat more local. She also created a new project, Vine Ripe Home Grown Nutrition that provides cooking classes to help people connect more with seasonal foods, farm tours and farmers' market tours. To learn more about Food & Culinary Professionals
News 13 WLOS Western North Carolina
WLOS reporters speak with Asheville registered dietitian nutritionist Denise Barratt with Vine Ripe Nutrition at both the studio and in her kitchen!