Make some Halloween Popcorn Balls
Try making some Halloween popcorn balls! Some of the things that the little goblins are eating can be downright scary! When having some fun Halloween festivities, tasty can be wholesome and fun without all those extra things we don't need! I hope that these ideas will get your creative juices flowing to make some spooky, healthy treats for your party! Try these or cook up your own! Set your table, get your pumpkins and costumes ready and start celebrating!
I used my farmers market to get local ingredients like apples, popcorn, pumpkins and pecans. This is a great time of year to get fall foods!
Scary Halloween Party Menu
Ghostly Good Apple Dippers with Toppings
Spooky Popcorn Balls
Warm Apple Cider
Recipes for Halloween Popcorn Balls, Apple Dippers with Toppings and Cider
Ghostly Good Apple Dippers with Toppings
Last year, I had lots of fun attending a fall celebration with my grandchildren which included lots of fun things to do. One of the funnest things that my granddaughter did was dipping a slice of apple on a stick in chocolate and caramel then decorate with toppings. This was my inspiration for the center piece of the party! Make them ahead or let the goblins make them. It is much easier than bobbing for apples and more dry too!
1 cup semi-sweet chocolate chips
1 tablespoon milk (dairy or plant milk)
1-2 apples sliced in 1/2 inch slices
Bamboo skewers, I used the long ones
Toppings I used:
Granola
Shredded coconut
Chopped pecans
Sliced Pecans
Jar of caramel (if desired)
Thread the apple slices in a bamboo skewer. On low heat melt chocolate chips on low heat with 1 tablespoon of milk. Let it melt, stirring constantly so chocolate does not melt (you can also use a double boiler).
If you want to make this an activity for your trick or treat guests, take individual plates and add the threaded apples. Lightly drizzle caramel and warm chocolate on the platters and let children dip their own on their plate and let them add their own toppings. This makes a fun sticky mess!
I chose to dip my apples ahead of time and decorate them in my toppings. This works well too and children can pick their own and put on their plates. I did not use the caramel. After dipping in the chocolate, I placed the chocolate apples on waxed paper then decorated. I then put in a painted flower pot along with the straws for the apple cider to make a fun center piece.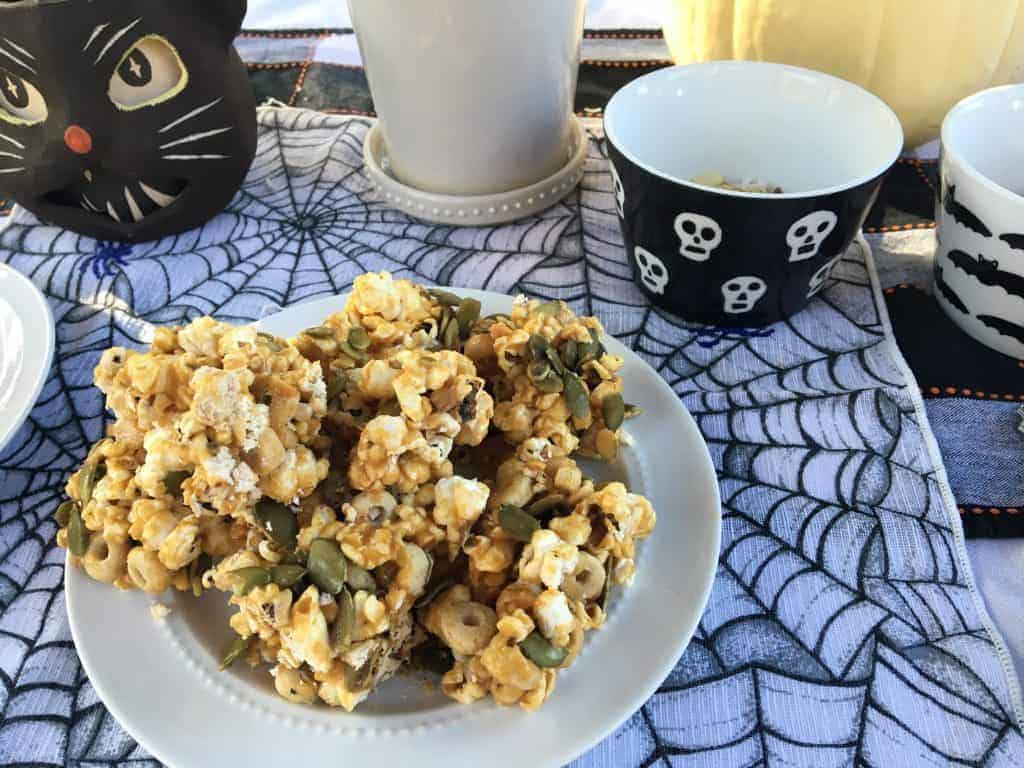 Spooky Popcorn Balls
These Halloween Popcorn balls contain healthy ingredients and are held together with a maple, peanut butter caramel that don't stick to your teeth!
6 cups popped popcorn
1/2 cup oat ring cereal
1/2 cup pumpkin seeds
1/2 cup maple syrup
1 tablespoon tub margarine, like Smart Balance
1/2 cup natural peanut butter, with the oil to the top
1/2 teaspoon baking soda
8 inch by 8 inch cake pan
Grease the cake pan. In a large bowl mix the popcorn, oat ring cereal and pumpkin seeds. You can slightly change up these ingredients but have no more than 7 cups total dry ingredients. In a medium sauce pan, add maple syrup with 1 tablespoon of tub margarine.
Cook on medium low for about 5 minutes allowing it to lightly boil, turning it down when it starts to boil. Add peanut butter and let it boil for about 1 minute longer. Take off heat and add the baking soda. With a spatula slowly add the maple syrup mixture to the popcorn and stir well until it mixes in well.
Allow to slightly cool and gently press the popcorn mixture in the cake pan. Allow to chill in the cake pan in the refrigerator. After it cools for at least 30 minutes, cut into bars. If for some reason, your bars crumble, serve in a bowl as caramel corn. It is great both ways and it is not sticky to your teeth!
Enjoy Your Halloween Popcorn Balls and Other Party Snacks
I hope that you and your family and friends love these Halloween treats as much as mine do! As a registered dietitian nutritionist in Asheville, I love to share delicious and healthy treats that add enjoyment to the festivities. You can read a little bit more about me here! You can also check out some of my other Halloween Treat Ideas!