Vegetarian Cookout Recipes
I love a summer celebration out in our yard and I want to share some of my favorite vegetarian cookout recipes and menu ideas. Most of us think only about meat on the grill for a barbecue and that makes me so excited to share with you these delicious vegetarian grill recipes.
If you have been spending more time at home and less time going out, you may want to find some new and create vegetarian cookout recipes!
Why Want More Vegetarian BBQ Ideas for Grilling?
Here are some great reasons to plan more vegetarian cookout recipes as part of your BBQ menu rotation!
You may have guests come to your BBQ who eat vegetarian and ad a result, you want to make them feel welcome and brilliant with your knowledge of what vegetarian cookout recipes that you can prepare on your grill!
In addition, there is a lot more research showing the benefits to eating a plant-based diet. If you want to know more this, check out: https://vineripenutrition.com/create-a-plant-based-diet-you-actually-love/
Vegetables and fruits prepared on the grill are delicious and if you aren't preparing some when you light up that grill, you are missing an abundance of both flavor and nutrition.
Charred meat may have its own health risks. Check out the National Cancer Institute's Chemicals in Meat Cooked at High Temperature and Cancer Risk https://www.cancer.gov/about-cancer/causes-prevention/risk/diet/cooked-meats-fact-sheet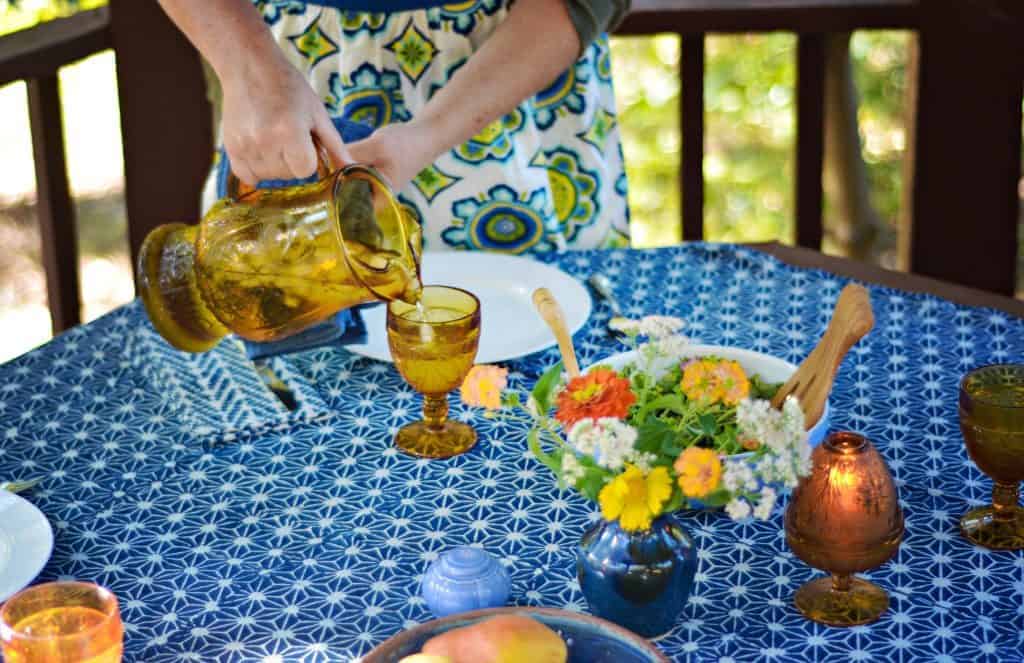 Cooking More at Home More Important than Ever
This summer I am going to plan and enjoy "Summering at Home". For instance, I want to explore new recipes and create an atmosphere where I can relax and enjoy the pleasures of being at home.
Here are a few great reasons:
I can eat healthier and more economical at home than I can out most of the time. And it can be prepared exactly how I want.
Learning to prepare our food and not only relying on others is an important life skill that we all need.
It is fun to create an inviting atmosphere in my own space. Above all, it can be relaxing and enjoyable. For instance, try making some new "tablescapes" and enticing ways to serve food. (In addition, finding new books with creative outlets like gardening and sewing, visiting family and friends via phone, text and online.) Have you ever had a dinner party or sipped a glass of wine or a fresh fruit mocktail with friends virtually even when you are far away? It can be fun.
Furthermore, it is fun to discover new things to keep things fresh, new and amazing including new recipes.
Vegetarian Cookout Recipes and Menu Ideas
Hope you love these three themed vegetarian BBQ ideas and that you make them throughout the summer. The recipes are included below!
Pizza Party on the Grill Menu
Grilled (or Oven Roasted) Okra Fries
Tomato, Pesto and Arugula Pizza
Strawberry Sherbet
Orange Missouri Mules
Summer Fiesta on the Grill
Spinach Artichoke Nachos
Sweet Potato Squash Corn and Black Bean Tacos
Pico de Gallo and Fixings
Grilled Tofu Fajitas
Grilled Fruit S'mores
Wild Blueberry Sangria
Old Fashioned Southern Barbecue With a Vegetarian Twist
Pimento Cheese Pinwheels
Barbecue Tempeh Open-Faced Sandwich with Slaw
Southwestern Potato Salad
Strawberry Rhubarb Crisp
Lavender Blueberry Lemonade
Vegetarian BBQ Recipes
Finally, here are the vegetarian cookout recipes for all the menu ideas that I shared!
Here are some Summer Pizza Party Ideas for the Grill recipes.
Grilled (or Oven Roasted) Okra Fries
Although okra fries are not on a grilled pizza, they are a great appetizer to have before the pizzas are ready.
If you have never made okra fries, you are missing out on something delicious to make this summer. To grill or roast in your oven?
So, if you don't want to use your oven in the summer, adapt my recipe and make on the grill. But if your grill space is a premium and you have two cooks one inside cooking the fries and doing the essential behind the scenes and a chef at the grill give them a break and bring them out some okra fries. Check out my recipe in my blog post on okra below with Chris Smith.
The two dips to serve with the okra fries are also delicious! To grill the fries, here is some nice directions how http://www.myvegtableblog.com/inspiration/okra-roasted-tomato-stew/
Grilled Pizza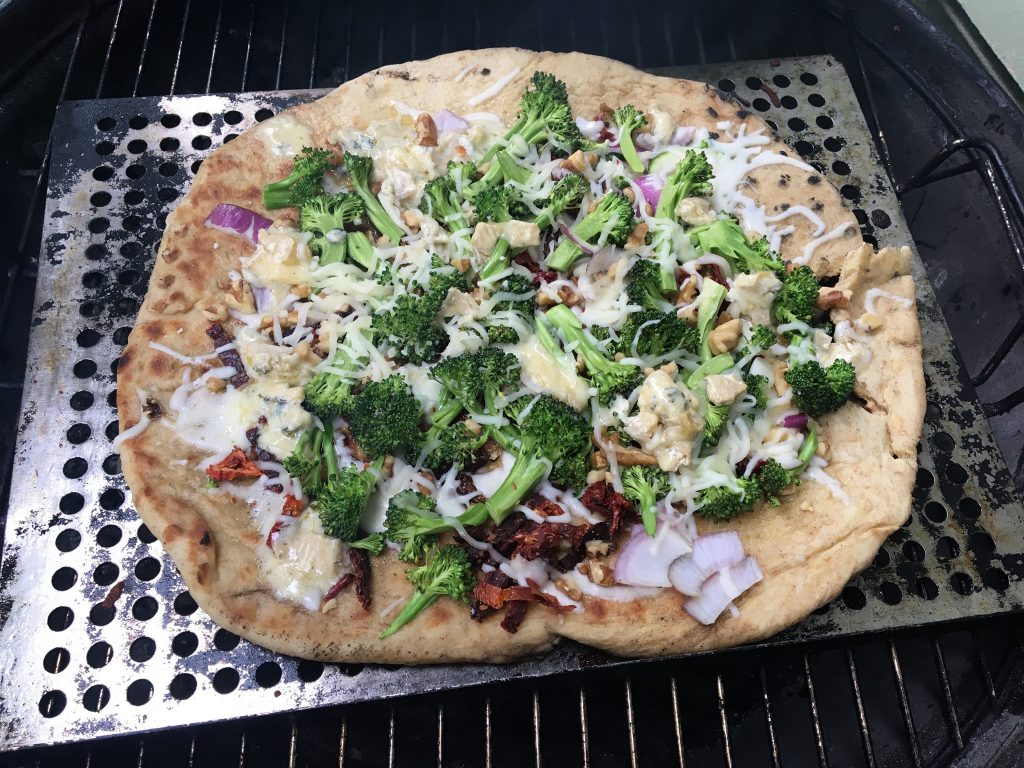 As an alternative to the Tomato, Pesto and Arugula Pizza, try chopped broccoli, walnuts and sundried tomatoes and red onion. (use green onion and adapt ingredients to your food tolerances with IBS)
Tomato, Pesto and Arugula Pizza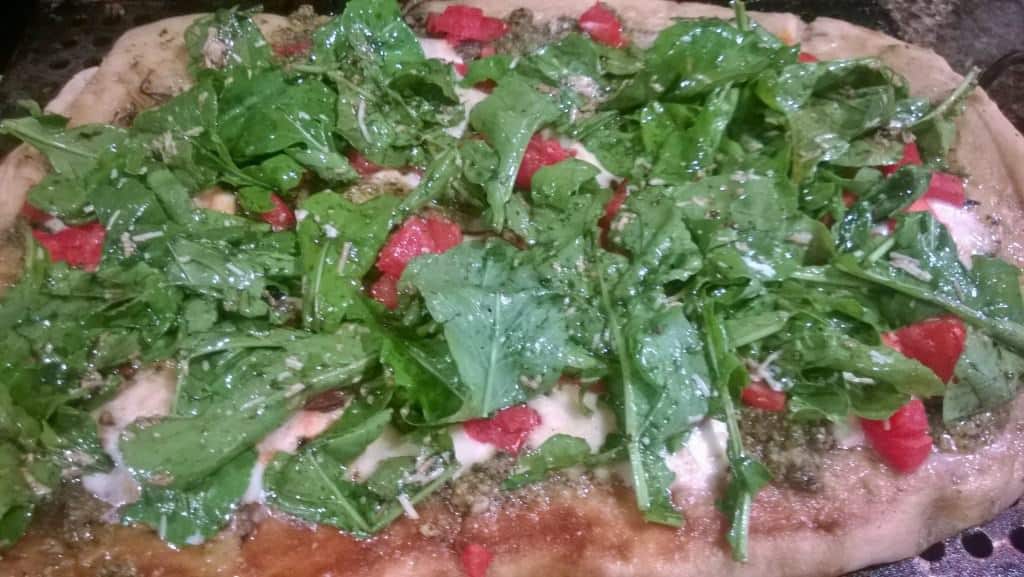 Pizza Crust
The first thing you do is to make the pizza crust, my husband has perfected the pizza crust and I am sharing his secret recipe from my book Farm Fresh Nutrition This book has several really good pizza topping ideas that you will want to have!
To Grill Pizza Crust
Make pizza crust according to recipe and allow it to rise for at least 15 minutes.
Make sure that you have all the toppings ready and near the grill.
Toss or Roll it out and lay on a pizza pan that has parchment or wax paper.
We have a pizza wok that we add the crust on directly on the grill. If you don't have one, here is one that would work well for you Barbeque Grill Wok , grease it well before adding pizza crust.
Heat barbeque whether gas grill or charcoal. If you are using charcoal, make sure the grill is medium heat not too hot or you will burn the pizza crust.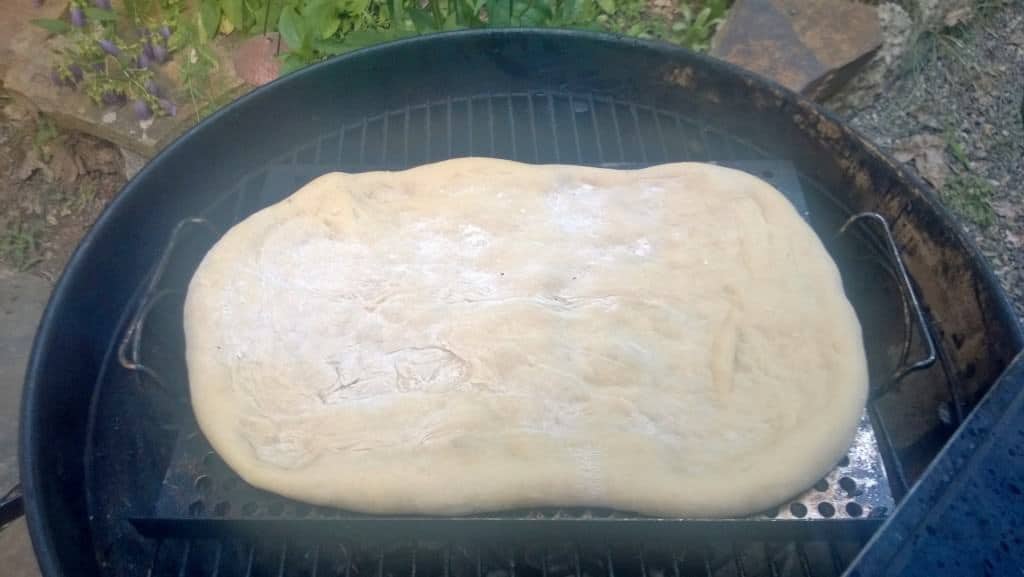 Grilled Pizza Directions Continued
Place the crust on the grill and shut the lid.
Allow it to cook for a few minutes.
Use a spatula to check and see if the crust is slightly brown.
Take to spatulas and take care to flip it over.
Add toppings of your choice and let them cook over the grill.
For this pizza, I used homemade 1/4-1/3 cup pesto sauce, 1 medium chopped vine ripe tomato, 1/2 cup chopped onions, 1 bunch garden arugula and large ball fresh mozzarella cheese.
I add the arugula as a salad on top of the pizza at the very end just before serving. I toss it with 1/2 squeezed lemon, 1/4 cup olive oil, salt, pepper to taste and 1-2 tablespoon grated Parmesan cheese.
This sherbet should be one of your delicious recipes for desserts. No ice cream maker is needed to make this tasty recipe! Just blend, freeze, serve! It tastes especially delicious in my grandmother's dessert dishes. Try making with other berries and peaches depending on the seasons! I made from local strawberries in my freezer!
Strawberry Sherbet
2 cups strawberries (The recipe works best with slightly frozen or thawed berries. I used the last of my frozen berries from last year)
1/2 cup sugar
1/2 cup low fat milk
2 cups Greek yogurt
1 teaspoon vanilla
1 pinch of salt, optional
Add strawberries to the blender and puree.
Add sugar, vanilla, pinch of salt and Greek yogurt and mix well.
Place in a shallow bowl and let freeze until firm.
Take an ice cream scoop and scoop it up into your favorite dessert bowl. Top with a local, fresh berry! This same recipe would make some great popsicles too. Makes 8 servings, 1/2 cup each.
Orange Missouri Mules
These ginger beer and fresh orange juice mocktails are refreshing and will knock your socks off! … Continue reading
Southwestern Menu on the Grill
Spinach Artichoke Nachos
Sweet Potato, Summer Squash, Corn and Bean Tacos
This recipe is a farm to table feast! You can change up this recipe depending on what is in season. It would be great to substitute tomato or eggplant! These vegetables were prepared on the grill but on a rainy or cold day, you can saute or roast them!
Makes 4 servings
1 medium sweet potato, peeled and cubed
1 small onion, peeled and cubed (can use green onion if following low fodmap diet)
1 zucchini, peeled and cubed
1 yellow squash peeled and cubed
1 corn on cob, husked but left on cob (corn is not low fodmap)
1 can of black beans, rinsed and drained (use garbanzo beans or lentils if following low fodmap)
Enough olive oil to coat vegetables to grill
1 clove of garlic minced (skip if following low fodmap)
1 teaspoon freshly ground cumin
1 teaspoon chili powder (choose kind without onion or garlic if following low fodmap)
Salt and pepper to taste
Lime juice if desired
1 pack of corn tortillas
Barbeque Grill Wok
Heat the barbeque grill. Get vegetables ready along with pico de gallo and taco fixins. Place vegetables in separate bowls and toss them lightly in oil. Begin grilling with sweet potatoes, add them to the wok and let them get slightly soft and then add onions. Place corn on the grill, turning every few minutes.
Toss onions and the sweet potatoes around gently until onions begin to caramelize. Add squash, seasonings and garlic. Cook until the squash is slightly soft. Take off grill and place in a large bowl. Take cooled corn off the cob and add it to the bowl along with the drained beans.
Heat tortillas lightly in microwave or on grill. Add warm tortillas to plates then add grilled vegetables, fixins and pico de gallo (see recipe below).
Pico de Gallo
1 medium to large tomato, chopped
1/2 medium onion, chopped (substitute green onion if following low fodmap)
1/2 cup chopped cilantro
1 clove garlic minced (skip if on the low fodmap diet or use garlic oil)
1/2-1 chopped jalapeno depending on heat tolerance
1 lime, squeezed
Salt and pepper to taste
Mix all the ingredients in bowl and mix well. Best in able to sit at least 30 minutes or an hour.
Taco and Fajita Fixings
Toppings that went well with these tacos included cilantro, cabbage, cheese and avocado.
Tofu Fajitas on the Grill
Try using tofu, tempeh or another protein alternative like plant meat extra firm sliced into ¼ inch slices, cutting it along the wide part of the block instead of slicing the long ways
Juice from one lime
1 teaspoon ground cumin
1 teaspoon chili powder (if following low fodmap use one without the onions or garlic).
½ teaspoon salt
¼ teaspoon pepper
Sliced green and red peppers (stick with 1/2 cup per person if have IBS)
One onion sliced (or substitute the greens of scallions to make it low in oligios)
1 small zucchini or yellow pepper or add them both
1 clove garlic minced (or use garlic oil if you are sensitive to the garlic)
Olive oil
Fixins: chopped tomatoes, chopped avocados or guacamole, shredded cheese and lettuce (if you are sensitive to the polyols in avocado, use about an 1/8 of one)
Light up the barbeque grill and get it ready. Toss all vegetables in a small amount of oil in a large bowl. In a separate bowl, mix lime juice, 1 tablespoon of olive oil, cumin, chili powder, salt and pepper and marinate tofu in the mixture. In a wok made for the barbeque grill or cast iron skillet, begin to cook vegetables over the fire until they begin to brown and caramelize.
Add the tofu and cook until slightly crisp and brown.
Pour remaining marinade over the top and let the flavor go through. Take off the vegetable mixture off the grill and serve in warmed tortillas with all the fixings.
You can add lots of healthy vegetables to your fajitas that taste great!
Grilled Fruit on the Grill
Grilled Fruit S'mores
BBQ Fruit Skewers Who doesn't love a s'more in the summer? But I have to tell you, the marshmallows are just gooey and that sticky sugar gets on my hands and face. Some people may love the toasted marshmallow the best but the best part of the s'more for me is the melted chocolate. The … Continue reading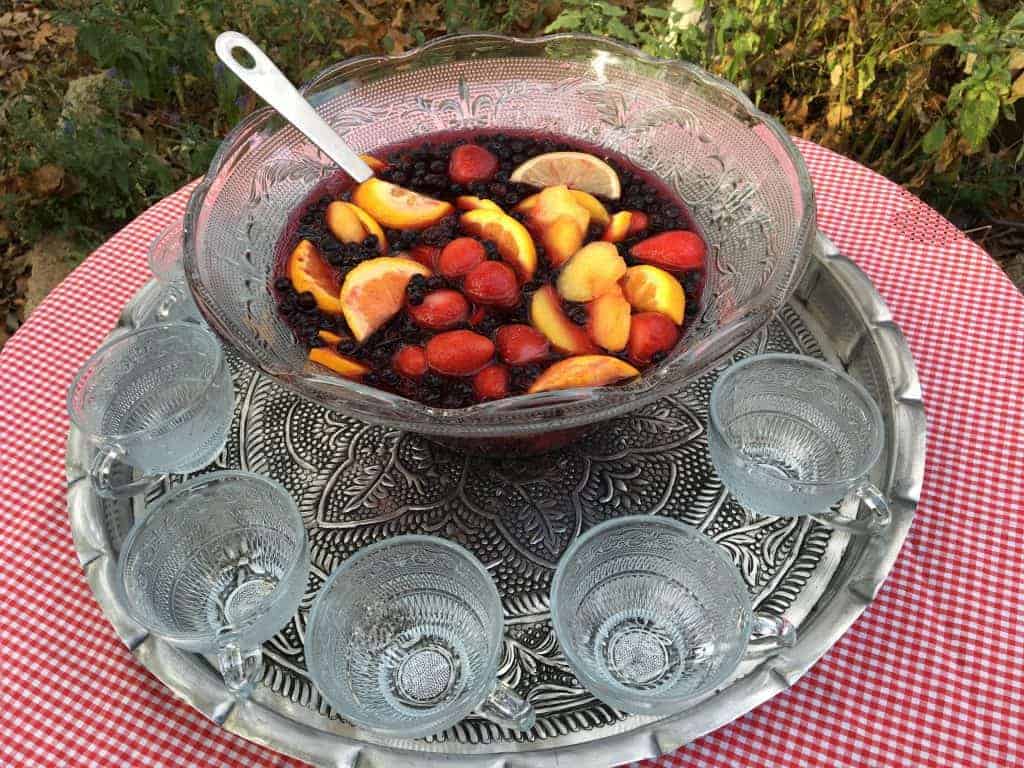 Festive Wild Blueberry Sangria
My dear friend Bobbi shared a version of this recipe below.
Here are the recipes for Old Fashioned Southern BBQ with a Vegetarian Twist
Barbecue Tempeh Open-Faced Sandwich with Slaw
For this vegetarian BBQ sandwich, skip the bun and serve your barbecue sandwich on grilled bread or perhaps even a lettuce leaf! You can make your bread gluten-free or use an old-fashioned sourdough to make a low fodmap sandwich!
Makes 6 servings
2 (8 ounce) package of tempeh (I love our local Smiling Hara Hempeh and their Raspberry Habanero Flavor would work well instead of my barbecue sauce)
1 recipe of Homemade Barbecue Sauce
1 recipe of Summer Cabbage Slaw Recipe (below)
6 slices sourdough bread
Olive oil
Garnish with cilantro sprig and slivered carrot if desired
Cut tempeh into 1/4 thick pieces by cutting it across the shorter end. Lightly brush with olive oil. Place on BBQ grill for a few minutes and then until lightly browned. Lightly grill both of bread. Pour warm homemade barbecue sauce over browned tempeh. To serve sandwiches, add warm tempeh with sauce over the bread. Top the tempeh with the cabbage slaw. Garnish as desired. Below is my barbecue sauce.
Barbecue Sauce Ideas for Your Meal
Homemade Barbecue Sauce
Many barbecue sauces that are available on the market and sauce recipes are full of sugar and salt but they often have very little flavor. However, this sauce has a little kick but tastes delicious. You can tone down the spice if desired or use one of your favorites that doesn't use excessive sugar or salt. This recipe makes a fodmap friendly BBQ sauce.
If you are wanting to purchase a low fodmap BBQ sauce, try this Fody one: https://www.fodyfoods.com/products/low-fodmap-bbq-sauce?msclkid=5968de69744b147cf8c9809ae7163b75&utm_campaign=FODY_Bing_USA_Shopping&utm_content=Ad%20group%20%231&utm_medium=cpc&utm_source=bing&utm_term=4575617642058493
2 teaspoon canola oil (or if you like the garlic flavor, use a garlic oil for a low fodmap sauce
1/4 cup chopped green onion
1 tablespoon paprika
1 tablespoon chili powder (without garlic or onion if following a low fodmap diet)
1/4 teaspoon cayenne pepper
1/3 cup brown sugar
1-2 tablespoon of your favorite mustard (I like a seedy mustard without garlic or onion
1/4 cup apple cider vinegar
16 ounce tomato sauce
Salt and pepper to taste
In a medium sauce saute' onion until it become soft. Add garlic, paprika, chili powder, cayenne and sugar until blended well and then add mustard, vinegar and tomato sauce. Simmer on low for 30 minutes
Summer Cabbage Slaw
This simple slaw will taste great with any meal. Have this recipe on hand!
Makes 6-8 servings
3 cups of cabbage, thinly sliced or shredded
1/2 cup carrot sticks
1/3 cup green onions
1/4 cup canola oil
1/4 cup vinegar
1 tablespoon sugar
1 tablespoon mayonnaise (if desire a little creamy)
Salt and pepper to taste
Thinly slice or shred cabbage.
Toss the ingredients together and let set a few hours if desired.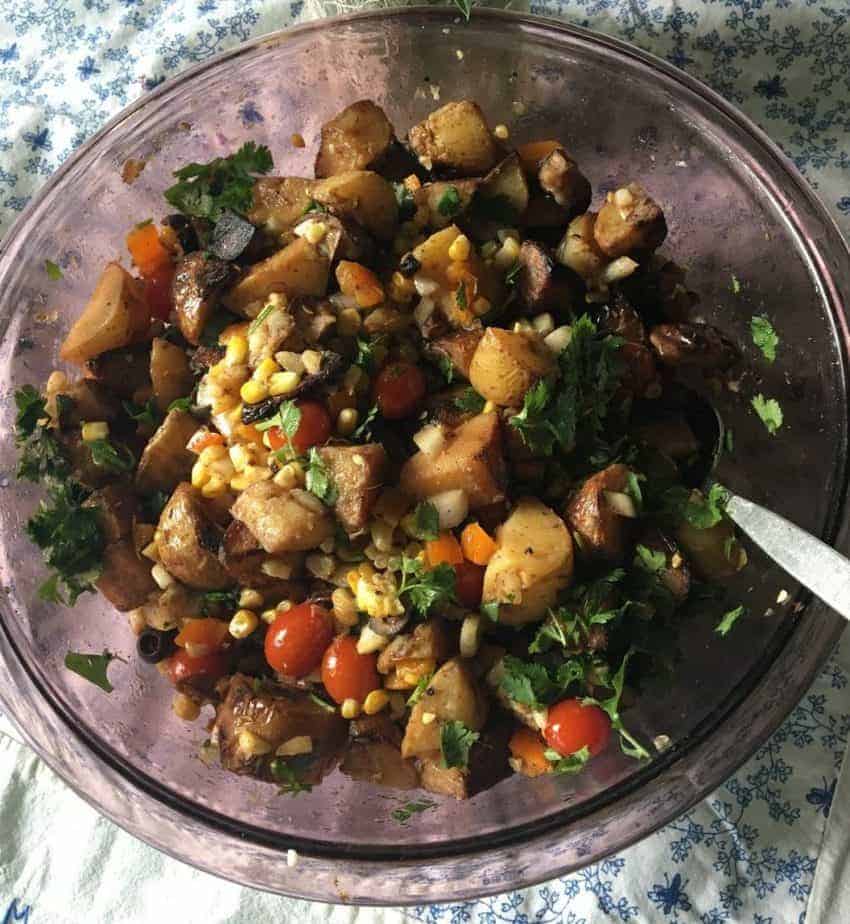 Southwestern Potato Salad
This recipe below makes the best potato salad!
Strawberry Rhubarb Crisp
Lavender Blueberry Lemonade
You can find the recipes for my Strawberry Rhubarb Crisp and Lavender Blueberry Lemonade which are included below in my Festive Spring Brunch Menu post!
In conclusion, I hope that these vegetarian cookout recipe and menu ideas make your summer party planning more fun and easier! As a registered dietitian nutritionist living in Asheville, North Carolina, I love helping my family, friends and clients find the joy in eating again by finding lots of new things that they love.
I am so glad that you stopped by to read this post and if you enjoyed it, please feel free to pass along with your friends!