Artichoke Dip for Nacho Recipes
It's the holiday celebration season and many of us are looking for the very best recipes to serve our family and friends and this artichoke dip for nacho recipes is a favorite of most of us. These nachos have a fresh new twist and the green, red and white looks downright festive on the holiday table!
And it may be hard to believe, how can anything that tastes so good be so good for you so I wanted to share what good things these nachos have in them:
The spinach & artichokes are rich in vitamin C, magnesium, iron. In addition, spinach has vitamin A and lutein which are good for our eyes and vitamin B6 which helps promotes a healthy mood. the tomatoes add even more vitamin C and lycopene which are good for the prevention of cancer. The black olives are rich in healthy monounsaturated fats which are good for the heart and the immune system. An last but no least, the cheese and yogurt are rich in calcium, protein and riboflavin which is an important vitamin with converts food to energy.
The nachos are also super easy to make and the filling can be made up ahead of time up to one or two days so they can easily be put together.
Artichoke Dip for Nacho Recipes
Spinach Artichoke Nachos
A few years ago, my family and I loved this artichoke dip for nachos at one of our local pizzerias. I always wanted to recreate them to eat them at home anytime I wanted. When the restaurant quit serving them, I became even more inspired to get them made! Try this dip for nacho recipes is from my kitchen to yours!
Makes 10-12 servings for appetizers, 6 servings for a meal
1/2 cup yogurt
6 ounce softened cream cheese
6 ounces cheddar cheese, shredded
2 cups fresh spinach chopped, cooked in a little olive oil, cooled and drained (you can also use other greens like arugula or kale if those are more readily available locally)
14 ounce drained and chopped artichoke hearts
1 clove garlic, minced
1/4 teaspoon salt
1 teaspoon hot pepper sauce
1 small chopped tomatoes
1/2 small can sliced black olives
Garnish with:
Sliced avocados
Chopped cilantro
Preheat oven to 425 degrees.
In a large bowl, mix softened yogurt, cream cheese and cheddar. Add drained artichoke hearts, thinly sliced spinach, salt, garlic and hot pepper sauce. Stir well.
On baking sheet,
Layer the taco chips on the baking sheet, add the dip on top. Add the tomatoes and black olives. Bake for 10 minutes. Remove from oven and then garnish with avocado and cilantro.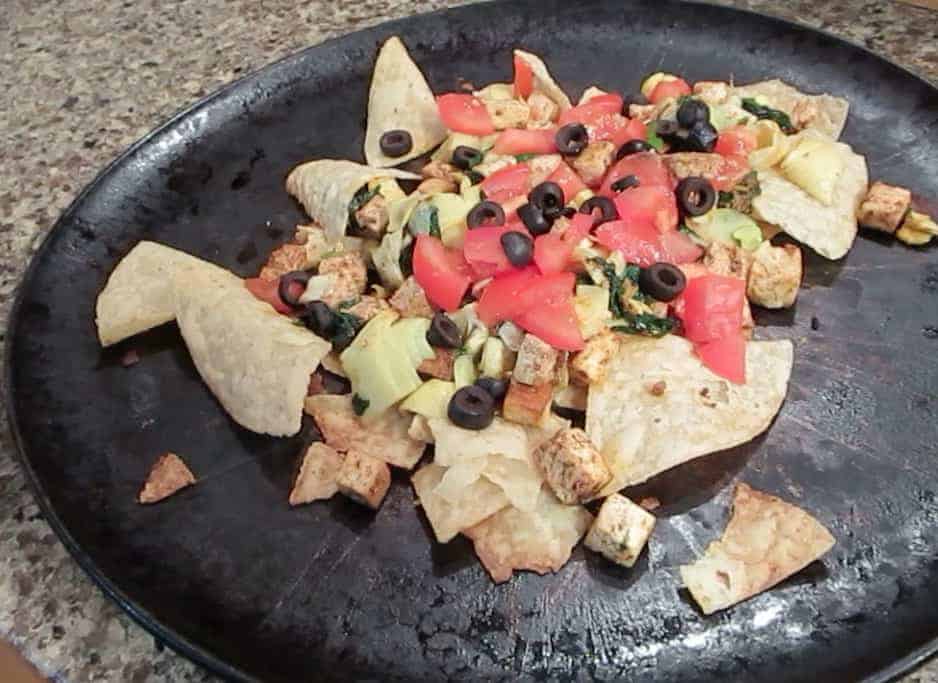 For a vegan version:
Substitute seasoned tofu instead of cheese. I took a box of extra firm tofu and made a marinade. I like to make my marinade in an 8 by 8 baking sheet and put the tofu right in there to bake.
Juice of one lime
1 tablespoon olive oil
1 clove pressed garlic
1-2 teaspoon chili powder
1/2 teaspoon ground cumin
Salt and pepper to taste
1 block of firm tofu
Preheat oven to 400 degrees. Cut and cube the tofu and add it to an 8 by 8 baking pan. Allow to bake for about 15 minutes until brown and a little crunchy!
Check out a video showing just how easy, these festive nachos are put together!
Make Your Dip for Nacho Recipes
I hope that you get a chance to make these spinach artichoke dip for nacho recipes at your next holiday gathering! And I hope that your family and friends absolutely love them and that they become one of your new holiday traditions!
Here are a few other vegetarian dip for nacho recipes:
10 Vegan Nacho Recipes That Will Make You Forget About Taco Tuesday | VegNews
Potato Nachos (vineripenutrition.com)
You might also enjoy some holiday breakfast ideas 10 Vegetarian Brunch Recipes for the Holidays – Vine Ripe Nutrition.
As a registered dietitian nutritionist, I love to help others find easy, delicious meal planning solutions that also add some great health benefits! Happy holidays! I will be sharing more delicious ways to make your holiday menus dazzle in the week! And I will also be sharing ideas to get your new year off to a great start soon so stay tuned!
Go make you some!