Vegetarian Low Fodmap Recipes
I have seen several clients who eat a plant based diet and also have IBS. Some of them have been unsure if they can do the low fodmap elimination diet and continue to eat a plant based diet. As someone who has had IBS for at least thirty years and who also eats plant based, I work to balance a diet of mostly vegetables, beans, soy, whole grains/seeds, nuts and fruit while managing my IBS symptoms.
In this post, I hope some of the things that I share from the things I have learned over the past 6 years will help others who want to eat a plant based while implement a low fodmap diet smoothly, find out the foods trigger their symptoms, how much they can eat of these foods  while remaining as symptom free as possible and finding which high fodmap foods can be eaten together so they can eat as diverse of a meal plan as possible.
Vegetarian Low Fodmap List Ideas
For a plant based eater who is lacto vegetarian who eats lactose free dairy or an ovo vegetarian who eats eggs, it is fairly easy to make sure that you can get enough protein.
Low Fodmap Friendly Vegan Tips
For people who do not eat any animal products like someone who is vegan, getting enough protein without eating too many oligiosccharides (which are the fiber foods found in plant based proteins like grains, beans, nuts and seeds) it can be a challenge. It can be even harder when a person has additional dietary restrictions like avoiding soy, corn, potatoes, gluten, nuts or nightshades.
One of the first things to consider when planning a plant based low fodmap meal plan, is to determine how much protein that you really need and find out which foods have enough protein to meet those needs.
Plant Based Low Fodmap Protein Source List
Pulses/Legumes
Red lentils, drained 1/2 cup serving  10 grams protein
Canned, drained lentils 1/2 cup 9 grams protein
Edamame, shelled 1/2 cup cooked 9 grams protein
Chickpeas, 1/2 cup 5.2 grams of protein
Soy Products
Soy milk made from soy protein not whole soy beans 1 cup 7 gram protein
Lactose Free Dairy Products
Lactose free cottage cheese 1/2 cup 12 grams protein
Lactose free yogurt 3/4 cup 10 grams protein
Lactose free Kiefer 1 cup 11 grams protein
Lactose free milk (any % fat) 1 cup 8 grams protein
Natural cheddar, Swiss, mozzarella cheese 1 ounce 7 grams protein
Goat cheese (chevre) 1 ounce 5.2 grams
Nuts
Peanut or almond butter 2 tablespoon 7 grams protein
Pumpkin seeds 2 tablespoons 4.4 grams protein
Sunflower seeds 2 tablespoons 3.4 grams protein
Hemp Milk 1 cup 3 grams protein
Eggs
1 large egg 6.1 grams protein
Grains
Quinoa, cooked 1 cup 8 grams protein
Sourdough bread, 2 slices 6-8 grams
Millet 1 cup prepared 6.1 grams of protein
Rice, white or brown 1 cup 4.5 grams of protein
1 slice gluten free bread 2 grams
Low fodmap pasta varies (check label)
I am so excited to share some plant based low fodmap menu ideas and recipes. I hope that you find them helpful and they are delicious even if you do not eat a special meal plan.
Breakfast
1/2 cup mixed blueberries/strawberries
1/2 cup almond milk
Toasted Quinoa Coconut Pecan Granola
1/2 cup blueberries
Lunch
Mexican Garbanzo Bean Salad
Corn Chips
Low Fodmap Pico de Gallo
Supper
Tofu Eggplant Bell Pepper Zucchini Kabobs
Marinated Cucumber Tomato and Feta Salad
1/2 cup brown rice
Snack
2 tablespoon walnuts
Carrot sticks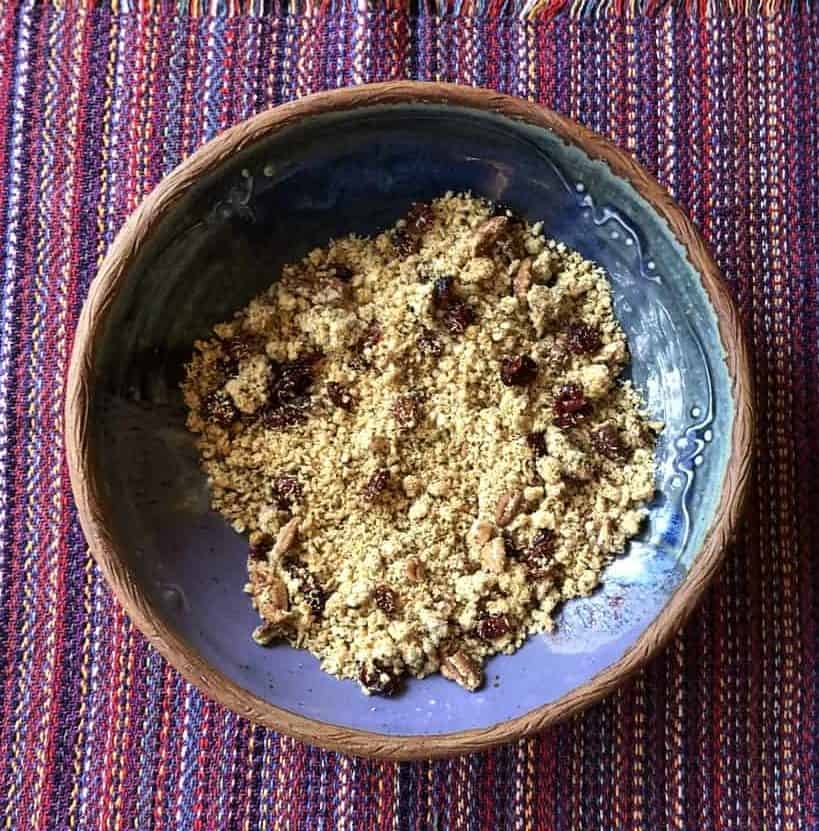 Toasted Quinoa Coconut Pecan Granola
Makes 4-6 servings
2 1/2 dry quinoa flakes (I used Ancient Harvest Quinoa Flakes)
1/4 cup chia seeds
1/4 cup flax seeds
1/4 cup flaked coconut
1/2 cup pecans
1/2 cup maple syrup
6 tablespoons melted Smart Balance margarine or butter
1/8 teaspoon salt
1 teaspoon vanilla extract
1/4 cup dried cranberries
Preheat oven 300 degrees. Add all the ingredients in a bowl except the dried cranberries. Sprinkle on a cookie sheet.Bake 18-24 minutes and stir every 10 minutes. After taking the granola out of oven. Add the dried cranberries.
Mexican Garbanzo Bean Salad
Many chili powders include garlic powder, so care must be made to make sure that the one that you are using for the elimination phase of the low fodmap diet does not have garlic.
Makes 2 servings
Chili Garbanzo Beans (see how to make them below)
2-3 cups lettuce, shredded
1/4 cup sliced black olives
1/3 cup chopped green onions (do not include the white bulbs)
1/2 cup grated, sharp cheddar cheese
20-24 corn chips
Low Fodmap Pico de Gallo
Chili Garbanzo Beans
1 can of garbanzo beans, rinsed and drained
1 tablespoon olive oil
1 teaspoon freshly, ground cumin
1 tablespoon chili powder (without garlic)
Salt and pepper to taste
1/2 cup water
Heat a large iron skillet over medium heat. Add olive oil, garbanzo beans, cumin, chili powder, salt and pepper. Add the water and cover. Turn the temperature down to low and allow to simmer.
Low Fodmap Pico di Gallo
1 medium chopped tomato, with the seeds removed
Chopped jalapeno, chopped with ribs and seeds removed
1/2 freshly squeezed limes
1/4 cup chopped cilantro
Add all the ingredients in a small bowl and mix well
To assemble the taco salads:
In two large bowls, add lettuce, green onions and black olives. Add 1/2 cup of garbanzos to each salad. Top with pico and cheese if desired. Serve with chips.
Tofu Low Fodmap Recipe
Tofu Eggplant Bell Pepper Zucchini Kabobs
I love that the kabobs uses the last of the summer produce that is all low fodmap. The most important thing is to watch portion sizes of many of the vegetables considered low fodmap. Check out the Monash University app for portion sizes.
Makes 4-6 servings (about 3 shish kabobs each)
1 box firm tofu, cut into 1 inch cubes
1 medium eggplant, cut into 1 inch pieces
1 bell pepper, stemmed and seeded, cut into 1 inch pieces
2 medium zucchini cut into 1 inch pieces
Bamboo skewers
Marinade for shish kabobs:
1/4 cup olive oil infused with garlic
1 lemon, squeezed
1-2 tablespoon red wine vinegar
1 teaspoon thyme
1/2 teaspoon basil
Salt and pepper to taste
Lactose free yogurt to drizzle over the shish kabobs after cooked (if desired)
Cooked brown rice (if desired)
In a 9 by 12 glass pan, make the marinade and add pieces of tofu and vegetables and coat well. Thread the kabobs on the bamboo skewers. Grill or roast until tofu is firm and brown and the vegetables begin to caramelize. Add the kabobs over the rice if desired.
Marinated Cucumber Tomato and Feta Salad
Two of my favorite summer veggies topped with some feta cheese or leave off if you want. Feta is considered a hard cheese which is low in lactose.
Makes 4 servings
1 large cucumbers, seeded and chopped if desired
1 large tomato, seeded
Splash of olive oil and cider vinegar
Salt and pepper to taste
Crumbled feta cheese to top salad
In a large bowl, add cucumbers and tomatoes. Add the olive oil, vinegar, salt and pepper.
Hope that you enjoy the last of the summer veggies in this plant based, low fodmap menu! As a registered dietitian in Asheville, I have become nearly symptom free implementing the principles of the low fodmap diet while eating plant based.
This kabob with salad makes a great low fodmap dinner idea! And also a great low fodmap tofu idea!
Additional Low Fodmap Vegan Food Ideas
A great resource for planning a low fodmap vegan diet is from Kate Scarlata's webite  Quick Tips for Low Fodmap Vegetarians and I also recently learned about blog and book by vegan author Jo Stepniak on low fodmap living on a vegan diet that I am just starting to check out. She has co-authored several books with registered dietitians.
Can a Nutritionist Help With IBS?
Monash University suggests that people with IBS work with a dietitian specializing in the Low Fodmap diet for three visits to help them see if the low fodmap diet helps reduce their symptoms from IBS.
I hope some of these vegetarian low fodmap menu ideas and recipes help you achieve your goals eating a plant based, low fodmap meal plan while you are trying to find out foods that trigger your symptoms and how to eat the most diverse diet possible. As an Asheville dietitian who specializes in IBS and low fodmap diet, I have been helping clients reduce their IBS symptoms for over 6 years.