Best Low Fodmap Taco Recipes
I have put together some of my favorite low fodmap vegetarian tacos ideas that I hope that you will love! Let's talk a little bit more about how low fodmaps may help if you have IBS.
First of all, the low fodmap diet has been shown to reduce symptoms for over 75 percent of symptoms for people who have IBS symptoms according to Monash University in Australia.
In addition, it is important to find a registered dietitian who specializes in the low fodmap diet and can provide guidelines on how to follow it and help you reintroduce each fodmap group one at a time to find which foods trigger your symptoms. After that, the GI dietitian can help you learn to create balance in your meals so you can eat as much of a diverse diet as possible.
Because I have IBS myself, I know how important it is to feel my very best! Therefore, I am inspired to share tried and true low fodmap recipes and menu ideas for my kitchen. Most importantly, now, after working hard to improve my digestive health over time, I can eat almost any of the foods that have fodmaps and know the best ways for me to balance them in my daily routine.
Also, if you have been looking for a few low fodmap dinner ideas and have checked out my blog, you may have noticed that my family and I love Mexican food! And we eat lots of tacos!
As a result, I wanted to share some plant-based, low fodmap taco recipes that are both tasty and help keep your IBS symptoms away! They are also delicious and healthy for anyone not following a low fodmap diet too!
First, let's talk about some of the ingredients that you will need to make low fodmap tacos.
Low Fodmap Tortillas
Corn tortillas are a great choice because they are not only gluten-free but also low in oligios which is one of the carbohydrate groups that can trigger IBS symptoms.
However, if you have your heart set on flour tortillas, here are some gluten-free ones that are also low in fodmaps. They have a little bit of amaranth but not in an amount that can contribute to IBS triggers.
https://www.rudisbakery.com/gluten-free/product/plain-tortillas/
The best way to heat corn tortillas:
Because it took me a while to figure heating corn tortillas, I want to share my experience. First, we got a couple of tortilla warmers that we used in the microwave. After that, we wrapped them in foil and put them in the oven or barbecue grill which worked out fine. They were soft and were much less likely to break.
However, it has only been a few months ago that we figured out that we could put them on our griddle over the stove for a few minutes on each side browned them and made them perfect! Also, I feel It works on the barbecue grill too but it is almost immediate to turn them over and take them off the grill!
Low Fodmap Taco Seasonings
In addition, most prepared taco seasonings and chili powders also have garlic and even onion which may not work well with someone who is sensitive to oligios. However, the good news is that you can find chili seasonings on the market that do not contain them! Besides you can also make your own with will have the right amount of heat!
Fody Taco Seasoning makes one without garlic or onions. (this is an affiliate link that I am sharing to their website and if you order on this link, I will make a little money from each sale)
Penzeys Spices has several plain ground chili powders that you can use for the base of your own seasoning and some of their blends can be garlic and onion free.
Here some taco seasonings that you can make in your kitchen
Low Fodmap Taco Sauce
Because so many salsas have garlic and onion that may not sit well for those of us who are sensitive to oligios, as a result, I like to make my own pico. I use the green part of scallions and garlic oil along with fresh tomatoes, hot peppers, and fresh lime but there are also great low fodmap salsas on the market! Here are some that you can keep in your pantry:
Fody makes an onion and garlic free taco sauces/salsas (this is an affiliate link that I am sharing to their website and if you order on this link, I will make a little money from each sale)
Making Fresh Pico de Gallo
In addition, you can make your fresh pico de gallo and if onion triggers your IBS symptoms use only the green portion of a scallion instead of onion. If garlic triggers your symptoms, try a little garlic oil instead. In addition, you can check out my pico recipe that uses green onion and garlic oil in one of my previous blog posts with additional delicious plant-based low fodmap menu ideas!
Low Fodmap Pico Recipe
Low Fodmap Taco Topping Ideas
In addition to some good recipes, a taco is simply not a taco without a a variety of tasty toppings to add on top! Here are some taco topping ideas without the fodmaps!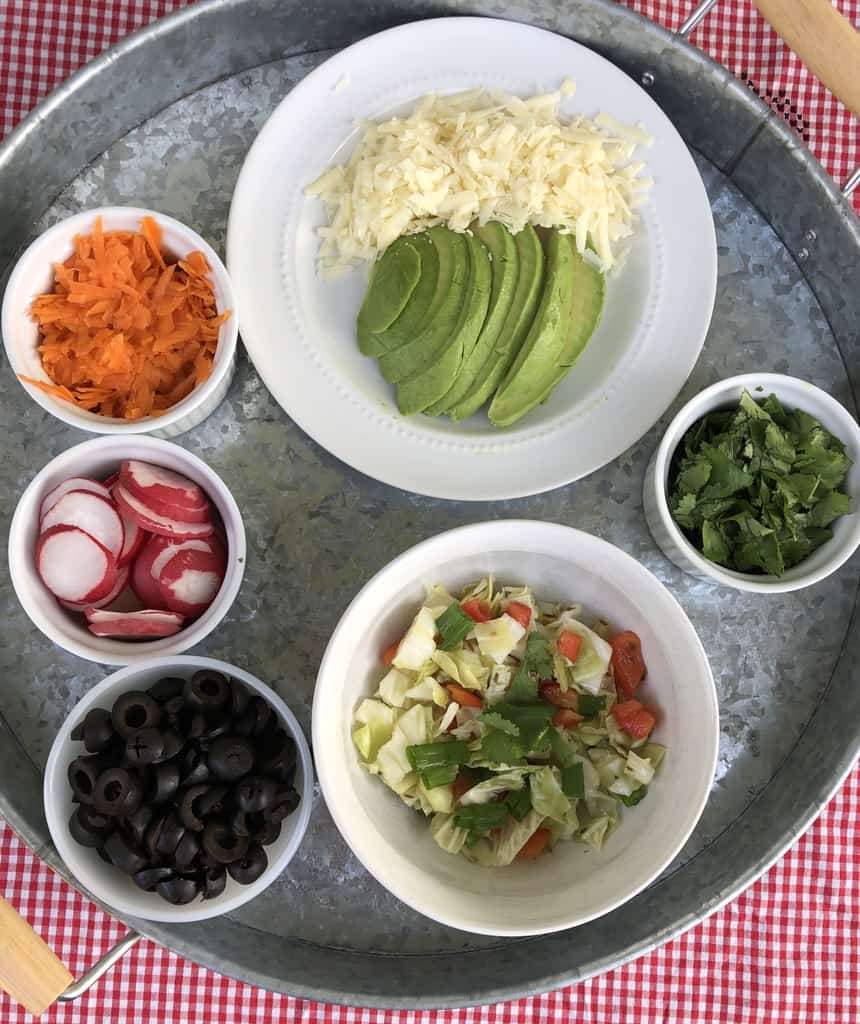 Also, I really like a variety of colors, textures, and flavors when I am looking for toppings for my tacos! We eat with our eyes!
Here are some low fodmap taco topping ideas
Grated or crumbled hard cheese like cheddar, Monterrey Jack & feta
Thinly sliced radishes
Chopped cilantro
A few thin slices of avocado (or chunks)
Chopped scallions (use the green portion)
Chopped hot peppers
Chopped tomatoes
Shredded carrots (I marinated these in a little white wine vinegar & a splash of hot sauce to give them a pickled flavor
Lactose-free yogurt and small amounts of sour cream if you are lactose intolerant

Cabbage Slaw
Also, here is one of my favorite recipes for cabbage slaw to add on top of my tacos:
Best Vegan Taco Meat
Above all the "Best Vegan Taco Meat" is the protein filling is the plant-based ingredient that you use for the base of your tacos that is deliciously seasoned and also pairs well with your taco toppings. Here are a few low fodmap vegan protein some ideas include:
lentils
chickpeas/garbanzo beans
tempeh
tofu
low fodmap vegetables
low fodmap nuts like walnuts, pecans, and almonds


Which vegetarian protein is your favorite?
Because, beans may cause GI discomfort for some people who have IBS (beyond the usual gas and bloating for many of us), this can make bean tacos undesirable. However, small portions of canned lentils and garbanzos may be better tolerated.
I have included an option to print the crispy low fodmap chickpea taco recipe below but if you would like the entire epic taco low fodmap recipe book. Let me know and I can send you the entire taco cookbook!
Lentil Tacos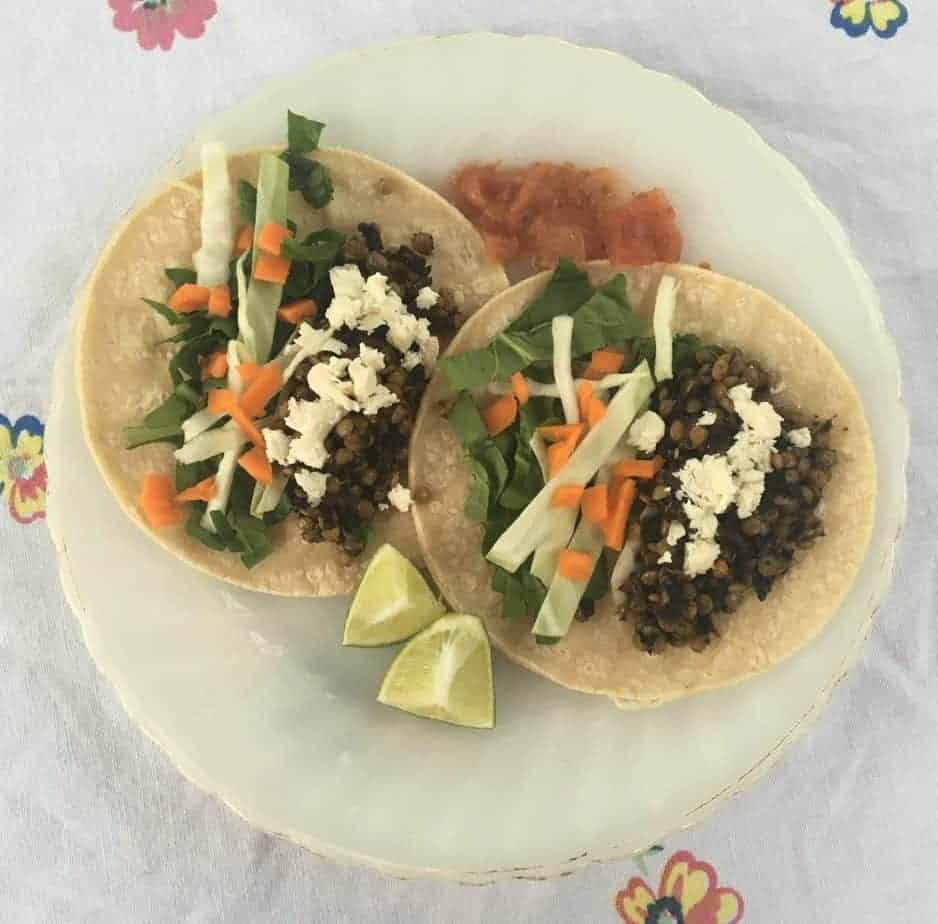 Spring Lentil Tacos
In addition, you can check out the recipe below from one of my previous blog posts!
Chickpea
Tacos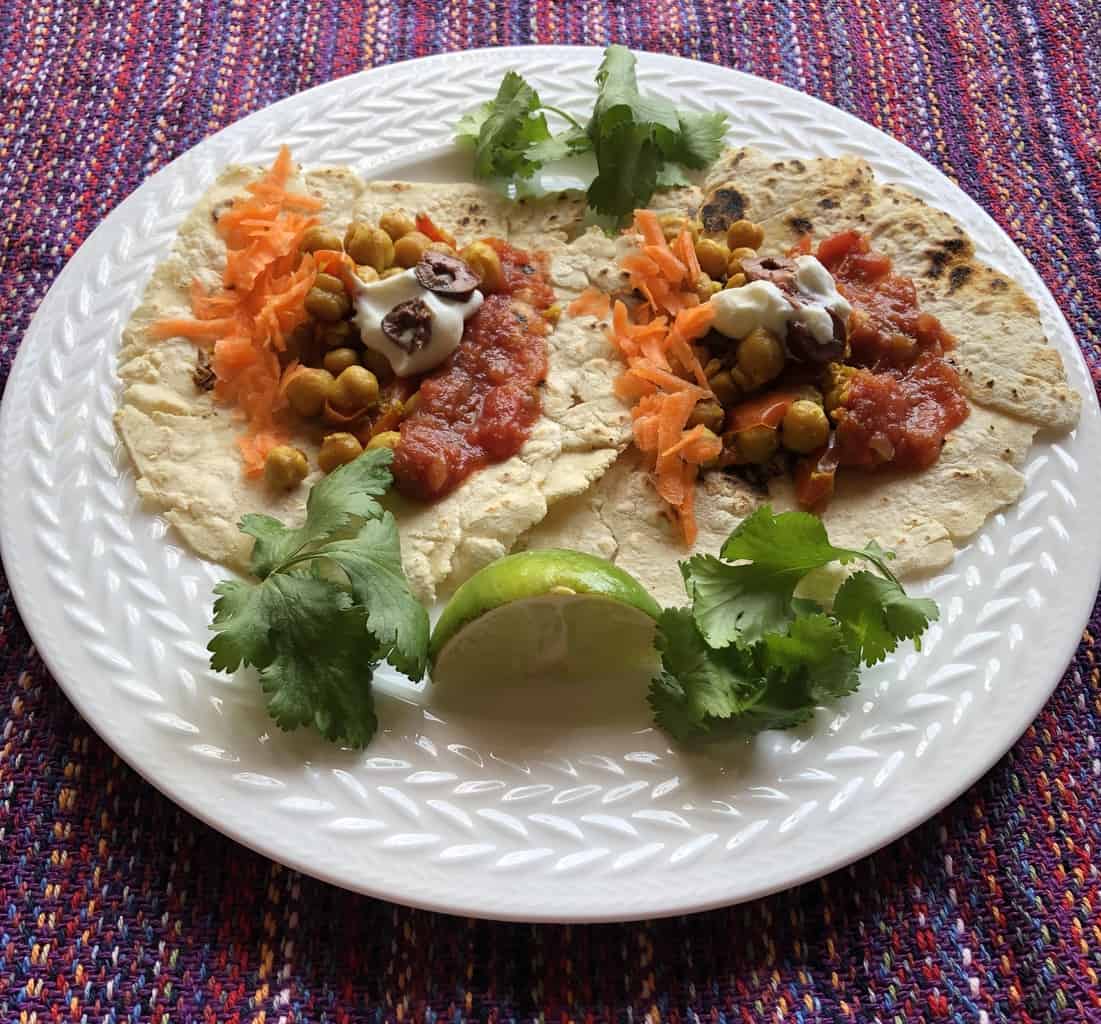 Crispy Low Fodmap Chickpea Tacos
You can make these tacos are made with chickpeas which are lower in oligios than lots of other beans but still have the protein. Chickpeas make a great filling and I love the toppings that go with them! Above all, look at how colorful they are also!
Chickpeas or Garbanzo Beans? It depends on where you live! It is the same lively legume. When it is referred to in a Middle Eastern dish, it is usually called garbanzo, if it is a recipe with more of a European style these little beans or peas are called a chickpea. I tend to use both names!
Recipe for Chili Garbanzo Beans
Makes 6 tacos
1 can of garbanzo beans, rinsed and drained
1 tablespoon olive oil
1 teaspoon freshly, ground cumin
1 tablespoon chili powder (without garlic)
Salt and pepper to taste
1/2 cup water
Heat a large iron skillet over medium heat. Add olive oil, garbanzo beans, cumin, chili powder, salt, and pepper. Add the water and cover. Turn the temperature down to low and allow to simmer.
6 corn tortillas
Shredded Red cabbage or use my cabbage slaw recipe in this post
Pickled Carrot (see my taco fixing list)
Sliced avocados (use one slice per avocado)
Lactose-free yogurt (Green Valley Lactose-Free Yogurt)
Sliced black olives
Gather and prepare the topping ingredients. Make the crispy chickpeas. Heat the corn tortillas. Add chickpea mixture into tortillas and add toppings.
Crispy Chickpea Tacos
Chickpeas are a delicious low fodmap option for tacos! If you would like more of the recipes for the Low Fodmap Vegetarian Taco post, check out the free downloadable Low Fodmap Cookbook!
Ingredients
1

can

Garbanzo beans, rinsed and drained

1

tablespoon

Olive oil

1

teaspoon

Freshly ground cumin

1

tablespoon

Chili powder (without garlic)

Salt to taste

Pepper to taste

6

Corn tortillas

Thinly, sliced purple cabbage

Avocado, thinly sliced

Pickled carrots

Lactose-free yogurt

Sliced, black olives
Instructions
Heat a large iron skillet over medium heat. Add olive oil,
garbanzo beans, cumin, chili powder, salt, and pepper. Add the water and cover.
Turn the temperature down to low and allow to simmer. Gather and prepare the topping ingredients. Make the crispy chickpeas. Heat the corn tortillas. Add chickpea mixture into tortillas and add toppings such as red cabbage, pickled carrots, lactose-free yogurt and sliced black olives.
















Tempeh Tacos (or even Hempeh)
Raspberry Habanero Hempeh Tacos
To make these delicious Raspberry Habanero low in fodmaps, watch your portion of sour cream (or use lactose-free yogurt) and use of avocados sparingly if you are sensitive to them.
Tofu Tacos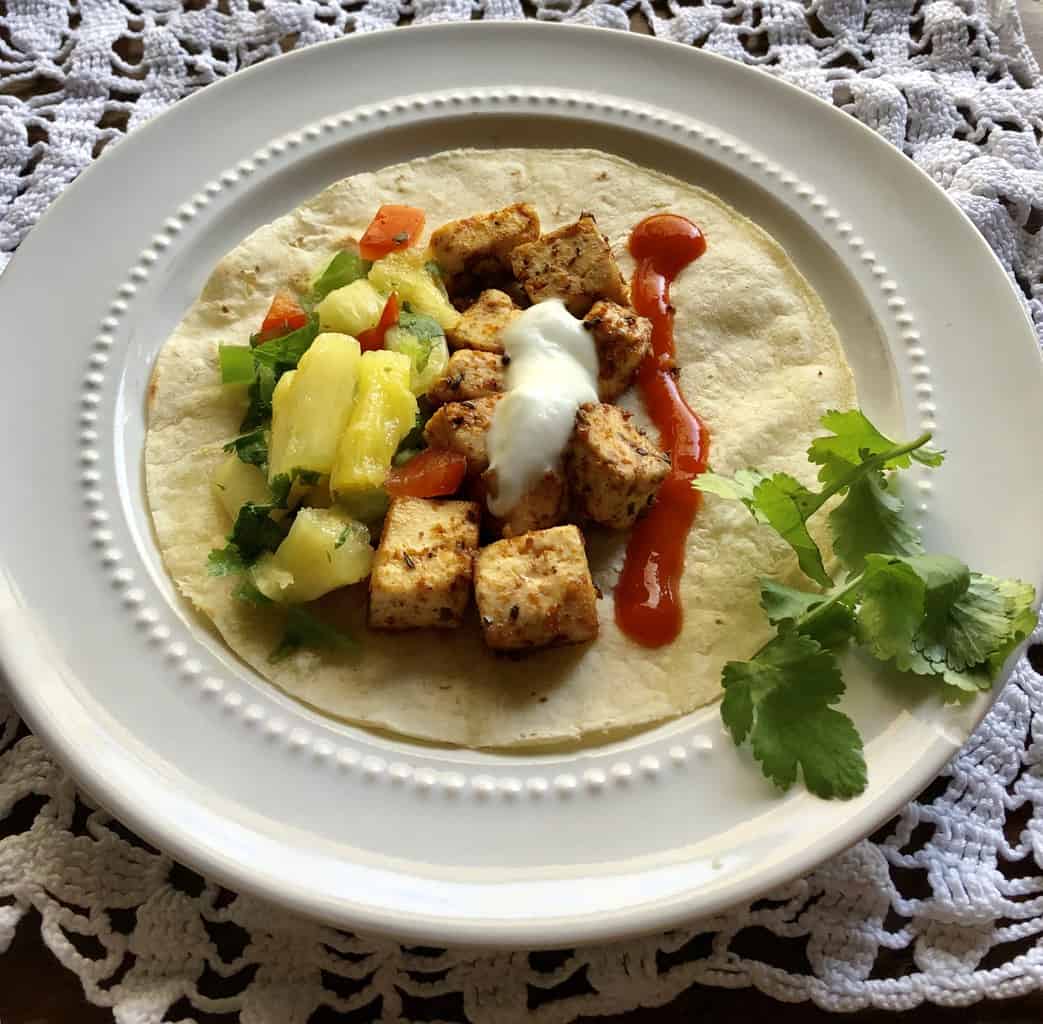 Caribbean Low Fodmap Tacos
I love the spiciness of the jerk flavor paired with the cool of the fruit to create a new taco for me and my family with a Caribbean twist!
1 box of extra firm tofu
Caribbean Seasoning
1/2 teaspoon allspice
1 teaspoon thyme
1/2 teaspoon of cayenne powder
1 1/2 tablespoon paprika
1 teaspoon ginger
1/2 teaspoon salt
Lactose-free yogurt (if you are sensitive to lactose)
Make a jerk seasoning with allspice, thyme, cayenne, paprika, and ginger. Take a few minutes to press the tofu (click to see a few tips to do this at this post). Preheat oven to 425 degrees. Cube tofu into 1 by 1-inch cubes. In a baking pan, toss with half of the jerk seasoning. Sprinkle with salt. Toss at least once while baking until tofu gets crispy. Add tofu to heated tortillas and add pineapple salsa.
Pineapple Salsa
1 cup fresh pineapple cubed very small
3 scallions (greens only chopped)
1/4 cup chopped cilantro
1-2 limes (use to your taste and size of the limes)
1/3-1/2 cup chopped bell pepper
1 jalapeno chopped
Mix ingredients together and let marinate. Use a slotted spoon to add to the top the tacos in salsa is too juicy.
Vegetable Nut Meatless Filling
For vegetable tacos use low fodmap ingredients like broccoli flowers, eggplant, carrots, summer squash, sweet potato, winter squash and potato and pair with your favorite lower low fodmap nuts and seeds like walnuts, pecans, pumpkin seeds, sesame seeds and peanuts for a little added protein. Most importantly, the sky is the limit to what you can create! Check out these Broccoli Walnut Tacos below and get inspired!
Curried Broccoli Walnut Tacos
Try a different seasoning combination for your tacos. For instance, curry and chili powder have similar flavor profiles in common, both savory and spicy! As a result, this revelation inspired me to give this vegetable taco recipe an additional Indian twist with a little cucumber, cilantro raita on top!
Makes 4 tacos
1 1/2 cup cut in large chunks broccoli flowers
1/4 cup walnuts
1 teaspoon turmeric
1 teaspoon chili powder
1/2 teaspoon of salt
1 tablespoon olive oil
Chopped tomatoes
Make Heat a medium skillet to medium. Add oil and seasonings. Allow to brown slightly and add broccoli. Saute broccoli until it turns bright green. Add walnuts and let them get toasted and broccoli starts to turn a little brown. Heat tortillas on griddle. Add filling to each taco and add a dollop of taco raita. Top with chopped fresh tomato.
Taco Raita
1/2 cup chopped cucumber
1/3 cup yogurt (lactose-free if you are lactose sensitive)
2 tablespoon chopped cilantro
1 chopped scallion (the greens only)
1 spicy pepper chopped if desired (I left it out of mine!)
Chop up the vegetable ingredients. In a bowl, add yogurt and then add vegetables. Allow chilling until serving.
Butternut Potato and Poblano Tacos
Other Low Fodmap Mexican Recipe Ideas
Low Fodmap Fish Tacos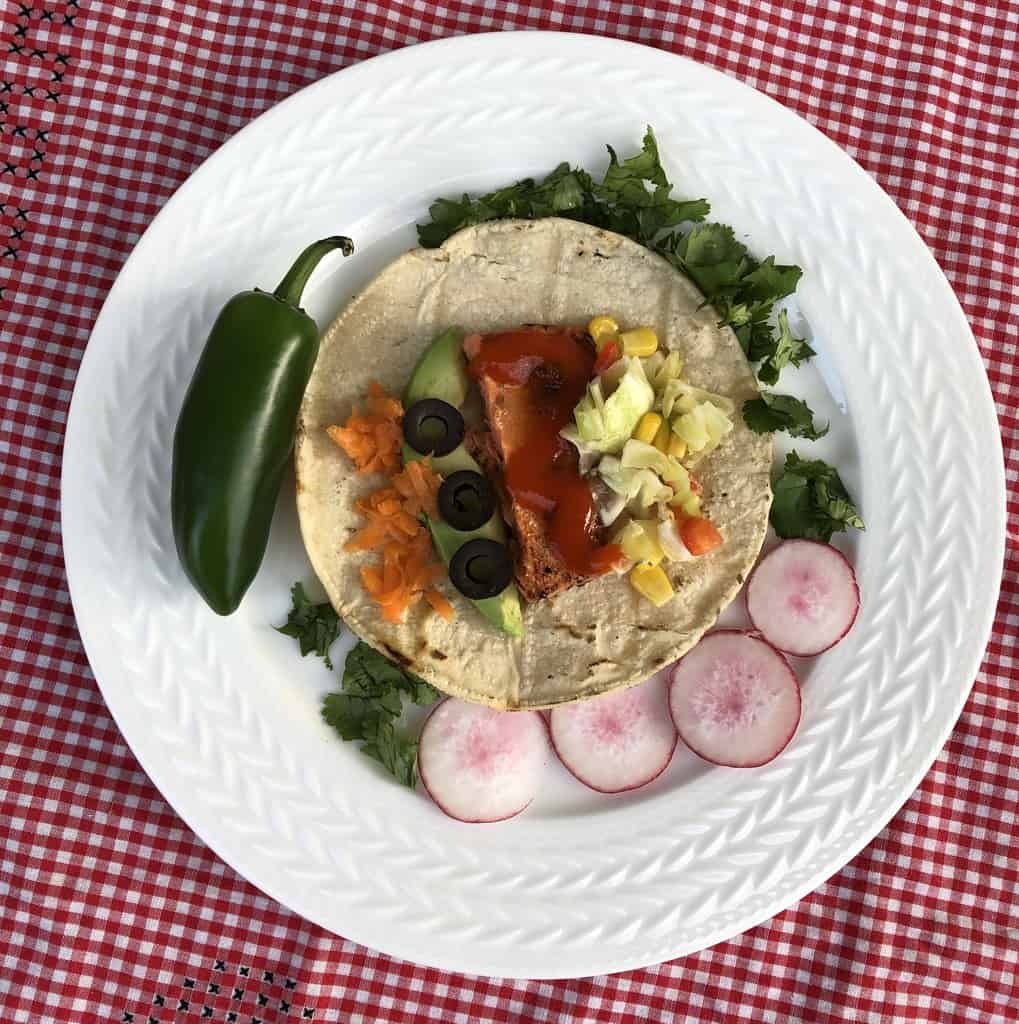 You may or may not eat fish, but I wanted to share this option and the shrimp one below. These salmon tacos are made from grilled fish and all of the toppings above. They are so simple, that you don't need a recipe!
Low Fodmap Shrimp Tacos
Egg Tacos
If you eat eggs, these egg tacos are a great vegetarian protein source and are also low fodmap. Here is a previous post that I did on breakfast that includes egg tacos!
Low Fodmap Fajitas
In addition, you can also make a taco variation of my tofu fajita recipe below and try any of the taco topping ideas below to create your own delicious tofu taco!
Grilled Tofu Fajitas
Low Fodmap Burritos
Sweet Potato Pulse Burrito
My original recipe calls for black beans however, if these beans don't sit well with your belly, substitute lentils or garbanzos until you can better tolerate them again!
Besides, the burrito recipe, you will find the recipe for the breakfast burrito egg tacos in my previous blog post 5 Best Plant-Based Breakfast Recipes which I have linked to this post above. I hope that you enjoy!
Finally, let's talk about a side dish that is a perfect pair for tacos!
Low Fodmap Mexican Rice
Mexican Yellow Rice
Besides my love for yellow rice with scallions and garlic oil. I also add cilantro and chopped tomatoes after the rice has cooked. You can make this with brown rice which will take 40 minutes but if you are in a hurry, try some Jasmine rice which will cook in 15 minutes but will not have the health benefits of fiber and whole grains.
Makes 6 (1/2 cup) servings
1 cup of rice
2 cups low fodmap vegetable broth (or I use water) here is a brand of low fodmap broth
1/2 teaspoon turmeric
1 tablespoon garlic-infused oil
1/2 teaspoon of salt (depending on if you use broth or water)
1/4 cup chopped green portions of scallions
In a medium saucepan saute rice, scallions, turmeric, garlic oil, and salt for a few minutes over medium heat. Add in the water and until it almost reaches a low boil and turns the heat down to low. Cook until water has cooked into the rice. I fluff the rice, turn off the heat and keep the lid on. Time will depend on the type of rice that you use (see list above). In the end, add in a little cilantro and chopped tomato.
In conclusion, I love sharing these new taco recipe ideas with you! Whether you eat low fodmap, plant-based, gluten-free, all three or just love good food, check out some of the other recipes here at the Vine Ripe Nutrition blog!
Above all, as a nutritionist living in Asheville, NC, I enjoy improving people's quality of life using food as medicine! I would love to hear what your taco creation in the comments or on social media!
Lastly, if you are ready to schedule a visit for personalized help and support to improve your gut health, contact me to schedule an appointment! I recently completed the MONASH University training for registered dietitians working with IBS FODMAP Dietitians Directory – Monash Fodmap
In addition to low fodmap tacos, here are some additional Vegetarian Low Fodmap Recipes that you may also enjoy on the below links:
Build Your Own Low Fodmap Pizzas
Vegetarian Low Fodmap Meal Plan