Whether you are looking for a delicious vegetarian breakfast to serve during the holidays or just trying to decrease your breakfast meat consumption in general, I have some great breakfast ideas for you to try!
You may have had quinoa as a side dish but have you ever tried it in place of oatmeal for a high protein breakfast cereal? Here is my version with apples, pecans and a little coconut milk!
Breakfast Quinoa with Apples and Pecans
Where I live apples are a good fruit to have in the fall and winter unless you are lucky enough to have a "keeper apple". As we head into spring, you can use local produce like strawberries and in the summer a variety of black, blue and raspberries and peaches. Next fall in addition to apples try pears and figs. In the winter when fresh fruit is sparse, try drying and freezing fruit during the season for a welcome treat when it's cold and dark outside!
Makes two servings.
1/2 cup light coconut milk
1/2 cup water
1/2 cup rinsed quinoa
2 teaspoons pure maple syrup
½ teaspoon vanilla
Pinch of ground cardamon
Pinch of salt
1 chopped apple (or you can substitute for berries or use less apple if you are sensitive to it)
¼ cup pecans
Bring milk, water and quinoa to a boil in a small saucepan. Cover and simmer. Cook until most of coconut milk is absorbed (which will be about 12-15 minutes.)Remove from stove and stir in maple syrup, cardamon, and chopped apples. Top with pecans.
One of my favorite breakfast spots in my neighborhood in West Asheville is called the Sunny Point Cafe.
They are known for a lot of legendary dishes and one of my favorites in their breakfast salad. My breakfast recipe below was inspired from theirs. It is something special to have for a breakfast brunch!
Breakfast Salad
Having salad for breakfast is a delicious way to add more vegetables in your diet!
Makes 4 servings.
4 cups mixed lettuce
1/2 cup thinly sliced carrots
4 eggs, prepared your favorite way-I like mine scrambled
Add roasted potatoes and choice of breakfast protein.
Drizzle with Mustard Maple Dressing (below) and top salad with pecans if desired.
Recipe of tofu bacon (see below)
Recipe of roasted potatoes (see below)
Make the dressing, tofu and potato recipes. In 4-6 bowls add lettuce and carrots. Scramble the eggs. Next add potatoes, tofu bacon and eggs to the bowls. Drizzle mustard maple dressing to the top.
Mustard Maple Dressing
1/4 cup pecans if desired
1/4 cup maple syrup
1/4 cup olive oil
1 tablespoon cider vinegar
2 teaspoon Lusty Monk Mustard
Salt and pepper to taste
Mix the ingredients together in a small bowl and pour over salad.
Roasted potatoes
3 small potatoes
Olive oil
Salt and pepper to taste
Cube potatoes into small pieces. In a small board toss potatoes with salt and pepper. Add to small pan. Roast potatoes the same amount of time as tofu and it should be done around the same time.Turn every 5 minutes.
Breakfast Tofu
Tofu has a bland flavor and takes on whatever seasonings that you add to it. In this recipe, this marinade makes tofu into a tasty bacon!
14 ounce box, extra firm tofu, drained
To make marinade:
1 tablespoon soy sauce
1 teaspoon sesame oil
1 tablespoon apple cider vinegar
1 tablespoon sorghum
1/2 teaspoon fresh garlic (or substitute garlic oil)
1/2 teaspoon ground ginger
1/2 teaspoon red pepper flakes
Cut the tofu in three pieces, cutting cross grain. Then cut each of these pieces into four and then cut each of those pieces diagonal to make little triangles. Make the marinade mixture in a 9 by 12 glass pan. Place tofu in marinade and ready to bake at 425 degrees for about 15 minutes. The marinade should be soaked into tofu and will be crisp.
Tempeh, Sweet Potato Spinach Burrito
I usually have this tasty burrito for lunch or supper, but I also think that it makes a great breakfast for the weekend also! This burrito was inspired by one that I had in Boone, NC about 10 years ago at a restaurant that is no longer there. It is has been enjoyed by vegetarians and meat eaters alike. Toasting the tempeh in the skillet gives it a beautiful brown and gives it a nutty flavor.
Makes 4-6 servings
1 large sweet potatoes, organic if possible and local
1 package tempeh (I like to use the local Smiling Hara Smoked Salt and Pepper)
2 cups cooked black beans, rinsed and drained ( if you are sensitive to oligios choose lentils or garbanzo beans)
1/2 medium onion chopped (or the greens of scallions if you are sensitive to oligios)
1-2 cloves garlic minced or substitute 1 teaspoon of garlic oil if you are sensitive to oligios
1 teaspoon ground cumin
1 tablespoon chili powder Here is a low fodmap chili powder.
Salt and pepper to taste
2 cups fresh spinach or other local greens
1/2 cup chopped cilantro (I have been using some from my window seal).
1/2 cup salsa (if you are looking for one without onions or garlic
1/3 cup shredded cheddar cheese
4-6 whole wheat tortillas
To Roast Sweet Potatoes and Onions: Cube sweet potatoes into 1/2 by 1/2 pieces. Place on cookie sheet along and toss with about 1 teaspoon olive oil. Roast in oven at 425 degrees and add onion. Roast 5-8 minutes or until potatoes and onion are soft and caramelized.To make tempeh: Cube tempeh into 1/2 by 1/2 pieces. Saute it in a small amount of oil in a cast iron skillet on medium heat, turning every 5 minutes until browned on most sides. Add chili powder, cumin and garlic to brown lightly. Add about 1/3 cup of water and turn down low and simmer about 5-10 minutes. Mix sweet potatoes with tempeh and mix together. To assemble burrito, add 1 cup filling, 1/3 cup spinach, 1 tablespoon cheese and 1 tablespoon salsa. Roll it up like a burrito or fold in half like below. You can make a quesadilla or even use for a nacho filling! You can also add sour cream or Greek yogurt and guacamole if desired!
Breakfast Egg Tacos
Mexican food and eggs are two of my favorite breakfast foods! A combination of the two is even better! I love breakfast burritos, tostadas, frittatas, huevos rancheros and egg tacos! All of these combinations have the flexibility of being plant based meal or include a lean meat.
Makes 4 servings
4 corn tortillas
4 eggs
1/4-1/2 cup veggies of your choice such as chopped onions, green peppers and mushrooms
2-3 ounces of protein if desired, of your choice of sausage, bacon, tofu, tempeh or seitan if desired
1 tablespoon olive oil
Toppings such as greens of scallions, cilantro, cabbage, lettuce, spinach, chopped bell pepper, shredded cheese ect.
Heat oven to 425 degrees. Place corn tortillas on a cookie sheet and brush both sides with 2 teaspoons of oil and bake for 5 minutes on each side. Heat 1 teaspoon oil in skillet and add vegetables. Saute them until they are soft. While the veggies are cooking in a small bowl, beat eggs and add salt and pepper. Add eggs and lightly scramble. Place 1 or 2 tortillas on a plate and add eggs.On top of egg and tortillas, add toppings of your choice, salsa and cheese.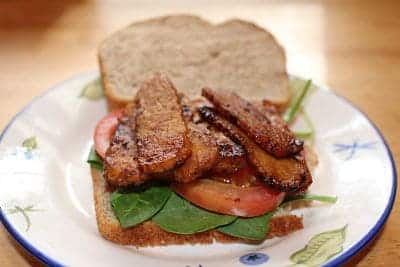 Tempeh Bacon Sandwich
The tempeh can be cooked ahead of time and added in the morning. this sandwich also makes a great vegetarian lunch! Be brave try some tempeh and let me know your experience with my tempeh bacon recipe!
1/8 cup maple syrup or brown sugar
1 teaspoon liquid smoke or smoked paprika
2 tablespoon cider vinegar
1 teaspoon black pepper
1 tablespoon garlic oil
Mix maple syrup or brown sugar, liquid smoke or smoked paprika, vinegar, garlic powder, and pepper in a 9 inch pyrex pie plate.Take the block of tempeh and cut it into strips that are about 1/4 inch thick and marinate it for about 30 minutes. Turn it over once. Heat skillet and add the olive oil. Add tempeh (keeping remaining tempeh in plate) and cook about 2-3 minutes and turn over. Cook a little more. I like to add the rest of the marinade and cook this flavor into tempeh. When browned on both sides, take out of skillet. Makes enough for 3-4 sandwiches. To assemble sandwiches: put on toasted bread, add lettuce or other salad greens, tomato and mayonnaise and mustard.
Breakfast Grit Bowls
This breakfast bowl uses a meat chorizo substitute called No Evil Foods Plant Meat which is available in my hometown of Asheville. I used sweet potatoes and spinach but you can use a variety of food combinations for these breakfast bowls! Change them based on the seasons!
Makes 4-6 breakfast bowls
1/2 cup of stoned ground grits
2 baked sweet potatoes, firm enough to cube
1 pound of spinach, washed and drained well
1 large link No Evil Foods chorizo (or another meat substitute equivalent
Olive oil to cook chorizo
To make grits: let 2 1/4 cups water to boil and take 1/2 cup grits and turn down heat below and add 1/2 teaspoon of salt and 1 tablespoon of your choice of fat whether it be olive oil or Earth Balance tub margarine. You will have to stir often to prevent grits from sticking and scorching. You may need additional water.These grits will finish cooking in about 30-40 minutes depending on if they are fine or coarse ground. You can take a taste to see if they are done. They can also be cooked ahead of time and reheated to make your bowls quick.Crumble or chopped chorizo in a small amount of oil in a skillet and cook until crispy and crunchy. Drain if necessary on a paper towel. The chorizo is spicy so if you need a mild version, try their Italian "sausage".Layer the grits, sweet potatoes, spinach and top with chorizo! Hope that you will love these as much as I do! I have some other great combos for breakfast bowls that I will share soon!You can top with cheese if desired. Otherwise this recipe is vegan.
I recently made another really tasty brunch menu last week from a curated gift box from Asheville Goods. The gift box is called the Blue Ridge Breakfast Box and it has almost everything you need to make a delicious breakfast besides a couple of staples from your kitchen. It is great for gift giving but it is also great to have on hand during the holiday season in case you have guests that stop by during the holiday season! The box contained pancakes, grits, coffee, jam, honey and hot sauce. Check out my holiday brunch and see my new recipe for a breakfast scramble on Asheville Goods website and how to purchase the Blue Ridge Breakfast Box and many other great boxes for gift giving!
I hope that you enjoy these breakfast ideas just in time for the holiday season when many of us have some time with family and friends. Having breakfast together is a special time to gather together and many of these ideas can be even be made ahead of time and put together quickly on a week day. As a registered dietitian nutritionist, I love helping clients find healthy eating solutions to life's challenges!