Vegetarian Protein Foods
Today, I am sharing 10 Delicious plant-based protein recipes to make your meatless meals easy and delicious! Many people do not realize that there are many high protein foods that are also plant-based but there are lots of tasty choices! Over the next few days of our Meatless May Celebration. If you missed the first week of the fun, check out this post:
https://vineripenutrition.com/healthy-menu-planning-for-vegetarian-meals/ !
Many vegetarians eat eggs and dairy. If they eat eggs, they are called an ovo vegetarian for those who eat eggs and lacto vegetarian for those that eat dairy. And for people eat both dairy and eggs, a lacto ovo vegetarian. You might be wondering if it is possible to get enough protein on a plant-based diet, I hope some of these ideas will help!
Which Vegetarian Foods are High in Protein?
Here are some of the foods that are high in protein for 10 delicious plant-based protein recipes:
May 5: Vegetarian Protein Sources: Beans and Nuts with Recipes
May 6: Vegetarian Protein Sources: Whole Grains
May 7: Vegetarian Protein Sources: Soy and Non-Soy Meat Substitutions
May 8: Vegetarian Protein Sources: Finding the Right Protein to Meet Your Needs
May 9: Vegetarian Protein Sources: High Protein Vegetarian Sandwich Ideas
May 10: Mother's Day Barbecue (check out the Mother's Day Brunch Ideas here https://vineripenutrition.com/healthy-menu-planning-for-vegetarian-meals/
May 11: High Protein Bowl Ideas
How Much Protein Do I Need?
Protein needs vary according to your age, gender, body size and the amount may go up according to the type of exercise that you may do like weight lifting. Difference health conditions also make a difference in what someone may need.
One thing that is difficult for many people to get a good understanding about is that we can't store extra protein if we need too much. It is only used to build and repair the body and after that the extra is used as calories with the nitrogen not needed to be eliminated as a waste product. For some people with certain health conditions, too much can be a stress on the body and it also may lead to some dehydration.
There may be an added benefit of eating plant-based protein and inflammation. That is because animal products are connected more with inflammation while plants help reduce it so it is a good reason to go meatless once or twice a week if you are unable to do it every day. Not only are there great health benefits but they are also very delicious!
Here are some nice calculations to help you estimate your protein https://www.health.harvard.edu/blog/how-much-protein-do-you-need-every-day-201506188096 . A registered dietitian can help people individualize their protein needs also.
Check out These 10 Delicious Plant-Based Protein Recipes
High Protein Beans, Nuts and Seeds
Beans average about 15 grams per one cup and provide lots of fiber, healthy carbs and they are rich in vitamins and minerals like manganese, magnesium, copper, folate, iron and thiamine. Beans can be made into dips, soups, salads, casseroles and more.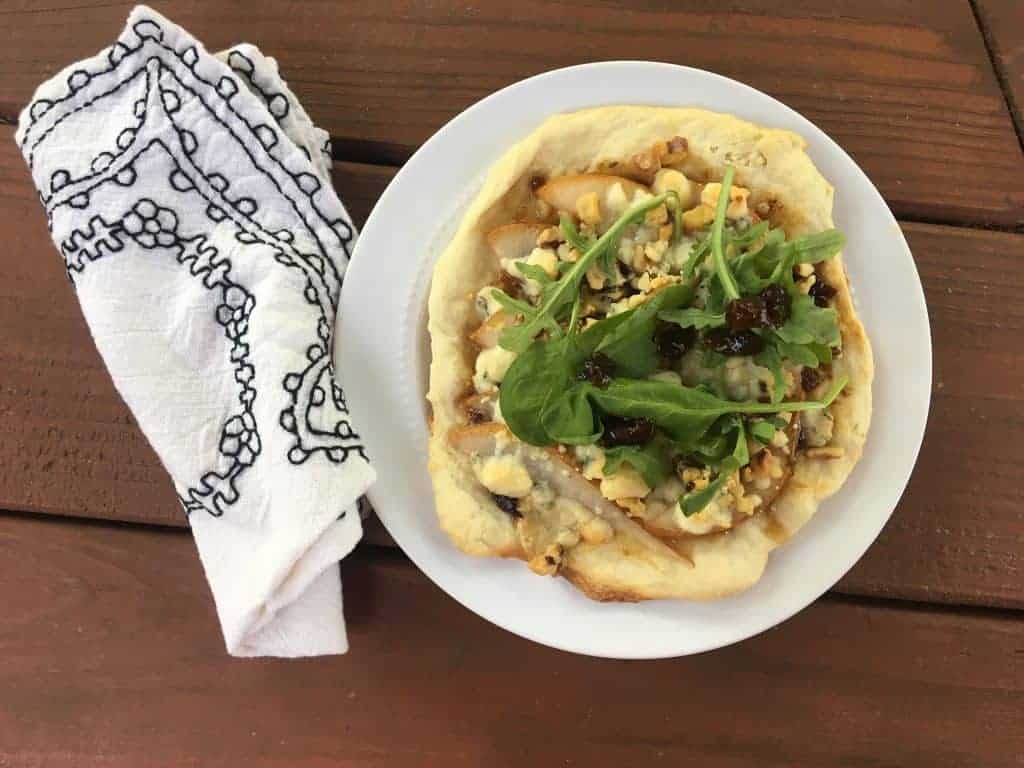 Nuts and seeds are another great source of plant-based protein, containing about 5 grams per 1 ounce which is about a handful or 1/4 cup. In addition, they contain fiber, healthy carbs but they are also rich in vitamin E and minerals like manganese, magnesium, phosphorus, copper and selenium. They are great topped in salads or other side dishes but I also love them in a pesto or tapenade.
Here are some recipes using beans and nuts or seeds that my family and I enjoy!
Garbanzo Tomato Curry
Low Fodmap Lentil Veggie Burgers
Broccoli Walnut Pizza
And also a few recipes using nuts/seeds:
Apple Blueberry Tofu Walnut and Kale Salad
Arugula Pesto
High Protein Whole Grains
When we think about whole grains, most of us don't think about how much protein that they have. We usually think about their healthy carbs but in only 1/2 cup they contain about 5 grams of protein. Besides that, they are also high in fiber, B vitamins like thiamine, niacin and folate; and minerals such as iron, magnesium and selenium.
Whole grains to make part of your regular diet include whole wheat, rye and oats (unless you have celiac or if you are working with a registered dietitian on a low fodmap diet). Others include quinoa, brown rice, wild rice and millet.
Here are some of recipes with whole grain recipes that are also rich in protein:
Rainbow Kale Salad
Quinoa Tabouli
https://vineripenutrition.com/rainbow-kale-salad-with-pita-bread/
High Protein Soy and Non-Soy Meat Alternatives
These meat alternatives can be almost as high in protein as many meat options and they can be prepared so delicious! Here are some of the more common ones:
Tofu
This soy product is made by thickening soy milk with a coagulant to make it into a cake that can be marinated and made into all sorts of delicious recipes. Because of it's milk flavor, you can season it exactly how you would like from an Asian stir fry to a soft creamy chocolate dessert. That is because tofu also comes in a variety of textures from firm, extra firm, medium and silken/soft. My favorite thing to make out of tofu is to marinate and bake it and put it on sandwiches or salads.

A three ounce serving contains 8 grains of protein and it is also rich in calcium and protein.

Tempeh
This high protein soy food is made with whole foods and is fermented. Foods that might be included are nuts, seeds, legumes and whole grains. Some tempeh can even be made with legumes other than soy making it soy-free. Because it is fermented and contains whole foods it has more texture but a more distinct taste to tofu's delicate flavor.

A three ounce serving of tempeh contains 16 grams of protein and it is also is high in fiber, iron and potassium. My favorite way to make this is tempeh Sloppy Joes but I also love tempeh bacon or sausage.

Seitan
This is plant-based meat alternative is even higher than the two above. It is made from wheat gluten which would make it inappropriate for someone who has celiac disease but it can provide a nice chewy texture and can have flavors cooked right into it. One of my favorite ways to prepare this is in a stir fry with sauce or to make fajitas.


Here are recipes made from each that I hope you try!
Tofu Eggplant Bell Pepper and Zucchini Kabobs
Tempeh Bacon Sandwich
Taco Salad Using Plant Meat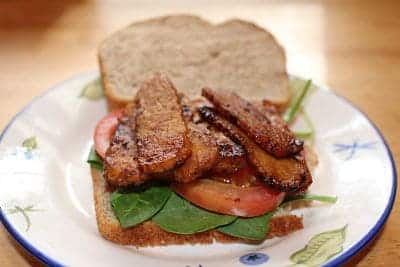 Soy Controversies
If you have read my blog before, you may have caught this fantastic podcast from Mary and Whitney from one of my previous posts and if you have not, here it is. It it worth repeating. Hope you find it helpful. Soy is a big part of my plant-based meal plan.
Vegetables are a Source of Protein in the Diet
Not only do vegetables offer an abundance of vitamins, minerals, phytochemicals and antioxidants, but they also provide about 2 grams of protein per serving. And when we strive towards more per day this can really add up!
The Vine Ripe Nutrition blog has a large variety of vegetable recipes to help you get your protein needs!
Finding the Best Plant-Milk to Meet Your Nutritional Needs
Determining how to pick the right plant-milk that is best for you is determined by a variety of factors. Are you looking to add a non-dairy milk that compares to milk in protein or calcium? Do you have IBS and need a low fodmap option? This article includes plant-based milk comparisons and also some plant-based milk nutrition information . I hope that you find it helpful! https://www.medicalnewstoday.com/articles/325425
High Protein Vegetarian Sandwiches
You do not have to have a slice of meat or even cheese to have a high protein sandwich. The barbecue sandwich above is made from a brand of seitan type product called No Evil Foods https://www.noevilfoods.com/

You can find the recipe for this barbecue sandwich shown above at https://vineripenutrition.com/plant-meat-3-ways-take-your-lunch-to-work-challenge/
You can also make a lot of great sandwiches out of tofu or tempeh. I love the locally made Smiling Hara Hempeh https://www.smilingharatempeh.com/ which uses hemp seeds! Here are some other delicious ideas!
Grilled Tofu Summer Vegetable Sandwich
Barbecue Tempeh Open-Faced Sandwich
Mother's Day Vegetarian Barbecue Menu
Last week, I shared several recipe ideas for a delicious Mother's Day Brunch. But who ways that Mom can't have both a nice brunch and a barbecue?
Here are some tasty meatless barbecue ideas that you may love! Also check out my recipes above that are grilled also which include Grilled Tofu Summer Vegetable Sandwich and Tofu Eggplant Bell Pepper Kabobs!
Barbecue for Mom
Vegetarian Protein Bowl Ideas
Last topic for this week that I want to share is adding a vegetarian protein bowl to your weekly menu rotation. I love these because they are as versatile and diverse as the entire universe (well almost). Use a bowl to use up all your leftovers for the week. I make Asian, Mexican and sometimes even Southern! Below is my rule of them how I put them together and after that I am sharing a few recipes:
Your Choice of Veggie Protein
This can be tofu, tempeh, seitan, beans (and even eggs and cheese if you eat these). I often add several proteins together.

Your Choice of Veggies
Get as creative as you want. Add both raw and cooked. Some of my favorite combos include baked sweet potatoes, raw cabbage and kale with maybe some grated carrot but the sky is the limit to what you can put together. You can even add fresh or dried fruit.

Nuts or Seeds
For additional protein, healthy fat, crunch and a pop of flavor. I love walnuts and pumpkin seeds but all would be delicious! Not a nut or seed but other healthy fats include chunks of avocado or olives.

Whole Grains
So many choices here! From brown rice, stone ground grits (polenta), quinoa and even millet……..and more!

Get Saucy
I got asked by a friend, what sauce? Well, it depends on your bowl. Maybe it is a lemon ginger, a salsa or a pesto. You have lots of options here to get creative!
Here are some recipes to get you started on you new weekly vegetarian grain bowl adventure: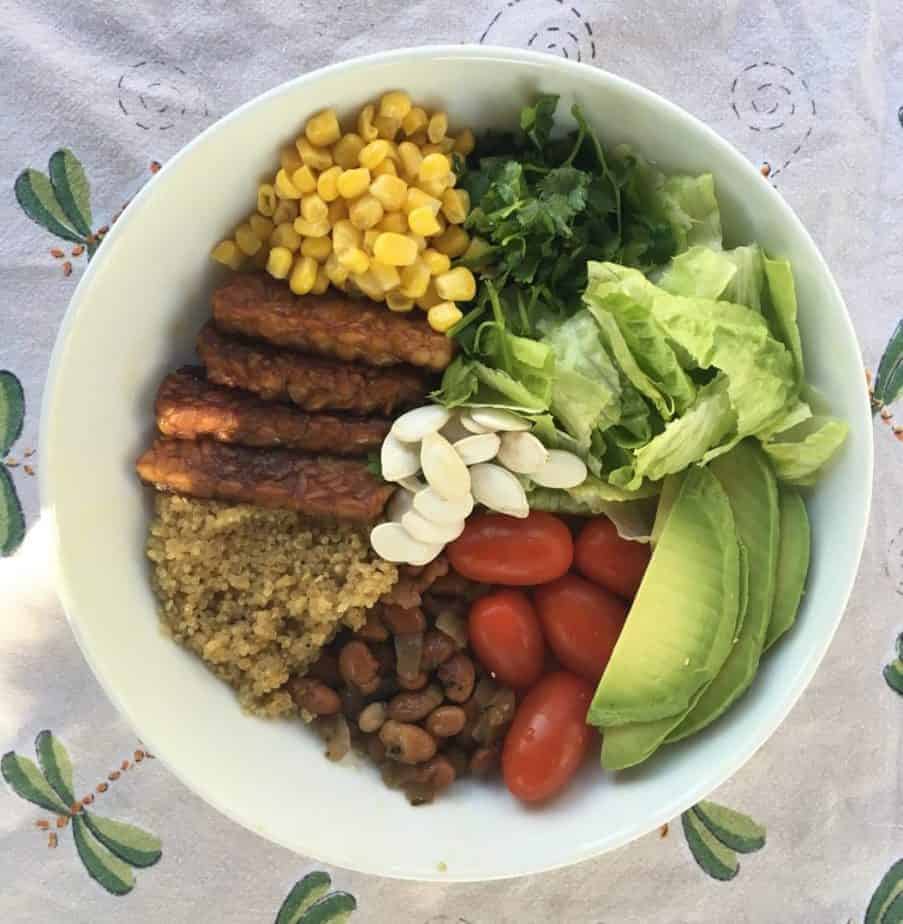 Stay tuned next week when I will have more Meatless May ideas to inspire you to try eating a more plant-based lifestyle not only your health and lots of good reasons to do it! I know that I titled this post 10 Delicious Plant-Based Protein Recipes, but I think that I included even more!
As a registered dietitian, I love to help people eat healthier to feel their best and do the things that they love! I am so excited to share with you my new Fresh Approach to Meal-Planning Guide that you can receive here! It will share meals that can be either meatless or with meat. You can get it here https://vineripenutrition.com/. You can also find more vegetarian recipes here.
Stay tuned early next week for even more meatless recipe and menu ideas to help you with your plant-based lifestyle!