Protein Bowl Recipes Vegetarian
Try these protein bowl recipes vegetarian options. They are built in layers are a delicious one dish meal option that includes all you need to feel comfortably full. It is jammed packed with a combination of flavors and a powerhouse of nutrition.
Meals created in a bowl are often displayed in a way that makes them both colorful and even an art form. Many of them are creatively designed with patterns, designs and textures.
I love the flexibility of serving the ingredients and having my family build our own bowl with the portion size they need and the options that they want to include. Some of these ingredients can be prepped ahead of time for an easy throw together meal!
One of our all-time family favorites that we make at home is called "The Tofu Buddha Bowl' inspired by two of our favorite vegetarian restaurants here in Asheville, Rosettas Kitchen and The Laughing Seed. This tasty bowl is a quick supper for my family, but it makes a great leftover lunch the next day!
To further get your creative juices flowing to make some meals in the bowl, I also have included a breakfast smoothie bowl and a salad bowl for lunch. So now you have a plant protein bowl for every meal! I hope that these ideas inspire you to create lots of bowls in your future with simple, whole food ingredients that you put together at home!
Protein Bowl Recipe Vegetarian Ingredients
Your protein bowl recipes are only going to be a delicious as the ingredients that you put in them. Here are some ideas for some delicious combinations.
Roasted vegetables such as sweet potatoes and broccoli
Plant based proteins such as roasted tofu, tempeh or cooked beans
Whole grains such as rice, quinoa or millet
Raw vegetables like shredded carrots, thinly sliced cabbage, chopped tomatoes or sprouts
Nuts or avocado to top your power bowl
A yummy dressing, I love a tahini dip on top of mine but there are lots of delicious options!
Meal Prep for Vegetarian Protein Bowls
A great meal prep tip is to cut up vegetables and plant-based proteins. Toss them in a little oil and seasonings. And place them on a sheet pan to roast.
3 Plant Protein Bowl Recipes
In addition to being plant-based and vegetarian, these bowls are also gluten free. Plus they can also be easily made into vegan using plant based yogurt and cheese in the recipes. They can also be low fodmap by limiting the amount of high fodmap ingredients like garlic powder, high fodmap vegetables, fruits, nuts and most beans.
The Tofu Buddha Bowl
 To make this vegetarian protein bowl use seasonal ingredients, when possible, from the farmers market and vary it depending on the seasons. For fall, I used kale, carrots and cabbage for my roasted veggies but you can also include roasted beets, turnips, fennel and winter squash. Vary the greens to include collards, chard, spinach and arugula! Think of all the possibilities when spring and summer are here!
Makes 4 bowls.
Marinated, roasted tofu (See recipe below)

1 cup cooked black beans
4 cups kale
1 cups carrot
1/2 cup onion
1 cup cabbage
1 tablespoon olive oil
2 cups steamed brown rice
To make brown rice, measure 1 cup of rice into a medium saucepan and add 2 cups of water. Heat on medium heat on the stove until rice begins to boil then turn down to low and let simmer for about 35 minutes or until the water has absorbed. Take off stove and allow it to continue to steam.
Stem kale and tear into bite size pieces and wash well in a colander. To steam the kale, put a tablespoon of water in a skillet over the kale. Heat stove to medium, put a lid on the skillet and let kale steam until it gets a little soft.
Julienne the carrots and slice cabbage and onions thin. Saute carrot, onion and cabbage in a little olive oil until they start to brown and caramelize. In four bowls layer the rice and sauteed carrots, onions and cabbage.
Divide beans between the bowls. Top with steamed kale and tofu. Drizzle ginger tahini dressing over the bowls.
Ginger Tahini Dressing
1 tablespoon tamari sauce
1 clove pressed garlic
1 tablespoon grated ginger
1/4 cup fresh lemon juice
Pinch of cayenne pepper
1 tablespoon tahini
Water
Combine tamari, garlic, ginger, lemon juice, cayenne and tahini. Mix well. It will become think so water can be added in with a whisk to get it to desired thickness.
Marinated Roasted Tofu
Tofu has a mild flavor and takes on whatever seasonings that you add to it. In this recipe, the marinade turns tofu into a tasty bacon! This bacon is one of the main ingredients for my breakfast salad!
1 block of tofu
Marinade:
1 tablespoon tamari sauce
1/2 tablespoon sesame oil
1 tablespoon apple cider vinegar
1 tablespoon sorghum
1/2 teaspoon fresh garlic
1/2 teaspoon ground ginger
1/2 teaspoon red pepper flakes
Below, here are some pictures on how to make the baked, marinated tofu: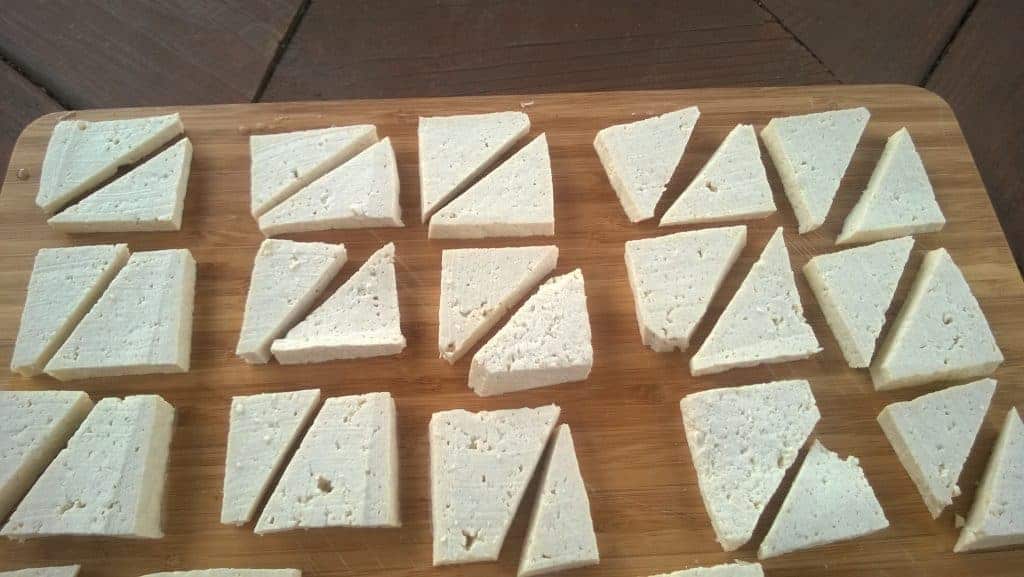 Fall Apple Oatmeal Smoothie Bowl
This yogurt bowl is the perfect breakfast! It has a balance of carbohydrates, fat and protein along with a burst of flavor. I love the fact that I can throw it together with whatever fruit, cooked grain or nuts that I have on hand. Use whatever seasonal fruit is available or you can even throw in some frozen fruit.
Makes 1 smoothie bowl
1/2-1 cup cooked oatmeal (you can also use cooked quinoa, buckwheat, millet, farro)

1 sliced apple or pear
1 tablespoon almonds, walnuts, pecans or seeds
1 teaspoon honey to drizzle over the bowl (I also love maple syrup and brown sugar in place of honey)

1/2-1 cup Greek yogurt
Layer oatmeal, sliced fruit, nuts and yogurt. Drizzle over the top with honey.
Tempeh Cobb Salad Bowl
This Mexican quinoa bowl was inspired from a cobb salad! Tempeh bacon made at home is a great plant-based alternative for meat bacon in this salad bowl. Everything needed for this delicious vegetarian protein bowl can be packed up to take with you to work!
Tempeh bacon is so tasty! Here is my super easy recipe to make it!
Makes 4 servings
1 batch of tempeh bacon (see link how to do it above)
2 cups cooked quinoa
4 cups romaine lettuce, rinsed, drained and torn
1 thinly sliced avocado
1 cup cherry tomatoes
1/2 cup cooked and drained fresh or frozen corn
1 cup cooked pinto beans
1/4 cup chopped cilantro
1/4 cup freshly toasted pumpkin seeds
Salad dressing
Juice from one lime
Salt and pepper to taste
1 teaspoon ground cumin
1/4 cup medium salsa
1/2 cup olive oil
Add all the ingredients in a large bowl and toss.
Directions for the bowl
To make 2 cup quinoa, measure out 1 cup of dry. Add 2 cups of water in a sauce pan and heat over the stove on medium. When the water starts boiling, add quinoa and stir.
Turn heat down and allow it to simmer for about 15 minutes until the water has absorbed. Take off heat and let it sit for about five minutes. In four bowls, divide the tempeh bacon, quinoa, lettuce, avocado, tomatoes, corn, beans, and cilantro in a bowl.
Garnish with pumpkin seeds. Lightly drizzle salad dressing over the bowl.
Make Some Protein Bowl Recipes
I hope that you enjoy these vegetarian protein bowl recipes as much as me and my family do! In addition, I hope that they just are the beginning of whetting your appetite to create lots of new one dish meal options! I would love for you to share all the delicious creations that you have made! I enjoy being a registered dietitian in Asheville helping make healthy eating taste delicious! You can find out more about me here! And you can find more bowl ideas here!
I am sharing some additional planted based bowl creations from some of my registered dietitian friends from Recipe Redux! Would love it if you share my bowl recipe ideas and theirs with your friends!