Mediterranean Roasted Vegetable Sandwich Recipes
Make a Mediterranean Roasted Vegetable Sandwich Recipes. Using lunch recipes with just one slice of bread is a great way to eat more variety and add more vegetables. They show off some very attractive ingredients out in the "open". Summertime is a great season to focus on these because there is a vast variety of choices to use for vegetarian meal ideas. Use local food from your garden or stop by the farmers' market.
Check out my 3 summer lunch menus featuring open faced sandwiches! If you miss the meat, you can easily adapt them but I don't think you will!
3 Vegetarian Open Faced Sandwich Recipes
1. Mediterranean Roasted Vegetable Sandwich (Roasted Eggplant, Tomato, Basil Stack with Fresh Mozzarella)
Side Salad
Sliced Cantaloupe

2. Curried Tofu Salad Sandwich
Sliced Cucumbers with Lemon Tahini Dressing
Blueberries

3. Vegetarian Reuben Sandwich
Cherry Tomatoes
Sliced Peaches
Recipe for Open Faced Sandwiches
Mediterranean Roasted Vegetable Sandwich Recipe
(Roasted Eggplant, Tomato, Basil Stack with Fresh Mozzarella)
You can serve this with or without the cheese! This recipe just tastes like summer to me! The eggplant melts in your mouth!
Makes 4 servings
4 thinly sliced whole grain bread
1 medium eggplant thinly sliced
1 medium tomato thinly sliced
Small red onion thinly sliced Pickled onions
Pesto or thinly sliced basil
Fresh mozzarella cheese
Vinegar
Olive oil
Salt and pepper
You can simply marinate sliced red onions in a little vinegar and splash of olive oil for an hour or several days before making sandwiches or use the recipe link. Preheat oven to 425 degrees.
Toss eggplant in olive oil and place on cookie sheet or pizza pan. Sprinkle with salt and pepper and bake about 15 minutes until eggplant turning about 8 minutes into the baking, I should be brown and slightly crisp.
Layer the sandwich with eggplant, onion, tomato and cheese (if you are using pesto, add it to the bread before the eggplant). Place back in the oven and melt the cheese slightly. Take it out of the oven and top with fresh basil.
No need for the cheese. As you can see below, it is just as beautiful without the sandwich and even more tasty!
Pesto
2 cups basil
1 clove garlic
1/8-1/4 cup oil
1/4 cup grated hard cheese (optional)
1/4 cup nuts (optional)
Add ingredients to food processor and blend well into a paste.
Curried Salad Sandwich
This was a hit at the hospital I worked with in Eastern North Carolina with my co-workers who did not eat a lot of tofu. They loved it!
Makes 6 sandwiches.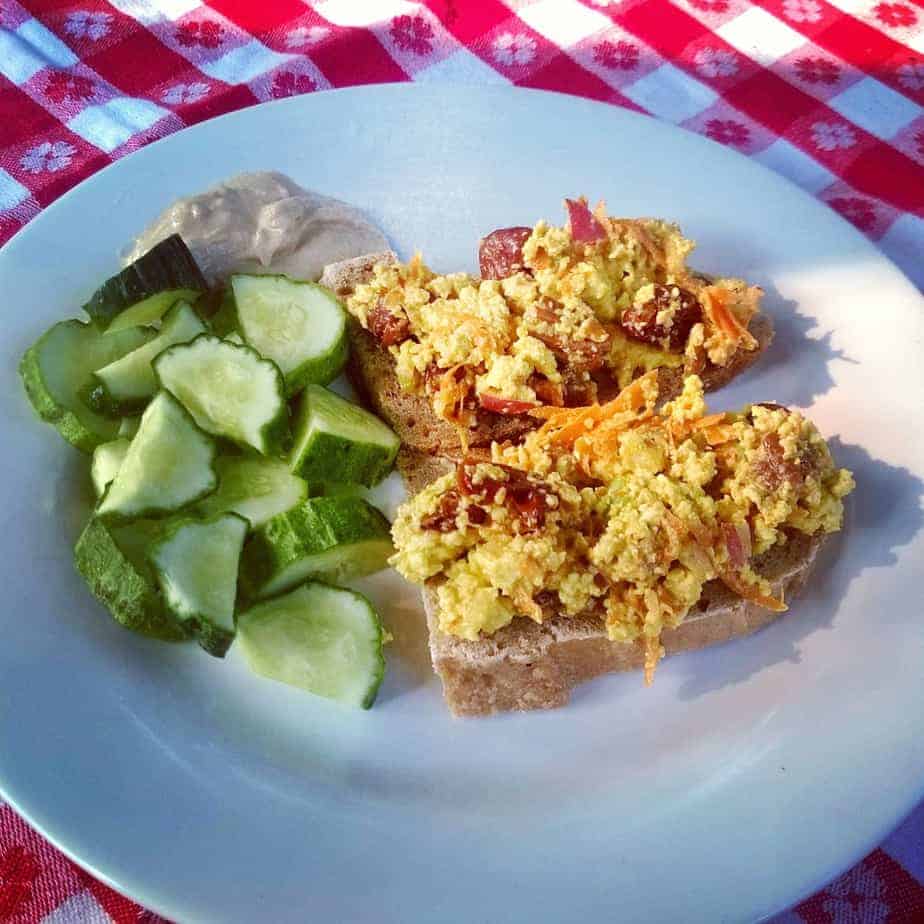 1 block of extra firm tofu, crumbled and drained in a colander
1 stalk celery chopped (buy organic if possible)
1/2 cup shredded carrot
1/2 cup dried tart cherries
1/2 cup toasted pecans
1/4-1/2 cup low fat mayonnaise (vegan mayonnaise to make this recipe vegan)
1 teaspoon or more of curry powder
1/4 teaspoon cayenne pepper
Salt and pepper to taste
In a large bowl, add all the ingredients and mix well. This can be eaten immediately but if you eat the next day, it is even better!
Vegetarian Reuben Sandwich
I made these tasty sandwiches with tempeh, but you can use Smiling Hara hempeh, No evil foods plant meat, Sunburst Trout or even the standard corn beef!
Homemade salad dressing can be lower in fat, sodium and preservatives than store bought dressings. You can also make your own pickled cabbage the slow method or quick method! If you use store bought, choose one that is lower in sodium if you can find it! You can leave off the cheese if you desire also.
Makes 6 sandwiches
1 1/2 cups Fermented Slaw
or Instant Slaw
1 medium onion, thinly sliced
1 1/2 cups sliced mushroom
6 sliced Swiss Cheese
Seedy Mustard, I like to use my local Lusty Monk
Thousand Island Dressing Light Thousand Island Recipe
6 sliced of whole grain wheat or rye bread, toasted
Olive oil
Cut tempeh in four squares and split in half sideways. Saute' tempeh in olive oil and brown on both sides. Drain well on paper towels. Add a little more oil and begin to brown onions and then add mushrooms until they both begin to caramelize.
On a cookie sheet, place slices of toasted bread and add a thin layer of mustard. Layers browned tempeh, onions/mushroom and a small layer of thousand island. Add your choice of kraut and salad dressing. Add cheese to the top (or not) and place the sandwich under the broiler and melt the cheese.
Make a Mediterranean Roasted Vegetable Sandwich and Other Delicious Sandwich Recipes
I hope that you will make a lot of delicious open-faced sandwiches for your lunches and even suppers!
You can find a few more ideas in my book Farm Fresh Nutrition. Let me know some of the combinations of open-faced sandwiches that you have found!

If you are looking to make changes in your lifestyle and are interested in working with an Asheville Nutritionist, I would love to help:
You can also find more sandwich ideas here.