Anti Inflammatory Foods
The days are getting longer and the weather is getting warmer so it's time to try 10 anti inflammatory recipes for spring! Many of us are familiar with the foods that can increase inflammation in the body. These include sugar, refined carbohydrates, trans and saturated fats. But, in addition, there are many plant foods and healthy fats that have anti inflammatory properties that help reduce inflammation also.
Health Conditions Related to Inflammation
Not all inflammation that happens in the body is a bad thing. For example, short-term, acute inflammation happens in the body when you accidently stub your toe and it begins swelling. That is part of the healing process. However, chronic, long-term inflammation in the body provides wear and tear. This wear and tear is undesirable and it can actually make changes in the body. Some of the health conditions that have been linked to chronic inflammation include diabetes, heart disease, autoimmune conditions like GI issues, dementia/Alzheimer's and even obesity.
Maintaining a healthy lifestyle that includes eating foods that fight inflammation is a healthy start to reducing chronic inflammation in the body.
How Foods Help Reduce Inflammation
Plant-based foods can help reduce inflammation because they contain phytochemicals (plant chemicals) that help prevent and fight it which include antioxidants found in fruits and vegetables. The more vibrant the colors of fruits and vegetables, the better and including as many colors as possible is important also.
Healthy plant chemicals like anti oxidants help reduce the effects of oxidation that happens in the body during normal metabolism. In this process, waste products called free radicals can cause harm in our body over time. The anti oxidants help reduce the harmful effects of these. Plant based foods are full of these antioxidants.
Another example of a super plant chemical in our diet is polyphenol. Polyphenols include resveratrol, ellagic acid and flavonoids. These are often found in purple foods but there are others also. All with a load of healing properties. You can find out more about the types of polyphenols here:
Beta carotene and allium are two other phytochemicals rich in antioxidants. Beta carotene is found is dark orange and green leafy fruits and vegetables. They help keep the immune system healthy. Examples of these include sweet potatoes, carrots, kale, spinach and arugula and many more.
Allium rich foods include white foods and include onions, garlic, leeks and scallions. The sulfur compounds in these foods have lots of preventive qualities, including reducing inflammation and having antioxidants.
Indole glucosinolates are another powerful anti inlammatory phytochemical which also helps prevent cancer. These powerful plant chemicals are found in cruciferous vegetables like broccoli, cauliflower cabbage and Brussels sprouts.
Ellagic acid, a phytochemcial found in purple/red fruits like berries, grapes and pomegranates along with nuts.
https://www.healthline.com/health/phytonutrients
Why getting a wide variety of colors in fruits and vegetables is important?
The more colors of fruits and vegetables included in our diet, the more beneficial phytochemicals that we include. In addition, going beyond our usual choices and trying new and diverse produce options adds even additional nutrition!
Anti Inflammatory Foods to Eat
Here are some plant foods that help fight inflammation:
healthy fats like olive oil, nuts like almonds and walnuts, seeds like flax and hemp, fatty fish such as salmon, mackerel, tuna and sardines
green leafy vegetables like kale, collards and spinach
fruits such as berries, cherries, and citrus
Whole grain foods in their natural state such as brown rice, wheat berry, quinoa, buckwheat and millet.
Anti Inflammatory Benefits of Mediterranean Diet
There are several anti inflammatory meal plans, but, the Mediterranean style of eating has been around since ancient times and includes a variety of food groups. It is mostly plant-based with the focus on fruits and vegetables, whole grains, nuts, olives, fatty fish but can also include some animal products. However, it can be vegetarian or even modified to be vegan also.
The Mediterranean diet has also had years of research showing it's benefits to reducing chronic disease. I love the Oldways Cultural Food Tradtions' "Your Guide to the Mediterranean Diet. Make Each Day Mediterranean".
https://oldwayspt.org/system/files/atoms/files/NewMedKit_0.pdf
The idea of taking concepts of the Mediterranean diet and making it more regional is something that I also envisioned. That is why I created the Appalachian Pyramid and put together ways how to localize it. I call this way of eating Mediterranean Diet Appalachian Style.
You can find out more about the Mediterranean Diet Appalachian Style in the blog post below.
The focus of all meal plans with the goal of reducing inflammation in the body is eating a variety of fruits and vegetables, let's talk about some of the produce that is available during the spring.
Here are some of the fruits and vegetables available in the spring that offer a variety of phytochemicals.
Strawberries
Asparagus
Greens
Green Onions
Mushrooms
Radishes
Rhubarb
Because, we have discussed some ways that fruits and vegetables help reduce inflammation, I will share some delicious anti inflammatory recipe ideas!
Anti-inflammatory Spring Recipes
Black-eyed Pea Bowls'
Spring Strawberry Asparagus Salad
Pecan Encrusted Trout over Greens
Raspberry Habanero Hempeh Tacos
Orange Radish and Spinach Salad
Purple Cabbage Behl
Low Fodmap Vegetable Curry Soup
Super Hero Chili
Apple Blueberry Tofu Salad
Spring Strawberry Asparagus with Trout
These first three recipes Black-eyed Pea Bowls, Spring Strawberry Asparagus Salad and Pecan Encrusted Trout over Greens can be found on my blog at Mediterranean Appalachian Style.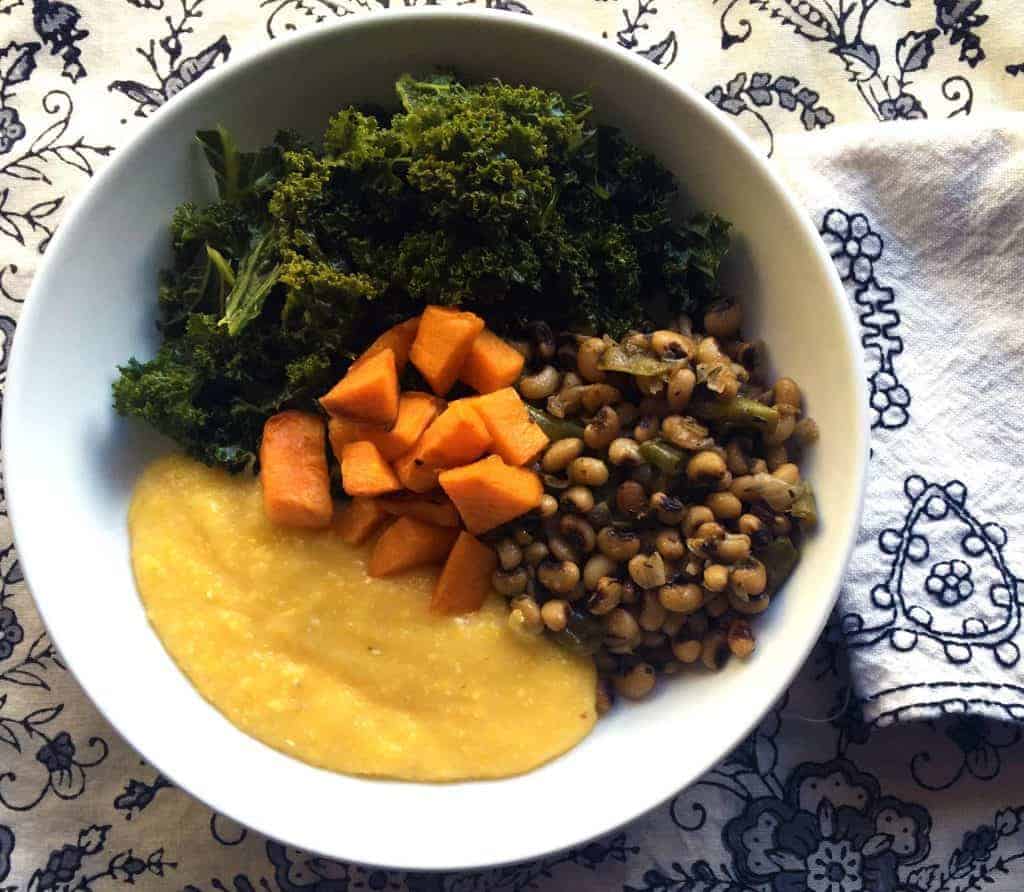 Change up the anti inflammatory foods to these black eyed pea bowls to use seasonal ingredients.
Black Eyed Pea Bowls
This strawberry and asparagus salad was my inspiration for my latest creation towards the end of the post.
Spring Strawberry Asparagus Salad
Trout along with salmon, provides healthy omega 3 fats that help cool down the inflammation in our body.
Pecan Encrusted Trout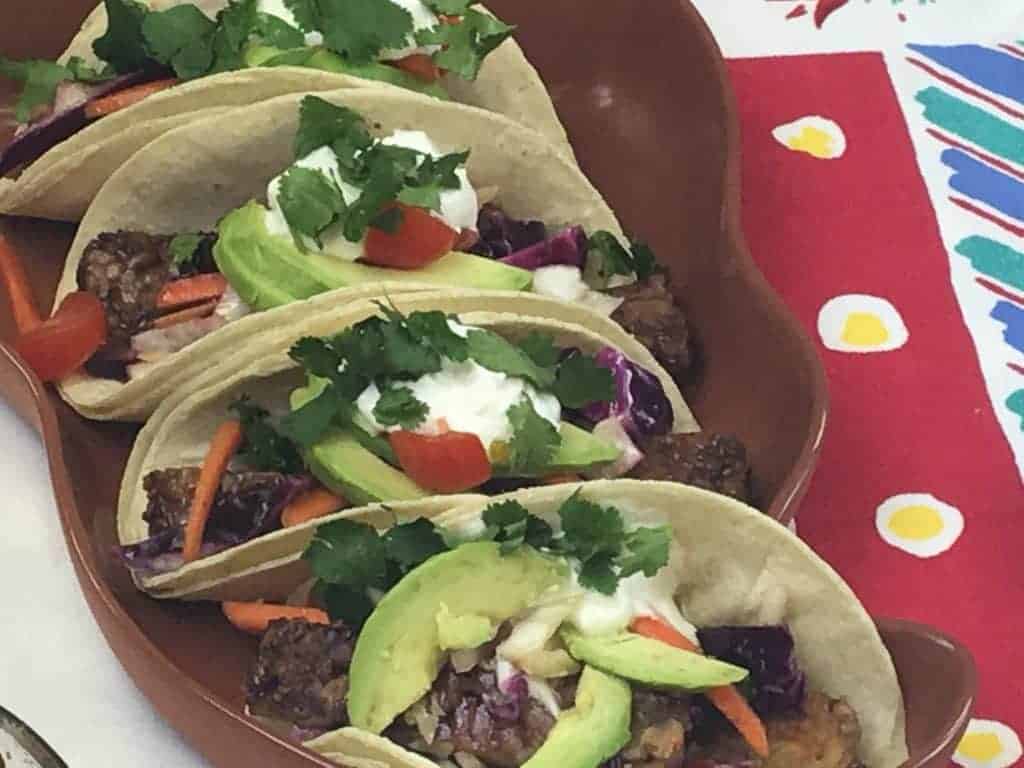 I love this local hempeh made by Smiling Hara. Plant based proteins are often a great anti inflammatory food.
Raspberry Habanero Tempeh Tacos
If you don't have hempeh where you live, you can substitute tempeh or you can order it on the Smiling Hara website.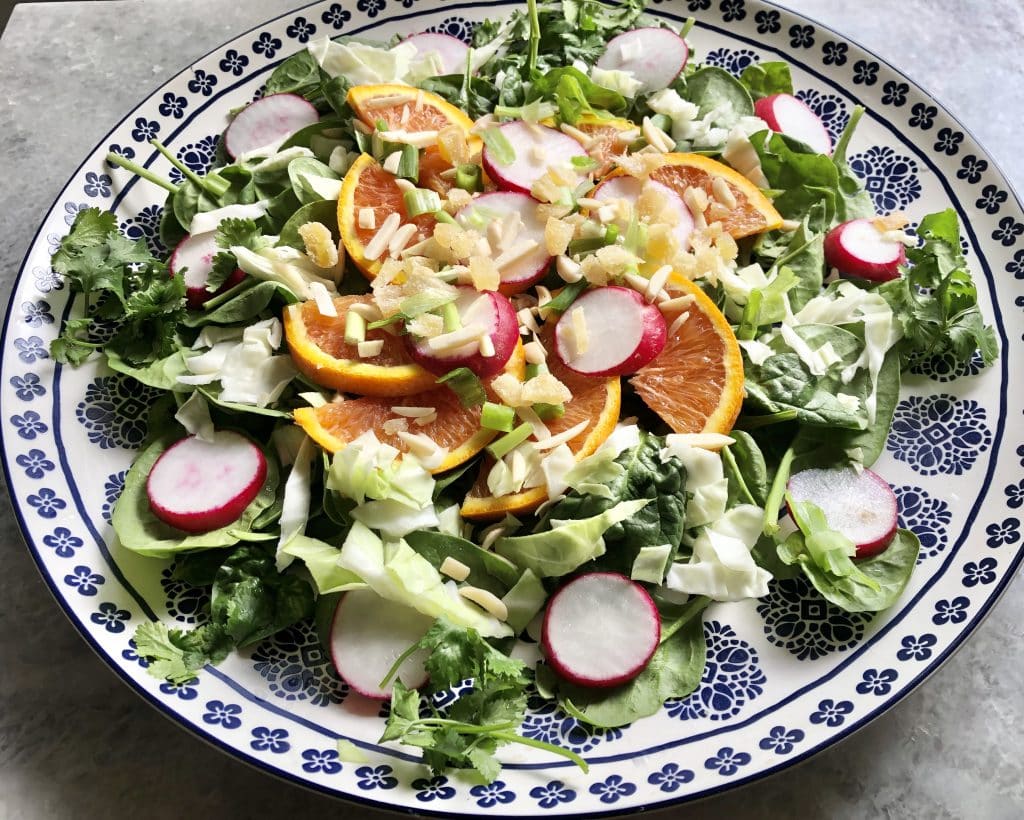 It doesn't get any more spring than fresh radishes and greens from the garden or tailgate market. And these vibrant colors are full of anti oxidant foods.
Orange Radish and Spinach Salad
This salad with the radishes, citrus, cabbage and greens just screams spring. "Hello spring!"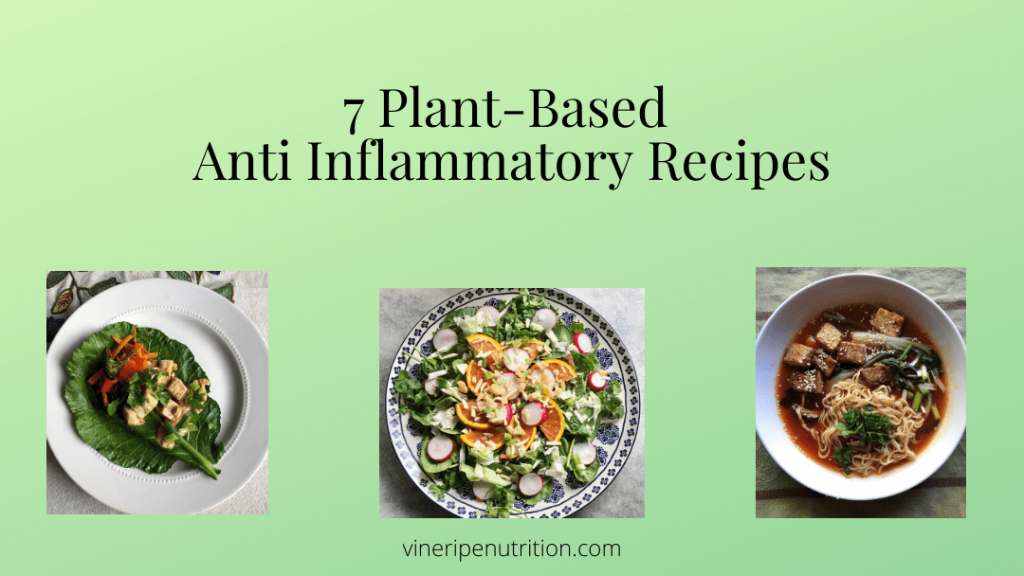 Plant-Based Anti-Inflammatory Benefits
This week, we are going to continue our Meatless May journey by discussing some of the anti inflammatory benefits of a plant-based diet! I also want to share with 7 plant-based recipes that can help reduce the body's inflammation. Let's first talk a about how plant-based foods help reduce inflammation in our body and help … Continue reading Plant-based Anti-inflammatory Benefits
This Purple Cabbage Behl is full of colorful anti inflammatory ingredients which feature foods rich in polyphenols.
Purple Cabbage Behl
Feel free to switch up the ingredients to this salad based on what is in season.
This soup is full of anti inflammatory ingredients that is good for the immune system. If you have IBS symptoms, learning about the low fodmap diet may help reduce inflammation if you have food sensitivities. Contact me for more info.
Low Fodmap Vegetarian Curry
This soup recipe is pure comfort a long with some healing ingredients!
I named this vegetarian recipe after the creator, my husband who is my super hero. If you don't want to make the chili pulp, use your blend of chili powder and other seasonings.
Super Hero Chili
This super chili can take on a life of it's own by switching up your vegetables and you can even experiment with dried fruit!
For women's health, this salad contains lots of healthy nutrients needed along with anti inflammatory fruits and vegetables.
Apple Blueberry Tofu and Kale Salad
In addition to this kale salad recipe, you will find a lot of great tips to keep women healthy!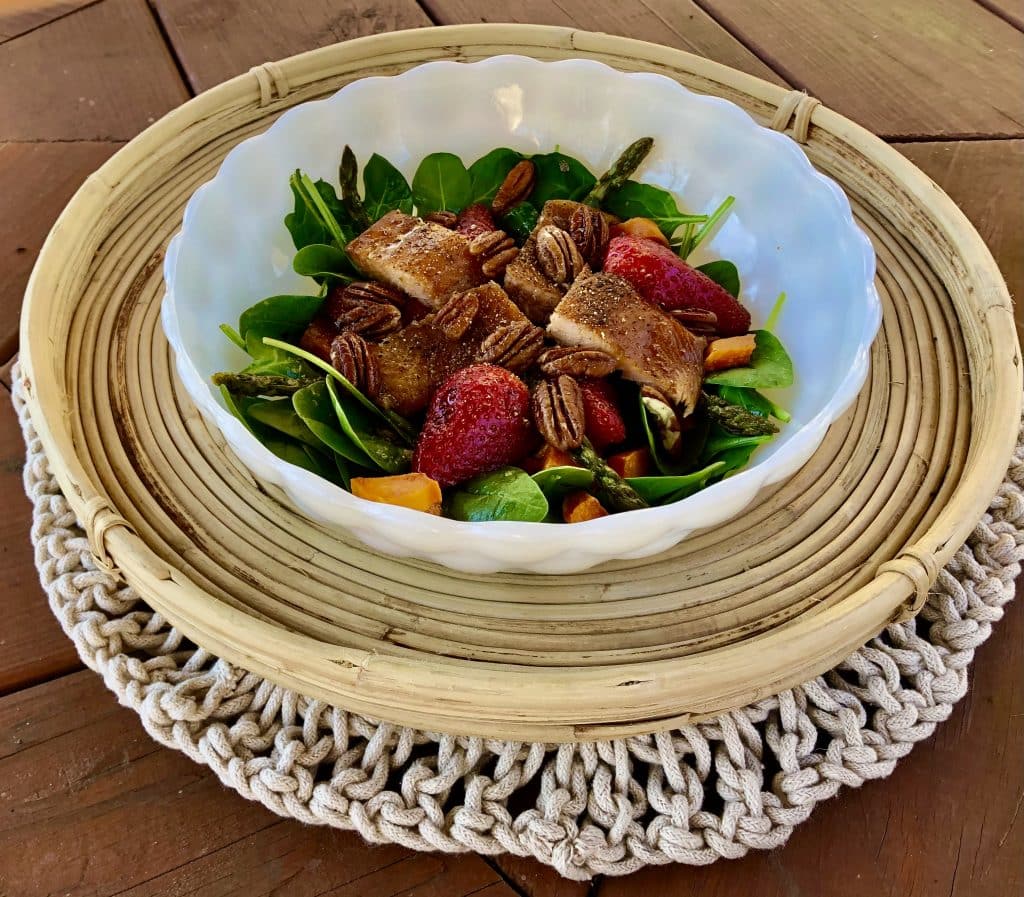 I was inspired to create this new recipe after talking with Gina Smith at Edible Asheville Magazine. Her story on healthy fats highlights many in this recipe like Sunburst Trout, pecans, and local hickory nut oil mixed with olive oil. The recipe features a colorful variety of fruits and vegetables also!
Spring Spinach, Asparagus Strawberry and Salad with Trout
This colorful, seasonal salad is a new spin on a classic. The addition of smoked trout adds protein and healthy fat so that it is a complete meal. You can add a little purple with a few rings of red onion. You can mix and match greens depending on what is in the garden and local farmer's markets. This salad would be delicious with grated local hard cheese or crumbled blue or goat cheese.
Makes 4 servings.
4 cups of baby spinach or other greens, washed well
2 peeled and chunked sweet potatoes
1/2 large bunch asparagus (cut off woody end and then cut asparagus spear in half
1 cup, stemmed and sliced strawberries
5 ounces Hot Smoked Sunburst Trout, flaked in large chunks
1/4 lightly toasted pecans
Olive oil for roasting
Balsamic Dressing
1/2 cup olive oil (you can also substitute a little Hickory Nut Oil from Acorntopia for the olive oil to give the dressing a smoked flavor)
1/4 cup balsamic vinegar (try a local one like Highland Gourmet)
1/2 teaspoon sea salt
fresh ground pepper
Preheat oven to 400 degrees. On a baking sheet, add sweet potatoes and asparagus spears. Lightly drizzle with olive oil and when oven is at temperature add the vegetables and roast about 15 minutes until they get soft and start to brown.
While the vegetables are roasting, Add washed and dried greens in a medium size serving bowl and add the strawberry slices. While the vegetables are cooling, make the balsamic dressing by add the oil in a cruet along with salt, pepper and balsamic dressing. Give it a good shake before pouring it over finished salad.
After taking out the roasted sweet potatoes and asparagus and after oven has cooled to low heat, add nuts to a small roasting dig and lightly toast in the pan. After the vegetables have cooled to room temperature, add them to the salad along with large flakes of smoked trout. Pour a moderate amount of dressing over the salad and top with pecans. Add grated cheese if desired.
This is a great recipe to try changing out the fruits and vegetables based on the seasons. In the summer, try cabbage, blueberries and greens beans with the trout. You could also try peaches and tomatoes. In the fall, try apple, winter squash along with your greens.
Spring super stars of the vegetable kingdom include strawberries, greens and asparagus. If you are lucky to have some local sweet potatoes from last years crop, that is a colorful bonus!
In addition to healthy foods, other habits to reduce inflammation and keeping your immune system healthy include:
If you drink alcohol, only drink moderate amounts. Health recommendations suggest 1 drink a day for women and 1-2 drinks a day for men. Try mixing things up with some sparkling water or some of these mocktails.

Getting adequate sleep

Reducing stress whenever possible.

If you have food intolerances that cause inflammation in the diet, working with a registered dietitian to determine what these foods are and how to plan healthy meals without them or safely add them back when ready.
To summarize, I hope this information about the protective role of plants for your body from inflammation is helpful. In addition, I also am excited for you to try these spring recipe ideas! They are delicious and they can also provide a lot of nutrients that your body needs. Lastly, if you are wanting to learn more about healthy fats and what local products are available in Western North Carolina, check out the Spring edition of Edible Asheville. It features my latest recipe and the finished product in my kitchen. LLeocaFood | Local Breweries | Things To Do | Edible Ash
I am excited to share ways to help you include more anti inflammatory foods in your diet. Not only will these colorful foods help improve our health but they also make our plates more beautiful and tasty. As an Asheville Nutritionist and Registered Dietitian, I help my clients improve their health through food and find things that they enjoy eating. You can find out more about some of the things that I do here:
In addition, you may be interested in additional information about inflammation and eating for a healthier immune system.
Get the jewels of spring full of color and healthy phytochemicals.