Easy Fruit Pizza Recipe
Summertime for me means fruit pizza and I have adapted my lovely mother-in-law's special recipe to make a delicious gluten free pizza that is also vegan and low fodmap.
Although, I know that it is not technically summer, for me Memorial Day weekend is the kickoff to the summer vacation season. I have my outdoor furniture repainted and new pillows. My flowers are in the flowerpots and the grill is ready to be lit. My husband and I don't like to travel on those summer 3-day weekends unless it is up on the hiking trail nearby.
There is nothing tastier than a cookie crust with a cream cheese frosting over it piled high with some tasty seasonal fruit and strawberries are my absolute favorite.
I like to make the pizza when I can share it with family or friends, but it keeps well for several days so you can space out the enjoyment all week if it's just you and your significant other.
Recipe for Gluten Free Fruit Pizza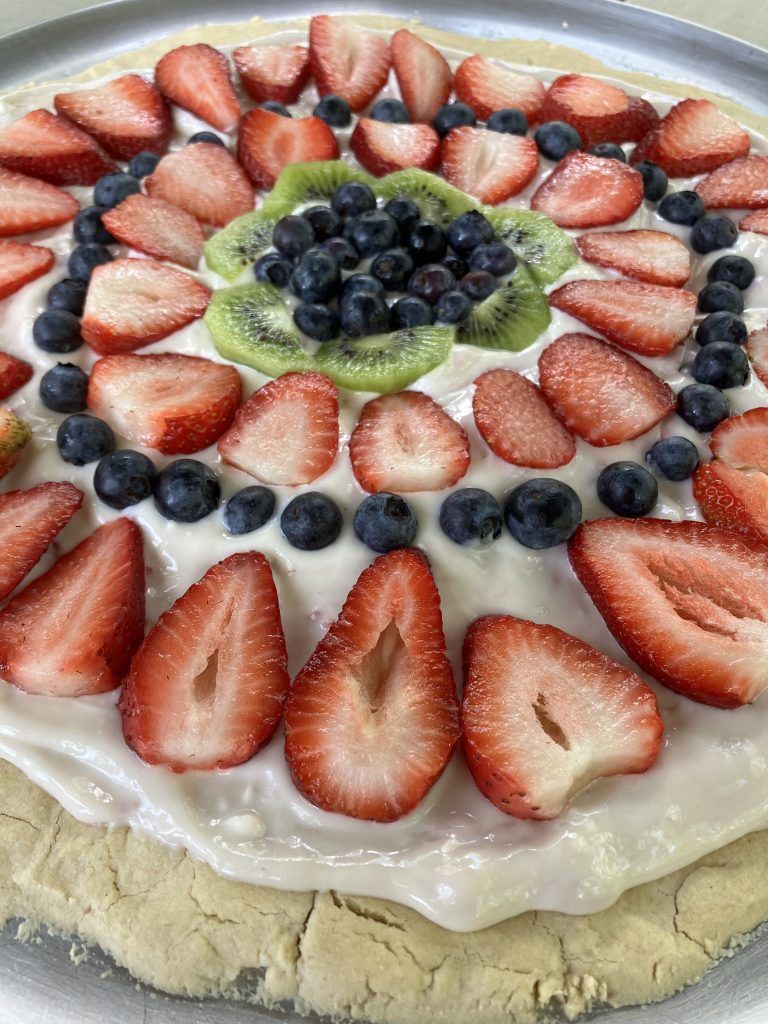 Dessert Fruit Pizza
You can adapt your pizza based on the season and what is available. Peaches, apples, pears and pineapple would be delicious. Use lemon juice for the fruits that brown easily like apples, pears and peaches. I just dip pieces in the juice. Also, if some of these fruits are IBS triggers for you, use small portions or a lower fodmap fruit.
Gluten Free Cookie Crust
2 cups of gluten free flour (like King Arthur 1 and 1)
1/4 cup maple syrup
1/2 cup Earth Balance
1 tablespoon oil
1 tablespoon water
Preheat oven to 350 degrees. Blend the flour, maple syrup, Earth Balance and water and mix into a ball. Grease a pizza pan. Put a piece of wax paper over the dough and roll it flat with a rolling pin until it spreads across most of the pan. Bake about 10-12 minutes at 350 degrees. Cool to room temperature.
Vegan Cream Cheese Frosting for Fruit Pizza
8-ounce tub vegan cream cheese (I used Tofutti brand see below)
1 teaspoon vanilla
1 cup powdered sugar
8-ounce vegan whipped topping (I used Whole Foods Oat Whipped Topping)
Allow cream cheese to soften and then whip it with powdered sugar and lightly fold in the whipped topping. Spread the frosting over the pizza crust after it has cooled.
Fruit to Top Pizza
Sliced fresh strawberries (I used about 2 cups sliced)
Fresh blueberries (I used about half of a pint)
Sliced kiwi (I used one)
Top the fruit on top of the cream cheese frosting and chill until ready to serve!
Gluten free and Vegan Ingredients that I used
Tofutti Better Than Cream Cheese
Tofutti Brands, Inc. – Dairy-Free, Vegan
Whole Foods Oat Whipped Topping
Oat-Based Whipped Topping, 6.25 oz at Whole Foods Market
Make a Gluten Free Fruit Pizza
Tips for Adapting Recipes for Gluten Free, Low Fodmap and Vegan
Tips to Make a Recipe Gluten Free
My mother-in-law's original recipe uses white wheat flour for her pizza cookie dough so I converted the recipe to a 1:1 flour which is a gluten free flour that you can replace 1 cup of it for 1 cup wheat flour. Brands that work well include:
Gluten Free 1-to-1 Baking Flour (bobsredmill.com)
Gluten-Free Baking | King Arthur Baking
Gluten-Free 1:1 All-Purpose Flour, 24 oz. – Pamela's Products (pamelasproducts.com)
Most gluten flours are a combination of several flours since one type of gluten free flour doesn't have the same desirable qualities as wheat flour for baking like the stretch of the dough, texture and even browing.
Sometimes adding seeds, nuts, dried fruit or seasonings can help a gluten free bread or baked good be even more tasty than just by itself. For the cookie crust for my pizza, I substituted powdered sugar for maple syrup which give a yummy taste and the thickness of the syrup mimic's a stretch for me. It also provides moisture which is important because gluten free baked good tend to be dry. I also added water.
Tips to Make a Recipe Vegan
Instead of honey try maple syrup. Instead of milk, substitute soy, almond, and oat milk. If you are substituting for cream, try coconut milk. There are a lot of great vegan dairy substitutes now but many of them have a lot of coconut fat so use very sparingly because they can contribute to increased heart disease. Saturated Fat | American Heart Association Many of the vegan whipped toppings that I saw were full of coconut fat so I chose the whipped oat topping that has less coconut fat in it.
There are several good butter substitutes, my favorite is Original Buttery Spread | Earth Balance (earthbalancenatural.com).
Eggs can be a little trickier because they have so many properties that we like to have. For creaminess, we can add blended silken tofu ie: for a vegan cheesecake instead of eggs. For thickener, you can substitute tapioca, corn starch, potato starch or arrowroot. Last but not least, eggs make a great binder holding things together, but you can make a "flax egg" with 1 tablespoon of ground flax to 3 tablespoons water.
Make a Delicious Gluten Free Fruit Pizza
With a few adaptations, I made my mothers-in-law's easy fruit pizza recipe into a gluten free, low fodmap and vegan one! The great thing about learning to modify recipes is that you can make them into something that works for your lifestyle and medical needs. As an Asheville nutritionist, I love helping my clients find solutions that work for them and personalizing guidelines to help them feel better and enjoy some of the things that they used to love.
If you are interested in working with a registered dietitian who will work with you on your healthy lifestyle changes, I would love to help. In addition, to the plant-based nutrition program and GI health program, I also can individualize programs to meet clients' needs, you can find out more here:
Fresh Approach Gut Health Diet Plan – Vine Ripe Nutrition
Plant-based diet meal plan & plant-based grocery list (vineripenutrition.com)