Make Ahead Vegetarian Lunches
Kids are now heading back to school and it's time for all of us to get back into the swing of things so all you need to make things go smooth is some make ahead vegetarian lunches! The tail end of summer, a break in the heat and new foods available at the local farmers' markets make this a time of renewal and a season of new lunch ideas whether we are heading to the classroom or not.
For kids, bringing lunch to school helps picky-eaters have the fun that they like. It can also be helpful for children on special diets, food allergies and intolerances.
For grown ups, bringing lunch to work instead of going out to eat can be a big money and calorie savings! It can also be a time-saver from driving, parking, ordering, waiting for food and paying. This can come in handy as the weather cools for a lunchtime walk!
Here are a few tips to making packing a lunch easier:
Set aside a location in your kitchen to have the tools needed in your kitchen cabinet, counter and refrigerator to pack lunch which can include sandwich baggies, lunch boxes or bags and reusable containers.
Prepare and pack what you can ahead of time so you won't have to skip packing your lunch if you are running late. Set your alarm a few minutes early if needed to pack those tasty tidbits!
Plan some kid/or grown-up tested main-stays that you can use again and again. Once a week, add a new lunch idea. Keep track of your tried-and-trues so you will remember what everyone loved!
Keep the hot foods hot in a thermos and the cold foods cold with an ice pack to keep food safe.
A Few Additional Kid Friendly Tips
Depending on your child's age, cut quesadillas or sandwiches into each to handle bite-sized pieces.
Kids and grown ups a like love to dip! Cut veggies or fruits to dip and get creative in the kitchen with yogurt, beans and other tasty ingredients to make the dip base!
Use the food groups from Choose My Plate as a base to plan lunches that include dairy or plant-milk, meat or meat-alternative, veggies, fruits and healthy fats.
Pair new foods with familiar/well-loved favorites.
Here are 3 quick meal ideas for Make Ahead Vegetarian Lunches
I would love to hear some of the things that you like to have for lunch also so please feel free to share in the comments!
Nut Butter & "A Little Extra" Sandwich, Carrot Sticks with Ranch Dressing & Chilled Milk or Plant Milk
Grilled Quesadilla Triangles with Cheese, Veggies & Salsa, Sliced Apples with Yogurt Dip, Bottled Water
Black Bean Hummus with Pita Triangles, Late Summer Grape Tomatoes, Cheese Cubes & Autumn Pears, Bottled Water
Make Ahead Vegetarian Lunches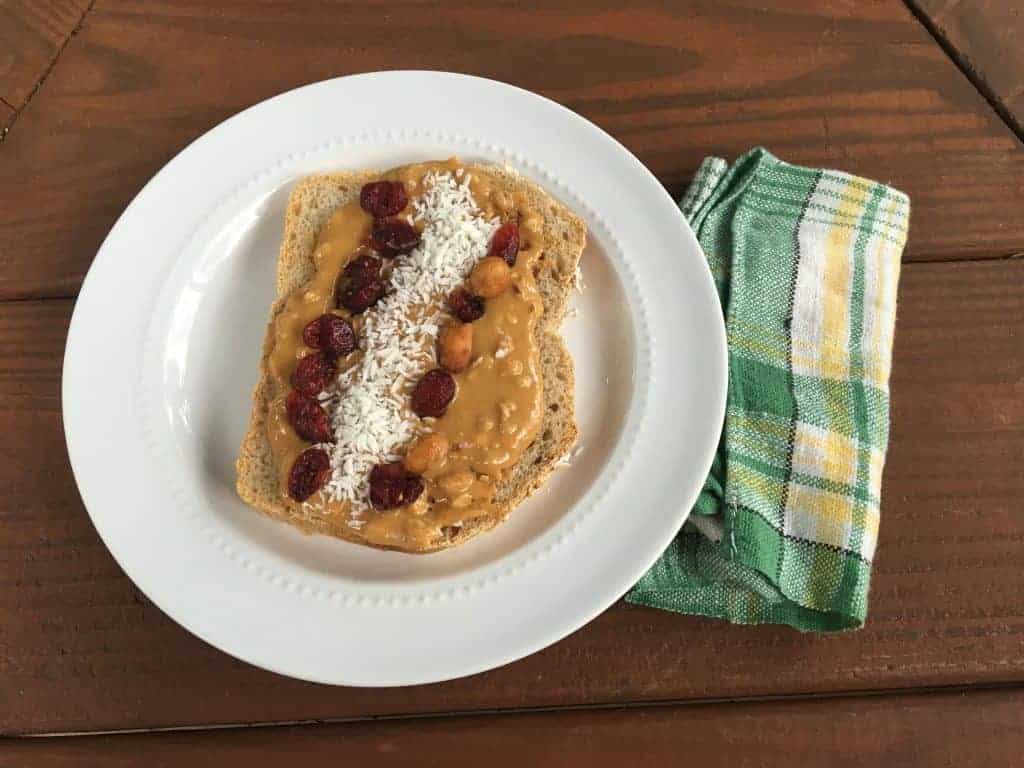 Nut Butter & "A Little Extra" Sandwich
Some children are allergic to peanut butter so other nut butters like almond may be a good option. There are also butters made from seeds like sunflower. "A Little Extra" are add-ins that can be included with your peanut butter. I hope that I have included something for grown-ups but feel free to add to these! Switch up the type of bread to make your "extras" or you can even add it to a lettuce wrap!
Shredded Apples

Shredded Carrots

Shredded Coconut

Raisins, Dried Cranberries or Dried Cherries

Try Chutney Instead of Jelly

Sriracha, Pickles & Caramelized Onions

Sliced Avocado

Chopped Crystallized Ginger

Lime juice, Cayenne, Soy Sauce with Fresh Cucumbers & Sprouts

Sliced Bananas & Pineapple Tidbits
Take a tablespoon of peanut butter in a small bowl include your favorite "Extra". Spread on your favorite bread or wrap. Adjust portion as needed.
Grilled Quesadilla Triangles with Cheese, Veggies & Salsa
Use your favorite combination of cheeses and veggies to make these triangles. You can even add fruit instead or along with veggies. Here are a few ideas
Brie, Sliced Pears, Walnuts & Apple Chutney

Corn, Sliced Pepper (Bell or Hot) & Cheddar

Chopped Tomatoes, Basil (or Pesto) Minced Onion, Mozzarella and Parmesan Cheese

Smoked Gouda, Caramelized Mushrooms & Onions and Chipotle Salsa

Sliced or Shredded Apple, Pecans and Gruyere Cheese
In a medium iron skillet and set on medium heat. Add whole grain tortilla with about 2 tablespoons of cheese, 1-2 tablespoon of veggies and about 1/2 tablespoon of chutney, nuts or salsa. Let cheese melt and fold. Take out of skillet. Allow to cool and slice into triangles.
Sliced Apples with Yogurt Dip
Use this dip to use with your favorite fruits!
1 cup plain yogurt (your choice of milk-fat content)
1/2 teaspoon cinnamon
1 tablespoon local honey
Mix up all the ingredients. Chill. Pack it up half a cup at a time for fruit dippers.
Black Bean Dip
In my book Farm Fresh Nutrition, I named this dip called "The Fiesta". If you like this, you might like more of the recipes too!
Makes 6 servings.
2 cups black beans, drained and rinsed
1 tablespoon lime juice
1 teaspoon ground cumin
1 teaspoon chili powder
1 clove minced garlic
1 tablespoon salsa
Place all the ingredients in a food processor and blend into a paste. Serve with toasted pita triangles.
I hope some of these ideas will inspire you to pack up your lunch and eat something tasty. You may also like some lunch ideas that I put together on the Vine Ripe Nutrition for last summer's blog series "Take Your Lunch to Work". Check them out for your lunch menu collection! I hope some of these ideas will inspire you to pack up your lunch and eat something tasty.
Make Your Own Make Ahead Vegetarian Lunches
As a registered dietitian nutritionist in Asheville, I love helping make eating tasty and delicious! And having some make ahead vegetarian lunches are an important part of having something ready to go!
Thank you for stopping by and reading this post! I hope that you found these ideas helpful, and I hope that you check out some of my other posts that include my recipes! I love shopping for seasonal, local food where I live! You may find some additional vegetarian lunch ideas here!