Healthy Mocktail Recipes
For a warm winter beverage, try one of these holiday mocktails! Valentine's Day is a time many people think of champagne but in winter, there is nothing that melts my heart like a warm beverage! And you can have a little mocktail hour any time of the day with these nonalcoholic hot not toddy holiday mocktail recipes. They can even be served to the littlest of Valentines. However, if you want to kick it up the celebration a little bit, you can also add a few additional ingredients to them.
I am envisioning a cold night by the fire and clinking some mugs to celebrate the love!
And to serve these warm mocktails, I found these gorgeous copper mugs from Moscow Muled. I have always loved the shiny look of copper but I never realized that acidic ingredients of mocktails and cocktails could cause the copper from the mug to leach out into the beverage. That makes it important to look for ones that are nickel lined.
https://www.webmd.com/food-recipes/food-poisoning/news/20170808/are-your-copper-mugs-poisoning-you
The fact that not only are they beautiful plus lined with the nickel makes me love my new copper mugs more!
The other new thing that I learned is that mugs made from copper provide a great insulation so they can keep cold drinks cold and hot drinks hot! So they can be used in summer or winter!
Warm Holiday Mocktail Mules
And I love the fact, that my new mocktail recipes look so beautiful in the mugs also!
I have included two spice and herb mocktail recipes that I hope that you will try, one mug at a time. I would love to know which becomes your new favorite!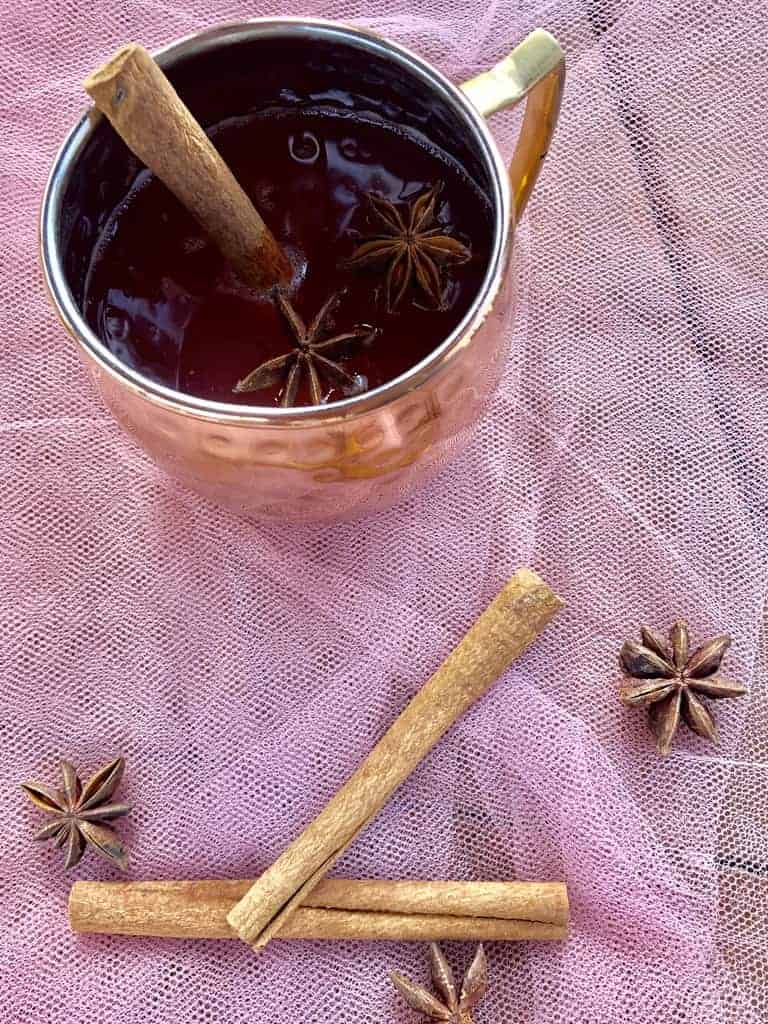 Warm Kombucha Holiday Mocktail Mule
The delicious scent of ginger, star anise and cinnamon stick pair so well with the apple juice and kombucha drink. Kombucha, a fermented tea has some great probiotic benefits so you can also serve these mocktails cold. If you cannot find a ginger flavored kombucha, go ahead and steep fresh ginger slices along with the anise and cinnamon sticks.
Recipe for Two
3/4 cup apple cider
2 cups ginger flavored kombucha (if you can't find ginger flavored, steep the peeled and sliced ginger at the same time as cinnamon sticks and star anise)
4 cinnamon sticks (reserve 2 for stirring your mocktail)
4 star anise (reserve 2 for topping your mocktail)
In a medium sauce pan add cider with the ginger, cinnamon sticks and star anise and let steep on low for a few minutes. Add kombucha and heat through for a hot beverage or if you want the full probiotic benefits, allow the cider to cool and take out the ginger, cinnamon stick and star anise. Divide the cider between the mugs and top with the kombucha. Garnish with a cinnamon stick and star anise!
Hot Chocolate Ginger Mint Holiday Mocktail Mule
This hot chocolate with real chocolate is the best treat that you can give your Valentine and the best give is to take the time to make it any time because both of you are worth it! The mocktail is topped with whip cream, shaved chocolate and a sprig of mint.
Fresh mint
1 ounce dark chocolate (mint preferred but I could not find it the day I made it so I steeped a couple of sprigs of fresh mint)
2 large slices of peeled ginger
1/2 tablespoon water
1 tablespoon honey
2 cups milk

Whipped Cream, shaved chocolate and mint sprigs for garnish
In a medium sauce pan, heat chocolate, water and honey on low until chocolate melts. Add fresh mint (if cannot find mint chocolate) and sliced ginger and slowly whisk in milk. Heat through and take out the ginger and mint. Pour into mugs. Add whipped cream, shaved chocolate and sprig of fresh mint!
See more mocktail recipe ideas that you serve in your copper mugs. Some hot and some cold:
I hope that these two recipes become your best holiday mocktails to use for celebrations!
Make your evening a Midwinter Night's Dream! What could be more romantic than a hot mocktail for two!
You may also enjoy these 10 Vegetarian Brunch Recipes for the Holidays – Vine Ripe Nutrition.