Make a Green Chili Stew Recipe
I think that you will love this Green Chili Stew recipe, which is low in fodmaps, gluten free and vegetarian! This low fodmap stew recipe uses a combination of chickpea and lentils.
Are lentils low in fodmap?
For people who have IBS and eat plant based, many of us find that we are sensitive to beans and other legumes. However, 1/4 cup of canned lentils is considered low in fodmap. And many people find that as time passes that their tolerance improves.
Another, great thing about lentils is that they are packed with nutrition. These nutrients include protein, fiber, B vitamins, zinc, magnesium and potassium. They are also rich in polyphenols which help reduce inflammation.
Types of Lentils
What are Legumes? Are Lentils Legumes?
The legume family, sometimes called pulses include beans, dried peas, lentils and even peanuts. And legumes are often high in a fodmap called galactans which produces gas for many of us.
Soaking beans ahead of time can reduce the gas but for those people with IBS, galactans can cause pain, bloating and a change in our bathroom routine. Canned beans may have less galactans than other forms because that leach out in the liquid in the can so it can be poured out and rinsed. In addition, a few beans have additional fodmaps like fructans.
In addition, fermentation and sprouting may change fodmap content.
So, you might wonder which beans are low in fodmap and which ones are high.
High Fodmap Legumes and Low Fodmap Legumes
First of all, portion size is key to making your legumes low fodmap. If you have more than a low fodmap serving, it could become a high fodmap choice. The Monash University Low Fodmap App is a great tool to help you know what portion size to choose if you begin the low fodmap elimination diet. This app is most effective when someone works with a Monash Trained Fodmap Dietitian.
Are chickpeas low in fodmap?
Low Fodmap Legumes
1/4 cup canned lentils
1/4-1/3 cup garbanzo beans
32 peanuts
High Fodmap Legumes
Just as some people may eat too many low fodmap legumes to make them a high fodmap, some of the higher fodmaps can be incorporated in very small portions to be a lower fodmap food. Check out the Monash app for the portion size.
Adzuki beans
Black beans
Kidney beans
Borlotti beans
Broad beans
Butter beans
Cannellini beans
Pidgeon pea
Fava beans
Lima beans
Navy beans
Black-eyed peas
Pinto beans
Soy beans
Baked beans
Mung beans

Green Chili Stew Recipe
How to Make a Green Chili Stew?
I am excited to share this vegetarian green chili stew recipe with you. I used to miss the traditional stew recipe which used white beans and were more difficult for me to digest. I also wanted to make a vegetarian version. This stew uses lower fodmap lentils, garbanzo beans and potatoes. And with roasted poblano peppers, tomatillos and topped with fresh pico de gallo, sliced avocados and grated cheese. Served with tortilla chips, what is not to love!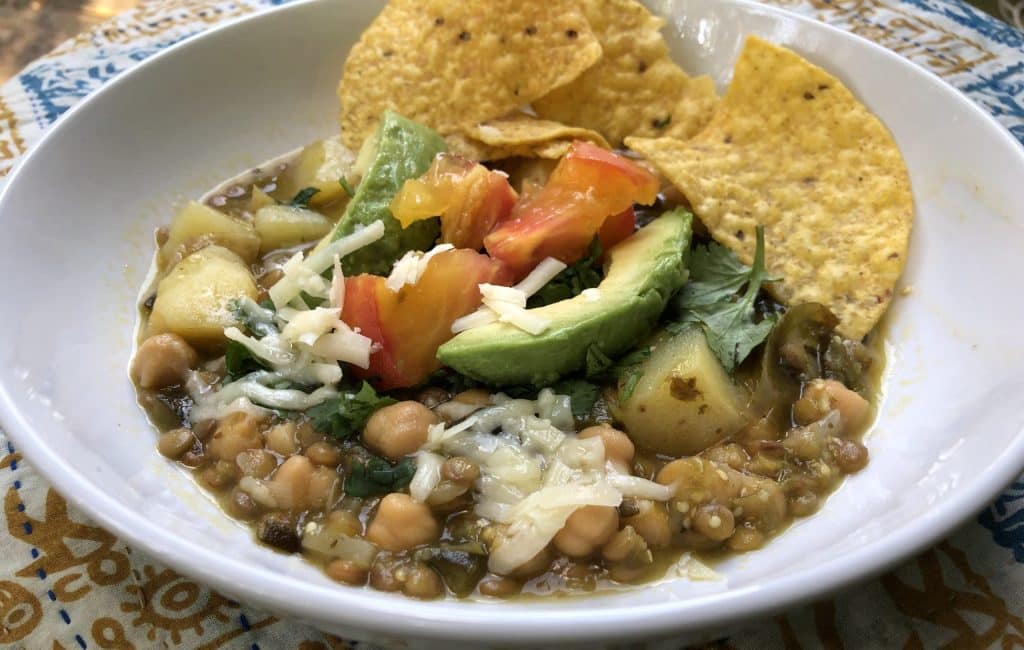 Vegetable Green Chili Stew
This green chili stew makes my tummy feel warm and cozy! And the ingredients help maintain my digestive health! It also includes instructions for making this made from scratch chile verde seasoning. It is a low fodmap stew which may help you manage your low fodmap symptoms.
Makes 6-8 servings servings
3 roasted poblano peppers
Approximately 10 roasted tomatillos
4-6 green onions sliced (use only the green portions only)
2 cups diced potatoes, 1 inch by 1 inch pieces
3 cups vegetable broth (If sensitive to fructans, use an onion and garlic free broth-try Fody's Vegetable Soup Base. Check out link below for purchase)
1 cup canned lentils, rinsed and drained
1 cup canned garbanzo beans, rinsed and drained
1 1/2-2 teaspoon freshly ground cumin
Garlic oil (make your own or purchase Fody Garlic Infused Oil, see link below for more)
Salt and pepper to taste
Water or broth as needed to thin

Toppings:
Chopped cilantro
Grated cheddar cheese
Sliced avocado
Homemade Pico de gallo
Additional chopped hot peppers if you want additional heat
To make your own garlic infused oil, take large pieces of garlic and heat on low until the garlic is browned. Take some tongs to remove garlic and put in a sealed glass jar. This oil will keep several months.
To make my made from scratch chile verde seasoning, roast the poblano peppers, split them down the middle and lay on a cookie sheet. Place it under the broiler and cook until the skin turns black. Take the peppers out and place in a bag. Allow them to cool and gently scrap away the black skin. Cut these poblano pepper into 1/2 by 1/2 inch pieces.
For the tomatillos, peel off the papery husks and cut in half. Brush a cookie sheet with olive oil and lay tomatillos on it. Roast the tomatillos until they begin to caramelize at 425 degrees. After the tomatillos cool, place them in a blender until they form a paste.
Cut the potatoes into approximately 1 by 1-inch squares.
In a large stock pot, heat garlic oil and sauté green onions a few minutes with cumin until slightly browned. Add potatoes and poblanos. Allow them to simmer for about 15 minutes.
Add tomatillos, lentils and garbanzo beans. Simmer for another 15 minutes.
While the stew is cooking, cut up garnishes and get them ready to top the stew.
If you feel pressed for time making this green chili stew vegetarian version, instead of making the chile verde seasoning from scratch, you might want to try this low fodmap green salsa from Fody Foods! If you click on the link and purchase this green salsa, I will receive a portion of this sale. This company makes some delicious products that are all low in fodmap and makes eating a low fodmap diet easier!

Enjoy Green Chili Stew Using Low Fodmap Lentils
I hope learning how to make this recipe for green chili stew. And also, how lentils are a low fodmap choice for people with IBS that you find some flexibility in your diet. I even like to mix them in with beans that are more difficult for me to digest. That way I can reduce the amount of the higher fodmap beans in my recipes while still having a few of them!
Cooler weather means green chili season at our house and this green chili stew vegetarian version is soon to be a favorite for even meat eaters at home!
As a nutritionist in Asheville, NC, I love knowing that I can share things that can help people live healthier lives. In addition to my food blog, I also provide nutrition counseling and programs. You can find out about some of the ways that I can help here!
If you are interested in a comprehensive digestive wellness program, you can find out more here about how to get started
How to heal gut naturally (vineripenutrition.com)