Simple Sweet Potato Recipes
This post is all about sweet potatoes and I have some delicious vegan sweet potato sweet potato recipes! When I lived on the eastern side of North Carolina, I discovered that our state is the largest, sweet potato producer in the country!
There are a lot of different varieties of sweet potatoes that I did not even know existed. To make my recipes for this post, I used two orange flesh potatoes.
The Covington is a North Carolina sweet potato variety that becomes sweet and caramelizes when it is baked so it is great in desserts and even side dishes. It is orange on the outside as well as inside.
The Garnet is a dark red on the outside but bright orange on the inside. It is not only sweet on the inside but it is dense and moist like a pumpkin so it is ideal for desserts and baked goods where you use pumpkin
I used two yellow flesh sweet potatoes in my recipes. These were new to me using so it was fun to learn about them. The Boniato or Star Leaf has Latin/Caribbean roots and can be used for pizza toppings, taco filling, soups stews or even desserts. It reminded me of a plantain.
The other one that was yellow inside was a Japanese sweet potato. By looking a the purplish red skin, you would never know that it would have a dryer, yellow inside. It may remind some people a little of a chestnut.
If you are wanting to learn more about sweet potato varieties, here is a great description of some of them. Not all of the ones that I used are in this primer from the Saveur Website.
There is a lot of confusion about the difference between sweet potatoes and yams. I love the explanation is the post below from the NC Sweet Potato Commission. Their website also has lots of wonderful recipes also if you are looking for some new ways to prepare them!
https://www.ncsweetpotatoes.com/sweet-potatoes-101/difference-between-yam-and-sweet-potato/
Sweet potatoes are high in fiber, potassium, vitamin A and C. Here are the recipes that I put together that I hope that you enjoy as much as me and my family do! They are in the same family as the morning glory and they are a tuberous, root vegetable.
Sweet Potato Cooking Ideas
Sweet Potato Recipes Vegan
Low Fodmap Vegetable Curry Soup
Sweet Potato Thai Soup
I love the fresh taste of the cilantro and lime juice with the sweet potatoes and other vegetables along with the spices to make this sweet potato and carrot soup. Chickpeas add a boost of protein to the veggies.
4-6 servings
1 tablespoon garlic infused oil
3-4 medium sweet potatoes, peeled and cubed into 1/2 inch by 1/2 inch squares
1 medium carrot cut into small pieces
1/2 cup chopped red bell pepper
1/2 cup chopped green onion
1 teaspoon salt
1/4-1/2 teaspoon cayenne pepper (depending on the heat desired)
1/2 teaspoon coriander
1 teaspoon ground ginger
1-15 1/2 ounce coconut milk
1-15 1/2 ounce diced tomatoes
1-15 1/2 ounce rinsed and drained garbanzo beans
4 cups stemmed and chopped kale or your choice of fall greens
1 freshly squeezed lime
Chopped cilantro and chopped peanuts for garnish
Serve over rice if desired
In a large stock pot, heat olive and sauté' sweet potatoes and carrot until they are starting to soften. Add bell pepper and allow them to soften and throw in green onion. Add spices and allow to cook for a minute or two.
Add coconut milk, beans and tomatoes. Until simmer for about 15 minutes and then add kale until it cooks slightly. Allow soup to simmer another 5 minutes. Add rice to the bottom of bowl if desired and serve up soup over it. Add cilantro and peanut garnish if desired.
Everyone will love this sweet potato soup recipe and it makes a great low fodmap dinner recipe!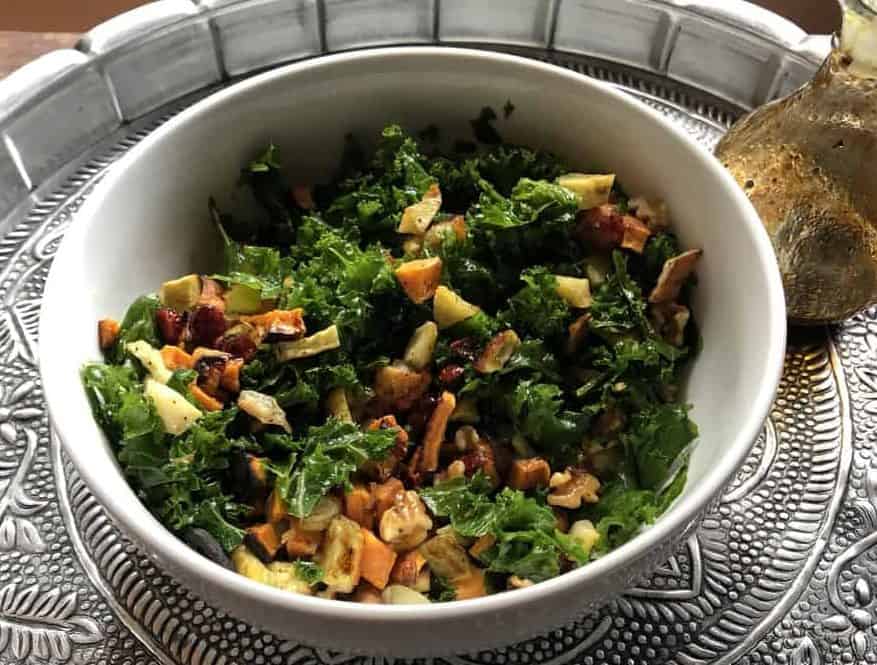 Kale and Roasted Sweet Potato Salad
This kale and roasted vegetable sweet potato salad is one of my fall favorites! It is colorful and full of flavor! I have another delicious variation in my book Farm Fresh Nutrition.
6-8 servings
2 medium sweet potatoes, peeled and cut into 1/2-1/2 inch cubes
1/2 tablespoon of olive oil
6 cups of kale, sprinkled with salt and a drizzle of olive oil & massaged gently for 5 minutes
1/3 cup chopped toasted walnuts
Salt and pepper to taste
(1 ounce Parmesan cheese grated if desired)
Home made balsamic salad dressing (this dressing is delicious on both the kale and beet salad from previous blog post)
In a large salad bowl, prepare the kale. To roast sweet potatoes cubes, preheat oven to 400 degrees. On a baking sheet, add sweet potatoes and salt and pepper and drizzle with olive oil. Bake for around 10 minutes until the vegetables begin to brown and caramelize. Take out of oven and let cool. Add the roasted sweet potatoes to the prepared kale along with the walnuts and cranberries. Toss lightly with the balsamic dressing and toss with grated cheese if desired.
Candied Sweet Potato Idea
Chocolate Pecan Sweet Potato Mini Pies
Try a mini vegan sweet potato casserole pie for dessert! I have added coconut and candied ginger for a new twist modern twist to an old favorite. This sweet potato pudding makes a great fall or even Thanksgiving celebration dessert! Makes 4 small ramekins.
Makes 4 small ramekins
2 cups mashed baked sweet potatoes with skins removed (about 1 1/2 pounds)
1/3 cup maple syrup
1 teaspoon vanilla extract
Pinch of salt
Topping
Sweetened vegan dark chocolate bar (about 84 gram size)
1/2 tablespoon chilled vegan margarine (depending on your preference) or butter
1/2 cup chopped pecans
4 whole pecans
Combine sweet potatoes with maple syrup and salt. Spoon sweet potato mixture into 4 small white, ramekins that have been lightly greased. For topping, melt the chocolate bar on low with the vegan margarine and stir in the pecans. Gently spread the chocolate pecan mixture over sweet potatoes. Decorate each ramekin with a whole pecan on top. Bake at 325 degrees for 5-10 minutes to just set the sweet potato mixture with the chocolate and toast the pecan. After cooled, add a little dollop of whipped cream as a garnish.
Here is another slight variation of the individual easy sweet potato casserole with coconut below along with some of my favorite ways to eat them:
Also, a tasty black bean and sweet potato burrito or other yummy sweet potato breakfast idea!
These Blacked Salmon Tacos with Sweet Potato, Corn, Kale & Black Beans is not a vegan recipe but it can be adapted by leaving off the salmon and adding vegan cheese:
These sweet potato fritters made with cauliflower, sweet potato and kale are delicious and even more so with the Avocado Tahini topping!
Winter squash and sweet potatoes can often be interchangeable, try sweet potatoes in some of these recipe also!
I hope that this post provides just the recipes and information that you need to add some vegan sweet potatoes recipes to your weekly menu.one They are delicious, nutritious and economical which is a winning combination! As a registered dietitian nutritionist living in Asheville, NC, I enjoy sharing delicious recipe and menu ideas to help you stay healthy and have something that you will enjoy eating! Check out more recipes on the Vine Ripe Nutrition blog!
Check out my video below where I make some of these tasty recipe ideas!