I was delighted to be invited to WLOS to discuss the topic of breakfast with Evan Donovan and whether eating breakfast leads to weight gain. This topic has recently resurfaced again on the internet with a recent article in the Washington Post by Peter Whoriskey on August 10, 2015 which led to a small wave of other blog posts. Mr. Whoriskey's article mentioned two research studies that were done on the topic of breakfast eating and weight status. He mentioned that many of the studies done in the past were observational studies and he shared Columbia University Study Looking at Skipping Breakfast and Weight.
This small study consisted of only 36 people consisted of half women and half men. These people were randomly assigned to eat oatmeal, cornflakes or to skip breakfast for four weeks. At the end of the study it was found that the people eating oatmeal felt less hungry and felt more full than the people who did not eat breakfast. But the 12 people who skipped breakfast lost weight compared to the two that ate breakfast. Although this was a clinical trial, the number of people involved was so small and the time that they were studied was so short, the results need to be replicated with a larger number of people and they need to be studied for a much longer period of time. Mr. Whoriskey also did not mention that the group that skipped breakfast had higher cholesterol levels.
Mr. Whoriskey also mentioned Dr. David Allison at University of Alabama Birmingham who did a meta-analysis in 2013 which looked at several observational studies and determined that people who ate breakfast who lost weight may have had other factors that led to this and there is uncertainty to the benefit of breakfast itself. In conclusion, Dr. Allison believed that more research needs to be done in the area of breakfast and weight. You can read about the research here.
In preparing to answer questions about these findings, I was able to dig even further and find another interesting article by Emily Dhurandhar, David Allison and colleagues which included 283 people who were randomized in a clinical trial which was 16 weeks long. People were assigned to either a control group, a breakfast group or a group who did not eat breakfast. In the study, there was little difference between the weights of the breakfast eaters and breakfast skippers. However, in this study these participants were not given specific guidelines of what to eat for breakfast which can make a difference in a scientific study. You can read about this study here clinical trial at UAB.
I looked at some words of wisdom by Dr. David Katz about the findings of this clinical trial at UAB and here is his summary of the findings of UAB clinical trail. Dr. Katz mentioned there could be a benefit to some foods that are served at breakfast are rich in fiber, vitamin D, calcium and protein foods. But he mentioned the fact that some of us may eat it later in the day to eat may not be harmful to our health.
I also felt that Ashley Oerman did a great article in September 2014 on "The Truth About Breakfast and Weight Loss: Does It Really Help You Drop Pounds?" You can read about it here Women's Health Article on Eating Breakfast and Weight Status. 
Ashley went beyond the UAB study and discussed some others out there. She concluded that if someone does eat breakfast and wants to lose weight, it is important to watch what is on the plate. She also concluded that for those of us who like to eat breakfast or who are hungry in the morning, that we do not need to be concerned that a healthy breakfast will contribute to weight gain but in addition for those people who don't want to eat breakfast, it may not be a contributor to weight gain.
After reading all of this interesting research on breakfast, I have also come to a few conclusions:
It appears that eating breakfast has been linked to an increased metabolism because breakfast eaters are more often also more physically activity.
Breakfast may be related to decreased hunger later in the day which may prevent overeating later on in the day (especially if breakfast skipping is combined with lunch skipping which may lead to binging later on in the day).
Breakfast is a great time to get extra nutrition in your diet like fiber, vitamin D, calcium, protein, vitamin C and many phytonutrients.
Breakfast eaters are also more likely to have other healthy habits like not smoking and consuming less fat and alcohol.
There is some correlation between skipping breakfast and increase in diseases like type II diabetes and heart disease but it is not certain if correltation is due to eating breakfast itself or what might be eaten later in the day.
I know for myself, I feel better when I eat breakfast. I like to focus on protein, vegetables and whole grains. One of my other favorite breakfasts is Greek yogurt, berries or peaches, nuts and granola. Here are some of my favorite breakfast ideas that I hope that you will enjoy!
Breakfast Quinoa with Apples and Pecans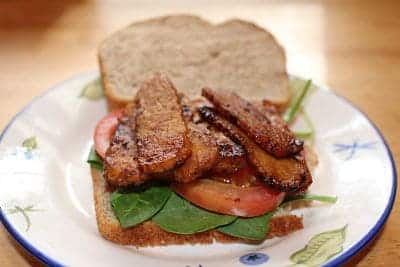 Are you a breakfast eater? What do you like for breakfast? Glad you stopped by! Take a look at some of my other tasty recipe ideas on my blog and recipe page!