Try These Perfect Mountain Picnic Ideas
Now is the time to get away from it all and take your meal outside with these 4 Perfect Picnic Menu Ideas! Living in the beautiful Blue Ridge Mountains, my husband and I have lots of special places where we like to go for a romantic picnic for two or a trail excursion where we need some easy hiking picnic foods to put in our back packs. I am excited to share some of my favorite picnic list ideas with you!
I have included some vegan/vegetarian and gluten-free substitution ideas along with some low fodmap picnic food ideas for some of these recipes in recipe section below.
Here are 4 Perfect Picnic Menu Ideas
I will first include picnic menu ideas and will include recipes later in the post. Feel free to also mix and match to create your own menu ideas!
What do you pack for a romantic picnic? I love to take my romantic picnic for two up on a mountain top but there are lots of other great occasions to pack up your meal and take it on the road.
Romantic Picnic in the Mountains
Because I live in the mountains, I am going to make this and take it up for a mountain view, but I think that this menu would also make a nice picnic on the beach. Just bring your beach chairs, umbrella and blanket!
Smoked Trout or Salmon Salad with Crostini
Twice-Bake Potatoes
Strawberry Granola
To make vegan/vegetarian used roasted tofu or sauteed tempeh and use vegan cheese. If you are making a gluten free or fodmap picnic food, use an appropriate gluten free bread for the crostini and substitute garlic olive, chives or the green portion of scallions instead of garlic and onions which may be triggering IBS symptoms.
Picnic Ideas for Concerts in the Park
Most weekends in the summer here in Asheville, we have lots of opportunities for live music in the park. Although, there is nothing better than eating a romantic evening picnic under the stars with music playing in the background, we have taken a special fondness to taking our nighttime picnic to a live Shakespeare at the Hazel Robinson Amphitheatre. You can find out more about these plays at the actors' website Montford Park Players .
Here is a romantic picnic idea for two. It has been the policy of the park to bring a bottle of wine to the outdoor play but there have also been vendors to get food and beverages. If you have been wondering what to pack for an evening picnic, I hope that you love these romantic picnic ideas at night.
Pickled Carolina Shrimp with Onions, Lemons and Pepperoncini
Early Summer Farro Salad
Lemon Raspberry Tartlets
Cucumber and Water
To make vegan/vegetarian use roasted tofu or sauteed tempeh and use vegan cheese. To marinate these, use shorter time than you would the shrimp recipe for example perhaps 30 minutes or an hour. If you are making a gluten free or fodmap picnic food, use an appropriate gluten free flour for the tartlets and a gluten free, fodmap friendly grain like quinoa or millet. Substitute garlic olive, chives or the green portion of scallions instead of garlic and onions which may be triggering IBS symptoms.
Backyard Picnic
Have you ever just wanted to stay home and have a picnic (or have been told to stay at home in a pandemic)? Sometimes you exploring the great outdoors in your own backyard but not back up all your picnic supplies to carry too far is a treat. I love our backyard and we have lots of places to eat outside which include a table out in the gazebo, our side porch or our patio. Even a pretend tea party on a blanket with my grandchildren.
Here are some easy picnic recipes to make when you just want to hang out at the house!
Summer Panzanella with Trout
Blueberry and Goat Cheese Crostini
Herbal Tea with Frozen Berries
To make this salad vegan or vegetarian friendly try some tofu or tempeh. Chose a vegan cheese like Tofutti. And for gluten free substitute gluten free bread for your croutons and crostini (also for low fodmap picnic food). Substitute garlic olive, chives or the green portion of scallions instead of garlic and onions which may be triggering IBS symptoms. Or try another favorite fodmap salad recipe.
Picnic Ideas for Wine Tasting
Living in Asheville, which is often known as Beer City, it may be more likely to be a picnic idea for beer tasting but whether you hit a local winery or brewery, this menu will pair well with either!
Tempeh (or Beef) Sloppy Joe Sliders
Summer Cabbage Kale Salad
Gingered Peaches with Toasted Coconut
Sparkling Lemonade and Mint
For alternative protein sources for a vegan diet, try using vegetarian crumbles. And for gluten free and low fodmap try a gluten free bun or bread. Substitute garlic olive, chives or the green portion of scallions instead of garlic and onions for a low fodmap picnic.
Ideas for a Beach Picnic
I don't know about you, but I don't love sand in my food, so I have to be careful what I pack to eat on the beach. I tend to pack things in individual portions so there is less handling which provides more chance for sand to get in there. Here are a few no fuss ideas.
Individually packed olives,nuts, veggies and hummus
Peanut Butter Sandwich (use gluten free bread if needed)
Boiled eggs (unless you are vegan)
Fruit easy to eat on a sandy beach.
Canned sparkling water
Romantic Picnic Food Idea Recipes
Here are the recipes for the menu ideas for you and your date.
Make the mini apple crumble, bake in ramekins or mini pyrex so they are easier to pack individually. For a gluten free version use gluten free oats and flour. In addition, use berries for a low fodmap picnic food.
How to Plan A Hike With A Picnic
Depending on how hard of a hike and how far the hike is would depend on what you put in your backpack for your menu. If it is the heat of the summer and you will be out more than an hour, it is good to pack plant-based foods and something compact so it is not too heavy to carry. It is also important to pick food that won't spill into your backpack and make a mess or a piece of fruit or a tomato that would smash.
Here are some of my favorite foods to pack for some perfect picnic menu ideas for a long hike included.
Dried fruit
Hiking mix
Protein or granola bars
Nuts
Hummus
Tofu jerky or browned tempeh
Cubed cheese (even though not plant-based, this can keep for a few hours on your hike)
Nut butter and crackers
Black bean taco dip and corn chips
Another thing that you can do is to take your long hike first with a snack. And have a cooler packed in your car with your lunch for a tailgate picnic or another close location that you can travel with your meal.
Best Picnic Recipes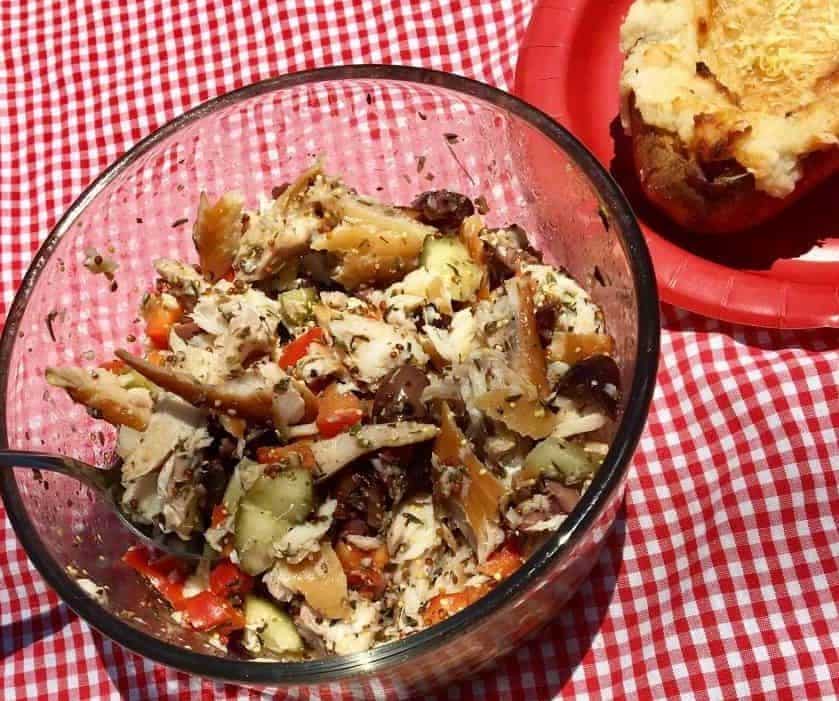 Smoked Trout or Salmon Salad with Crostini
Take your favorite 8-ounce package of smoked fish and flake. Make a lemon and oil dressing. Use your favorite Mediterranean chopped veggies. I used chopped tomato, chopped red bell pepper, chopped dill pickles, Greek olives, fresh basil and thyme. Put on your favorite crostini or cracker.
If you are looking for a vegan version, try mashed garbanzo beans instead of fish.
Twice-Baked Potatoes
I never thought about twice-baked potatoes to take on a picnic but they are a wonderful side. So glad to learn that from Ashley!
If you have never made twice-baked potatoes, they are super easy. Bake in oven or microwave. Allow to cool and slice in half length wise and scoop out the potato. Mix with your favorite ingredients. I love cheddar cheese, chopped chives and other fresh herbs. You can add butter or Earth Balance margarine, sour cream, yogurt, milk (dairy or plant milk).
Strawberry Granola Yogurt Parfaits
Make it as easy as layering your favorite yogurt and granola with strawberries or have your dessert take on a cheesecake persona like the peach yogurt recipe in the blog post below. Switch up your fruit.
Recipes for Picnic at the Park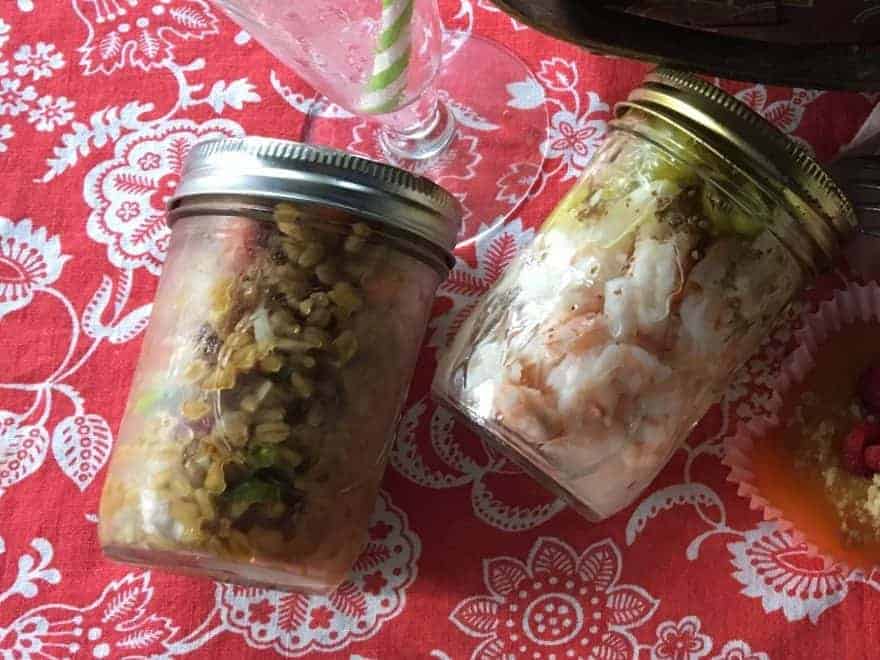 Pickled Carolina Shrimp with Onions, Lemons and Pepperoncini
Living in the Carolinas, I always love to get shrimp from our coast but you can also use United States Gulf shrimp. If you are looking for a plant based substitution, try this white bean salad
Makes 6 servings
1 ½ pound shrimp,
¾ cup cider vinegar
1 sliced onion
1 lemon sliced
½ cup oil, (you can use canola or peanut oil)
4-5 pepperoncini sliced
1/2 teaspoon Old Bay Seasoning
½ teaspoon sugar
½ teaspoon salt
In a large bowl, combine the onions, lemon, cider vinegar, oil, capers, pepperoncini, sugar and salt. Add the shrimp and toss to mix in all the ingredients. Cover and let refrigerate at least 24 hours. Stir occasionally. Serve cold. Keeps for 3-5 days.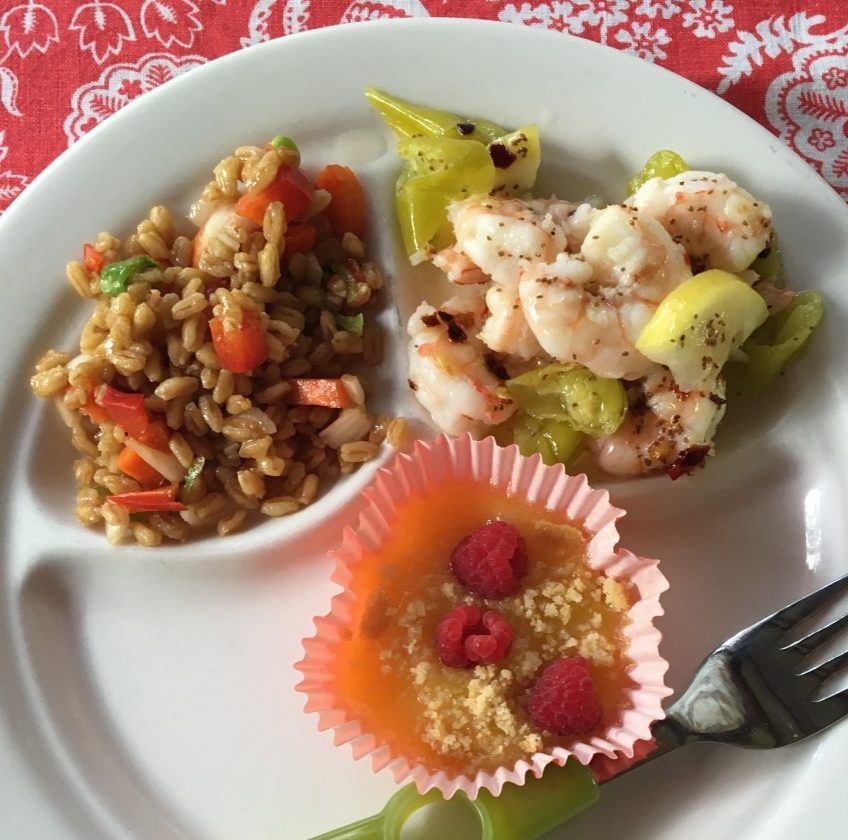 Early Summer Farro Salad
Farro is an ancient wheat which is similar in texture to rice but higher in protein and calcium like quinoa. It is becoming one of the recent new grain super stars! If you are looking for a gluten-free version make salad with quinoa or millet.
10 ounces farro
1/2 shredded or thinly sliced carrot
1/2 cup snow peas
1/2 cup thinly sliced red bell pepper
1/4 cup freshly squeezed lemon juice
¼ cup olive oil
1 tablespoon mustard
1/4 teaspoon salt
1 teaspoon black pepper
Place 10 ounces farro and just cover with water or even vegetable broth. Bring to boil, reduce heat to medium-low and simmer for 30 minutes. Rinse and drain. Add the raw fresh veggies. Make a dressing by whisking together lemon juice, olive oil, mustard, salt and pepper.
Lemon Raspberry Tartlets
This quick little tart comes together quickly. I made and brought to a friend's house and they received raved reviews! Skip the homemade lemon curd and just have raspberries if are looking for vegan or gluten-free.
Makes 6 tartlets
1 large sugar sugar cookie (I prefer one that is organic that does not have hydrogenated fats)
How to Make Lemon Curd:
1 egg, beaten
1/2 cup sugar
1 tablespoon flour
1 tablespoon of butter or Smart Balance tub margarine
1/2 tablespoon grated lemon zest
1/2 cup lemon juice
6 muffin liners
12 to 18 raspberries for garnish
In a regular sized muffin tin, place muffin liners. Crumble cookie in a bowl and sprinkle about 3/4 of the crumbs in the bottom of the muffin liners. Make lemon curd in a small saucepan by melting the butter and adding flour until it makes a paste. Add sugar, lemon juice and rind and blend it in the paste with a whisk until thick and creamy. Add a little bit of the lemon curd to the beaten egg and whisk it together. Add the egg mixture back to sauce and stir well. At this time, if it is not smooth and there are pieces of egg, let mixture cool and run it through a sieve. Add the lemon curd mixture in the muffin liners on top of the crumbled cookies. Allow to cool at least one hour and then top with the rest of the cookies and top with the raspberries.
Citrus Cucumber and Water
This water was so simple to make! Just add a little cucumber and mint and you will find it adds such a good flavor to water without adding calories. Try different fresh herbs and sliced citrus fruits like lemon, lime and orange to try different combinations!
Recipes for Backyard Picnic
Summer Panzanella with Trout
Nothing tastes better than local smoked trout with garden fresh veggies! Top your salad with my tangy Greek salad dressing from a blog post from last summer!
Makes 2 servings.
6 ounces hot smoked local Sunburst Trout (use roasted cubed tofu if you would like a vegetarian version)
1/3 cup green olives
1 cup cherry tomatoes
1/3 sliced or chopped red onion (use chopped green onion if you want to keep it low fodmap)
2 cups chopped lettuce (more if desired)
2 tablespoon shredded Parmesan cheese if desired or use toasted nuts if want to keep it 100% plant-based
1 tablespoon thinly sliced basil
1/2 cup cubed bread cubes from a baguette (1 inch by 1 inch) You can use gluten-free if desired also.
1/2 tablespoon olive oil
Lemony Greek Salad Dressing
Make the Lemony Greek Salad dressing. Cut bread into 1 inch by 1-inch cubes and lightly toss in olive oil, you can bake at around 425 degrees until toasted or lightly brown in a skillet. Allow to cool. In two salad bowls add lettuce, onions, tomato and olives. Lightly crumple skinned smoked trout over the salads. Drizzle with salad dressing and top with sliced basil and Parmesan cheese.
This could not be any easier and it is so portable that you can put them together when you get to your destination!
Blueberry and Goat Cheese Crostini
This recipe for a crostini dessert is so easy that it is sinful! Use your favorite mild goat cheese like a chevre (use a vegan cream cheese if you want to keep it totally plant-based). I use a local where I live called Three Graces Dairy. Use a local berry jam if available where you live. I love Imladris Farms Berry Best Berry Best. For your base use a mild cracker, where I live it has to be Roots and Branches Crackers! Take five crackers for one serving and lightly add goat cheese and top with jam but use a rice or other gluten-free cracker if desired. This is so easy and delicious!
An easy way to enjoy the berries of summer and get refreshed!
Herbal Tea with Frozen Berries
Serve this picnic with some berry iced tea. I love this new one from Asheville tea company. Serve with frozen berries as ice cubes if you are able.
Recipes for a Wine or Beer Tasting Picnic
Tempeh or Beef Sloppy Joe Sliders
Use the barbecue tempeh and slaw below to make these sliders but instead of making open-faced put in little buns if you like (use gluten-free if desired). And add the slaw inside those little buns along with the sloppy joe mixture. If you prefer to have the sandwiches open-faced, build the sandwiches once you get to your destination. An old-fashioned sour dough that is made the slow method is a good option if you are trying to go low fodmap.
Recipes to Grill for Picnics
Sometimes you can grill at your picnic destination. Here are some recipes that you can try.
Vegetarian Cookout Recipes
I love a summer celebration out in our yard, and I want to share some of my favorite vegetarian cookout recipes and menu ideas. Most of us think only about meat on the grill for a barbecue and that makes me so excited to share with you these delicious vegetarian grill recipes… Continue reading
Summer Cabbage Slaw
See recipe in the blog post above for the barbecue tempeh sandwich.
Gingered Peaches with Toasted Coconut
If you don't have time to make this dessert, feel free to bring fresh local peaches and just slice when you get to your destination. However, if you have a little time to toss in some candied ginger and toasted coconut to some sliced peaches, your taste buds will thank you! Pack it all together and chill or put it together when you get there so the peaches are not brown. Remember a picnic needs flexible and fun!
I used 1 tablespoon of toasted coconut and 1 teaspoon chopped candied ginger per sliced up peach.
Lavender Blueberry Lemonade and Mint
Recipe for this pretty lemonade is in the following blog post.
Romantic Picnic Spots Near Me
Romantic Asheville has a wonderful website with lots of great ideas for romantic picnic places to go in Asheville for people visiting our area or those of us living here. Explore Asheville is also a great resource to find things that you don't want to miss while you are here!
Top 20 Asheville Picnic Spots, NC Mountains
Picnics on the Blue Ridge Parkway
Super Scenic Picnics with 360-Degree Views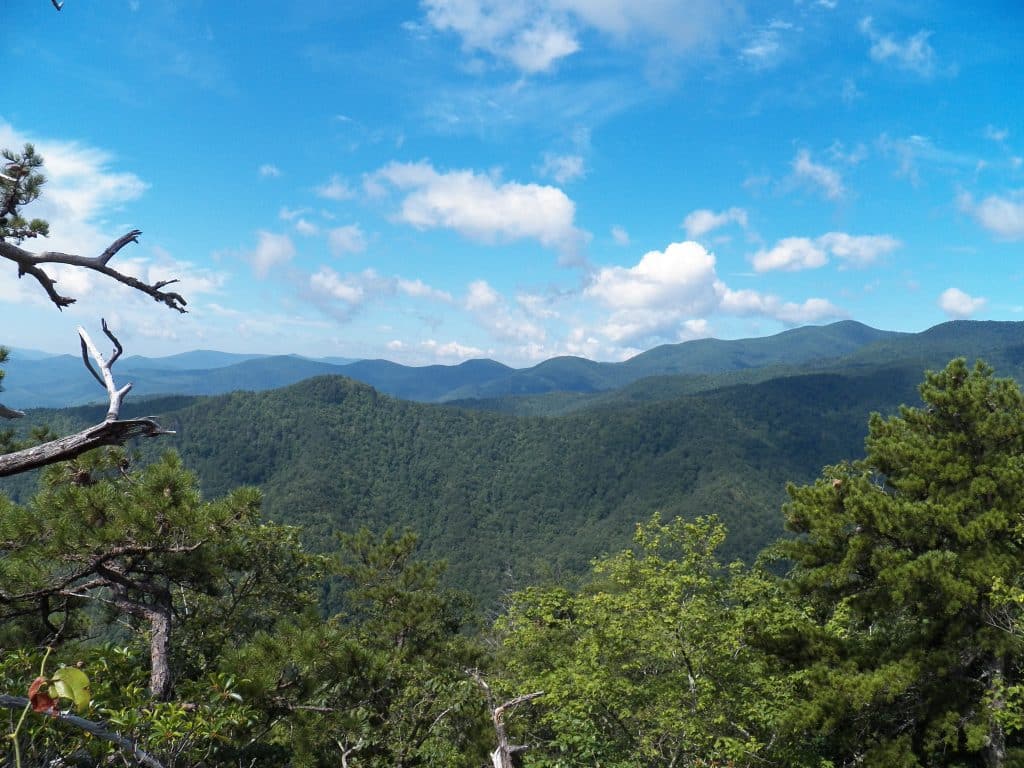 Plan Your Perfect Picnic Menu Ideas
I hope that some of these 4 perfect picnic menu ideas will inspire you to pack some yummy food and take it outside to have your perfect picnic menu idea! I hope that you find the substitutions for vegan, vegetarian, gluten free and low fodmap picnic food. As an Asheville registered dietitian nutritionist, I love sharing ways to help people live the healthy life that they want to lead.
These romantic picnic food ideas can provide you with some outings that you can look forward to planning and also help you get out in the sunshine and fresh air. You can find some ways that we can work together.