Vegetarian Cold Lunch Ideas
On hot summer days, many of us are looking for vegetarian cold lunch ideas that are quick, easy and delicious.
Our house is old without central air, but we do have a box air conditioner that we use on occasion when it gets too unbearable. but for the most part, windows and screens are our cooling system.
For this reason, I am not going to run my oven or even cook over the stove. I want cool easy meals to eat!
Even if your home cooling situation is more modern than ours, you may be craving cool things to eat too!
No-cook Vegetarian Lunch Meals
Sometimes cool foods can be less healthy like mayonnaise, cheese and ice cream. And for some of us, how often do we cringe when our family members say "Not salad again", even though many of us could eat salads for every meal.
I use the abundance of my summer garden and the local farmers' markets as the foundation for these no-cook vegetarian meals.
Cold salads, cool pastas, no cook sandwich ingredients, lettuce wraps and chilled spring vegetable wraps are just a few of the things that are easy meals and refreshing to eat on a warm day.
I have also gathered some of my favorite no cook summer meal ideas. They are easy to prepare, delicious and many of these can be easily made into no cook vegan meals by substituting vegan cheese and egg substitutes! And most of the time, you can leave off the lacto ovo options!
Here is a list of summer of my favorite no-cook vegetarian meals with easy recipes included below!
Recipe Ideas for Cool Summer Meal Ideas
These are just of a few of my favorite no cook vegetarian meals for the summer that I am sharing in this post but you can find lots more throughout the Vine Ripe Nutrition blog!
Fresh Summer Hummus Tacos

Vietnamese Bun (Cold Noodle Salad)

Fruit and Nut Wrap

Hummus and Greek Salad

Chickpea Nicoise

Rainbow Kale Salad

Orange, Avocado, Strawberry, Walnut and Spinach Salad

Summer Panzanella with Trout

White Bean Salad

Strawberry Coconut Cream Overnight Oats
Summer Hummus Tacos
These tacos are from a sponsored post that I did a few months ago as part of a Sabra Hummus recipe contest. You can also use black beans and lime juice to make some taco inspired hummus to put in your taco!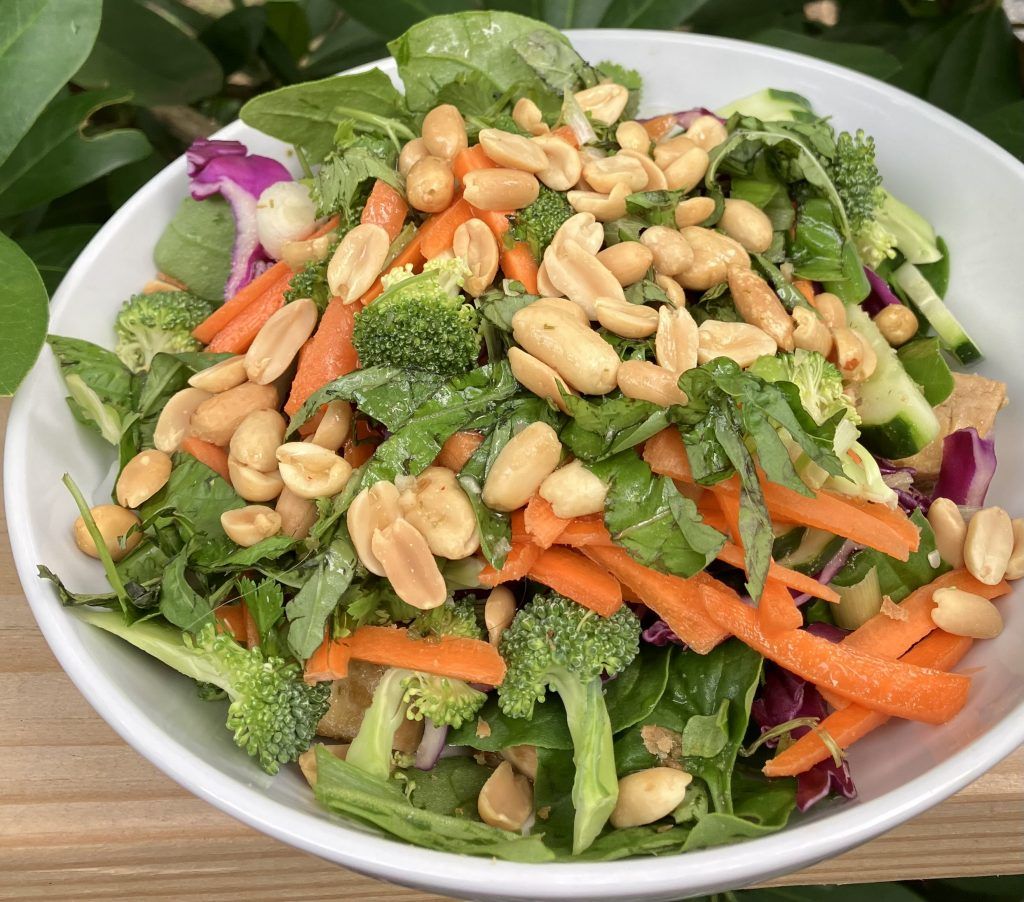 Vietnamese Bun
Vegetarian Vietnamese Bun
"Bun" for the Vietnamese means thin rice noodles. Traditionally, it is often made with pork but this version is made with either Smiling Hara Tempeh or No Evil Foods Plant meat. It contains a plentiful amount of the local produce of summer! I think that this Vietnamese Bun recipe sounds delicious with one of these fruit popsicle recipes Fruit Popsicle Recipes.
I love this combination of fresh summer veggies with cold rice noodles along with the savory sauce!
Makes 4 servings
10 ounces Smiling Hara Tempeh, No Evil Foods plant meat (you can also use pork, chicken or other protein) I also love roasted tofu in mine!
4 cups lettuce or other salad greens (I used arugula from my garden) Romaine is also delicious!
2 thinly sliced carrots
1 red bell pepper thinly sliced
1/2 cup finely chopped cilantro
2 slices green onion (optional)
1 cup napa or other cabbage, thinly sliced
1/2 roasted peanuts
Rice noodles (I used Annie Chuns)
Vietnamese Bun Sauce
This bun sauce mixed with the crushed peanuts makes a delicious peanut sauce to add on top of this Vietnamese salad.
1/4 cup lime juice
1 clove of garlic, minced
1 teaspoon sriracha hot sauce or one of my favorite local brands Smoking J's (use more if you like the heat)
1 tablespoon of rice wine vinegar
1 tablespoon of sugar
1/4 cup water
1 tablespoon of soy sauce
Cut up and saute tempeh, plant meat or other protein choice in a skillet in a little bit of oil or other protein ahead of time and chop up all the ingredients. Prepare rice noodles according to directions be careful to not overcook.
Drain well and let cool. In a large bowl layer noodles, lettuce, cabbage, red bell, carrots, and green onion. Add your choice of protein and top with cilantro and peanuts. Add dressing on top.
Toss it around in your bowl and eat! This is a summer sensation that I truly love and hope you will too! Serve with Vietnamese summer rolls if desired.
Greek Salad
What makes this salad is the fresh local produce my homemade Greek dressing! I mentioned that your family might get tired of salads but I can never tire of this Greek salad! If you won't to skip the cheese, you can add a vegetarian substitute like nuts!
Makes 4 servings of salad
4 cups of salad greens
1 large tomato, chopped
1 large cucumber, sliced
1 red onion, sliced
20 Greek olives of your choice
1/2 cup feta cheese (there are several local creameries in Western North Carolina that have some great options)
Lemony Greek Salad Dressing
This dressing allows you to make this salad twice and dress it!
Juice from 1 lemon
1/2 cup olive oil
1 teaspoon minced garlic
1 teaspoon oregano leaves
Salt and pepper to taste
Mix ingredients and lightly toss the salad with about 1 tablespoon per serving.
Hummus Sandwich
Hummus is a bean spread made with tahini which is a sesame butter (think of peanut butter made with sesame seeds), traditionally garbanzo beans, lemon juice, garlic and seasonings which is whipped up in a food processor. It is very easy to make a stays fresh in the refrigerator for several days. It is also readily available at most grocery stores.
In Asheville, we are fortunate to have Roots Hummus which is made right here and has a wide variety of flavors. I recently tried their lima bean and it was wonderful! The blend of tahini and the lima bean is a great combination even for those of use who don't typically eat lima beans!
Hummus can be a high fodmap food if someone has IBS so another sandwich may work better or try this lower fodmap hummus recipe. This Greek Salad and Hummus Sandwich would be delicious with some sliced chilled cantaloupe.
To make the sandwiches:
Makes 4 sandwich halves.
1 package of hummus or a batch from your kitchen
Sliced tomatoes
Sliced cucumbers
Lettuce
Sliced onions
Fresh sprouts (I use the local brand Sunny Creek Farm )
Sliced avocados
Slice pita in half and carefully slice in the pita so you can add the fixins. Carefully layer the ingredients.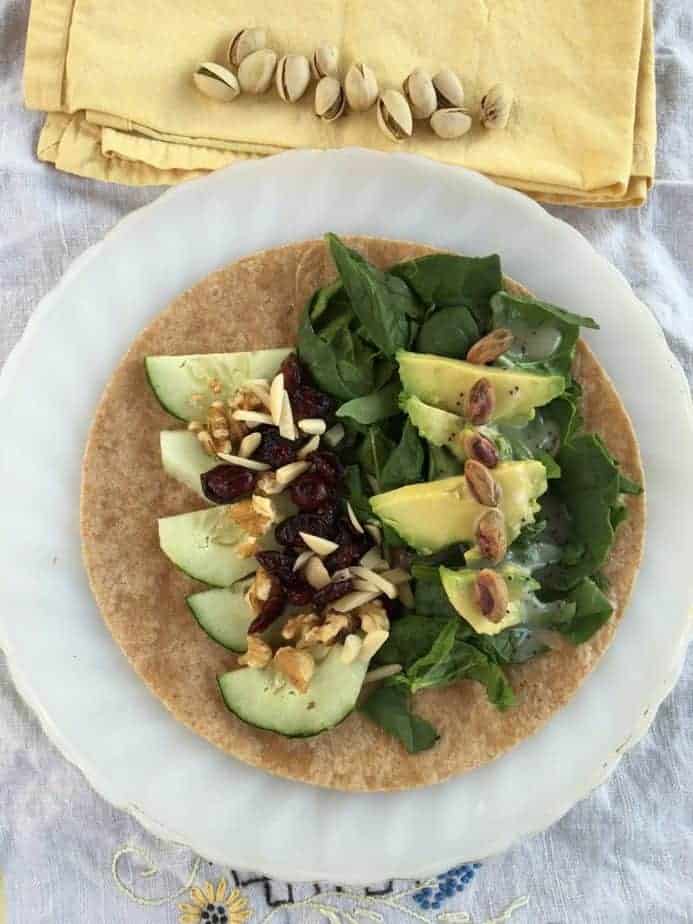 Amazing Fruit and Nut Wrap
When my family and I first moved to Asheville, there was an adorable little place called Pineapple Jacks' which was a smoothie and sandwich shop in my neighborhood. I absolutely loved their fruit and nut wrap among many other menu items! They are no longer here so this is is my version of their wrap. Use whatever greens are in season, in the picture above I used arugula and cucumbers from our garden. Make the poppy seed dressing below.
I think a side of mixed olives and grape tomatoes is delicious with this wrap! This wrap is one of my favorite no cook vegetarian meals!
Makes 4 wraps.
4 whole wheat tortillas
2 cups of salad greens
1/3 cup of pistachios, 1/3 cup almonds, and 1/3 cup walnuts (adjust the nuts to make low in fodmap, you can also substitute pumpkin seeds for pistachios)
Approximately 1/3 cup of red onion or the green parts of the green onion if you are trying to make low fodmap
1/2 cup sliced cucumbers
1/2 avocado sliced thin
Approximately 1/3 cup dried cranberries (but fresh local blueberries would be wonderful too)
1/2 cup shredded white cheddar cheese (optional)
You can also add additional protein if you want!
On the flour tortilla add the vegetables, nuts, fruit and cheese in no particular order. Add a little dressing and wrap it up!
Poppy Seed Dressing
You should have some leftovers of this dressing to top a summer salad. I make this dressing ahead of time so the dried poppy seeds can soak up some of the ingredients.
Juice from one lemon
2 tablespoon honey
1/3 cup olive oil
2 teaspoons of poppy seeds (or you could even use chia seeds)
Pinch of salt
Mix together and let set for at least 30 minutes and pour over your fruit, nut sandwich or salad.
Chickpea Nicoise
In my cookbook, Farm Fresh Nutrition, I have a smoked trout version of this recipe which I love and this one is so delicious also!
A little kale, bulgur wheat and lots of veggies taste great with this post that I did for Toufayan Bakeries as part of a recipe contest. The first time I ever had salad in a pita was when my friend Sara brought them to my house back when we were in college!
Orange, Avocado, Strawberry, Walnut and Spinach Salad
Not only is this cool salad beautiful, it also contains lots of nutrients that make your skin glow! Click on the sliver of the salad below which is actually the link to get the recipe and more information of keeping your skin health and youthful!
I love the combination of strawberries, oranges and avocados, it just makes me feel so good to eat it!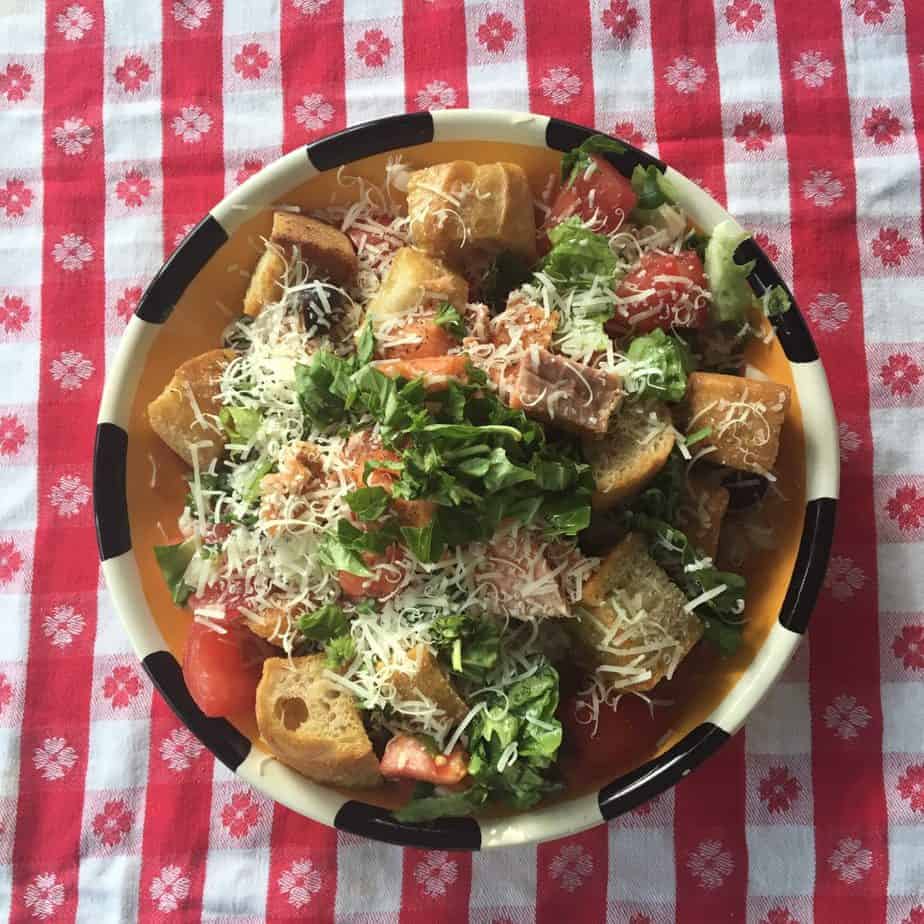 Summer Panzanella with Trout
Panzanella is an Italian bread salad, I think that it is just the thing to eat on a hot summer evening! For the recipe, click on the Picnic Food Ideas to Make Below. Some big, crunchy croutons add so much to this salad. You can also make them gluten-free and they would be super delicious!
White Bean Salad
This Mediterranean style white bean salad is so versatile that it can be served as a salad, a sandwich filling or an appetizer. I love the sour and salty addition of the black olives along with the olive oil dressing!
The sky is the limit on the possibilities! Click on the "Take the Party Outside" below to get the recipe!
Sometimes there is nothing cooler to eat in the summer than breakfast for supper and how much cooler can you get than right from the fridge! If you don't want overnight oats for supper, eat them for breakfast. I love the fact that I can pull them out of the fridge and eat them!
This makes a delicious vegan version of overnight oats!
Strawberry Coconut Cream Overnight Oats
Make Some Vegetarian Cold Lunch Ideas
I hope that you love some my cold vegetarian lunches and no cook dinners for summer that my family and I make when the weather heats us! Not only are they cool to eat but they are full of flavor and nutrition so you will feel your best when it's time for summer fun! As a registered dietitian nutritionist here in Asheville, I love sharing ideas from my kitchen to keep people healthy!
If this is your first time stopping by to see what is cooking, welcome and I am so glad that you stopped by, if you have come by before-"welcome back and come back soon!" I will be posting a few more ways to stay cool this summer and have lots of new ideas that I will be sharing! Here are some additional no cook meal ideas.
I would love to hear about some of your favorite no cook summer meal ideas below. it is always so helpful to learn from you! What do you love to eat and throw together when the weather get hot outside?