How to Make Your Own Seasonings
Today, we are going to talk about making your own seasonings. There are a lot of great ways to add additional flavor to foods that make them absolutely delicious! Here are just a few ways to add some punch to your meals!
I also have some spice mix ideas to share along with some other resources!
Here are Some ingredients to Make Your Own Seasonings
herbs and spices
Flavored Vinegar
Fruit zest and juice
Maple syrup, honey
soy sauce, miso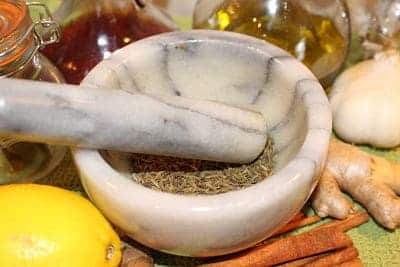 Exploring the Five Tastes
When I was in school, we had a food chemistry class where we learned about the four flavors on our tongue. Several years later a fifth taste was defined also called Umami. A balance of these tastes makes our recipes flavorful.
Let's discuss these unique tastes.
Salty
Sweet
Sour
Bitter
Umami
Salty:
Salt can be used to reduce the bitterness in foods. It is also interesting because our bodies can adapt to the level of salt that tastes good in our foods. So, people can get used to and enjoy a lower salt diet with time. Sodium chloride is what we mostly use for this flavor, but broth and other condiments can be a source. Processed foods provide a lot of this flavor also.
Sweet:
This pleasurable taste is found in simple carbohydrates. Foods include desserts, fruits and sugar.
Sour:
This taste has been described as sharp and tangy. But it also may brighten up things. Foods include yogurt, lemons, fermented vegetables and sourdough.
Bitter:
Bitterness adds depth and interest. It is mostly found in plants like kale, dark chocolate or coffee. Most vegetables have a variation of bitterness and that may be one reason why some people dislike some of these. A little bit of salty and other tastes can reduce the bitterness.
Umami:
The newest taste to be discovered is a savory, rich, meaty taste. Foods that to have umami taste are meats but there are several plant-based foods that have this taste also. Check out my blog post on umami flavors!
Tips on Making Your Own Seasonings
1. Herbs and spices
Herbs and spices add lots of flavor without adding the extra salt that we don't need.
Here are just a few ideas:
Salad dressings:
Make your own Italian salad dressing with a pinch of pepper, Italian herb seasoning, pressed fresh garlic, ¼ cup vinegar and ½ cup olive oil with just a sprinkle of salt. Fresh dressings are much tastier than the store-bought dressings without the extra sodium. Check out my balsamic dressing here.
Pasta Sauces:
Most tomato sauces added to pasta, and other recipes are traditionally higher in salt. Make your own lower salt version with no-salted-added sauce with oregano, basil, fresh garlic, thyme, a pinch of red pepper and a sprinkle of salt to make a sauce that you won't forget!
Homemade Soup:
Store bought soups are often full of sodium. You can make your own broths with lots of herbs, vegetables and soup bones if desired. I love to use thyme, bay leaves and a little savory in my favorite soups but there are endless possibilities! Make extra broth and freeze for next time too. If you don't have time to make your broth there are several brands of natural, low sodium bouillon that you can use also. Just add your favorite herbs and spices! Try this Sweet Potato Kale Soup.
Seasonings for Eggs:
To make eggs flavorful I love to add thyme to potato and broccoli frittata, basil to greens and feta omelets and chili powder to breakfast burritos. Check out how I seasoned these egg tacos.
Using Fresh Herbs:
Try fresh herbs in place of dried ones for a change of pace. Mix them in salads. Add them for garnish on top of your favorite dishes. Make pesto for soup toppings, sandwich spreads, pizza sauces or pastas. Check out a favorite pesto recipe idea here.
2. Using Flavored Vinegars
As you may have seen in the local grocery stores, the sky is the limit with flavored vinegar! To keep my meal-prep simple, I like to keep just the basics on hand and then layer them as desired with herbs and seasoning.
Here are the vinegar choices that I always have on hand:
Balsamic Vinegar-

This aged vinegar creates a complex flavor to some of your favorite dressings and even tomato sauces. I like to use with many of my favorite salads such as Roasted Butternut Squash, Pear and Goat Cheese Salad and Spinach, Beet and Walnut Salad


Rice Wine Vinegar-

I use this in my basic Asian marinades. For example, my stir fry recipe ideas here.


Red Wine Vinegar-

I really like this vinegar in a bean salad because it adds a lot of structure to the recipe. Here is a Red Potato Salad with Green Beans and Potato recipe that utilizes this vinegar!

3. Fruit Juices and Grate Citrus Peel:
Lemon: I love using lemon juice in my Greek salad dressing and other Mediterranean Recipes. Grated lemon rind is delicious in this delicious Pasta Primavera! How to make lemon zest: I use either my grater or zester to grate it.

Lime: This juice adds some zip to fajitas and other Mexican recipes. Try grated lime peel to fruit salad to give it a sparkle! How to make lime zest: I use either my grater or zester to grate it.

Orange: Try orange juice for some refreshing salad dressings and grated orange rind is delicious in cooked whole grains. I love it in Middle Eastern Dishes like couscous and tabouli. How to make lime zest: I use either my grater or zester to grate it.
Seasoning Considerations When Eating Low Fodmap
When purchasing foods on the low fodmap diet, take care to purchase ones that do not contain onions or garlic, you can use garlic and/or onion infused oils. Too balsamic vinegar can be a problem for some people. Look carefully on spice blend labels and condiments.
Making Your Own Seasonings
Here are three spice mixes that I use as staples in my recipes, I left out the salt and the onion and garlic powder. Feel free to taste each thing that you make and season with salt to taste. Add garlic and onion powder to each one of these recipes 1-2 teaspoons per recipe if you don't have IBS. Otherwise, use garlic or onion oil.
Making your own spice blends makes a great gift!
1.Mexican Spice Mix Recipe

I use this recipe for chili, tacos, burritos and enchiladas

Makes slightly less than 1/2 cup
1/4 cup tablespoon Chili powder without garlic or onion
1/8 cup paprika
1/2 tablespoon of cumin
1/2 teaspoon oregano
(Add salt to taste in your recipe each time you use this seasoning)

2. Italian Seasonings

I like to use this recipe in red pasta and pizza sauce. You can also use it to season proteins or add to olive oil based recipes for pasta, pizza or vegetables
Makes almost 1/3 cup
2 tablespoons thyme
2 tablespoons basil
1 tablespoon oregano
1 1/2 teaspoon cayenne
(Add salt to taste in your recipe each time you use this seasoning)
3. All-purpose seasoning
This is a good general spice to season meats, vegetables and grains.
Makes a little less than 1/2 cup
3 tablespoons dried parsley
2 tablespoons dried basil
2 tablespoons paprika
1/2 tablespoon sugar
1 tablespoon celery seeds
2 teaspoons pepper
(Add salt to taste in your recipe each time you use this seasoning)
If you want to save time from making your own seasoning or want to get a special seasoning, check out my friend Sarah Wicker's company Products – Well Seasoned Table
Now You Know More on How to Make Your Own Seasonings
I hope that you can use some of these flavorful, healthy meal ideas to make those healthy fruits, vegetables, whole grains, beans and other lean proteins absolutely delicious! As an Asheville dietitian and nutrition expert, I love to help others find meal planning ideas and plant-based recipes to stay healthy and try new food and recipe ideas that they will love! Sign up for even more seasonal recipe ideas by signing up for my newsletter!