Make Some Apple Salsa, Skillet Cabbage Rolls and Spinach Apple Salad
Have you ever had apple salsa or deconstructed cabbage rolls? They are very tasty!
Fall brings us the vibrant colors of red, orange, yellow in the leaves! I love this time of year to go hiking in the woods and enjoy the weather outside. One of the other joys of the change in season is the availability of local apples and other local food grown in the fall.
We are fortunate in Western North Carolina to have a number of orchards to visit with a large variety of apples to choose from including heirloom ones. We also have several here farmers who grow their apples using organic methods. When you buy local apples, ask how the apples were grown.
We have all heard the old saying "an apple a day, keeps the doctor away"! Here is some nutrition information on apples: they are rich in vitamin C, B, fiber and a polyphenol called quercetin which is a powerful antioxidant.
During normal body functioning we sometimes are left with some undesirable by-products that sometimes linger and antioxidants help protect us from the damage that they can cause. Food and how it works inside our bodies is pretty amazing!
Apples come in different colors, textures and flavors which include pink, red, green and yellow, crunchy, crisp and soft, sweet and tart. Some apples are better for cooking and baking while others are best eaten raw. I love the tarter crisp apples but when all varieties are picked fresh off the tree-they all taste delicious!
Apples are best tasting when they are local and in season. There are early season apples which includes Golden Delicious, Red Delicious, Johnagold, Cameo, middle season which includes Fuji, Granny Smith, Rome, Mitsu and later season which includes Pink Lady, Gold Rush, Staymen Winsap and Arkansas Black. A few apples were known as "keeper apples", these were the apples which lasted through part of the winter.
Varieties of apples that are great for eating raw include Gala, Honey Crisp, Mitsu, Granny Smith, Fuji, Ruby Hampshire, Golden Delicious, Early Fuji, Cameo, Ginger Gold, Candy Crisp, Ambrosia, Gold Rush, Mackintosh, and Johnathon.
Apples that work well for baking and cooking include Granny Smith, Fuji, Golden Delicious, Early Delicious, Ambrosia, Mitsu, Cameo, Staymen Winsap, Rome, Arkansas Black, Ruby Hampshire, Mackintosh, Golden Rush, Pink Lady and Johnathon.
Like most growing season of fruits and vegetables, apple season will be over soon so eat them while they are fresh and tasty! Preserve some for later by making apple sauce, apple butter and apple jelly! Apples can also be canned, and applesauce can be frozen. I have included some of my favorite plant-based recipes using apples, I hope that you try one or all three!
Apples and IBS
For many of us who have IBS, the low fodmap diet can be beneficial in reducing the symptoms in many people. Apples has been one food that has bothered me in the past because it is high in fructose and sorbitol. I found if I had small amounts of either Granny Smith or Pink Lady (about two slices) and not have other high fodmap foods at the same time, it can really help reduce symptoms. And my tolerance has gotten even better over time!
Apple Salsa Recipe
Sassy Apple Salsa
When the tomatoes are gone from the garden and the farmers' markets and there is no more pico de gallo, try some fresh, colorful apple salsa for a change of pace!
Makes 12 servings at 1/4 cup each
2 cups diced tart, crisp apple
1/2 cup diced red or green bell pepper
1/3 cup freshly squeezed lime juice
1/4 cup diced red or yellow onion
1/4 cup minced fresh cilantro
1 tablespoon honey
1/4 teaspoon salt
1 jalapeño pepper, seeded and minced
Mix the apples, peppers, onions, salt and honey in a bowl. Serve with corn chips or even try as a topping over your favorite Mexican supper!
Vegetarian Deconstructed Skillet Cabbage Rolls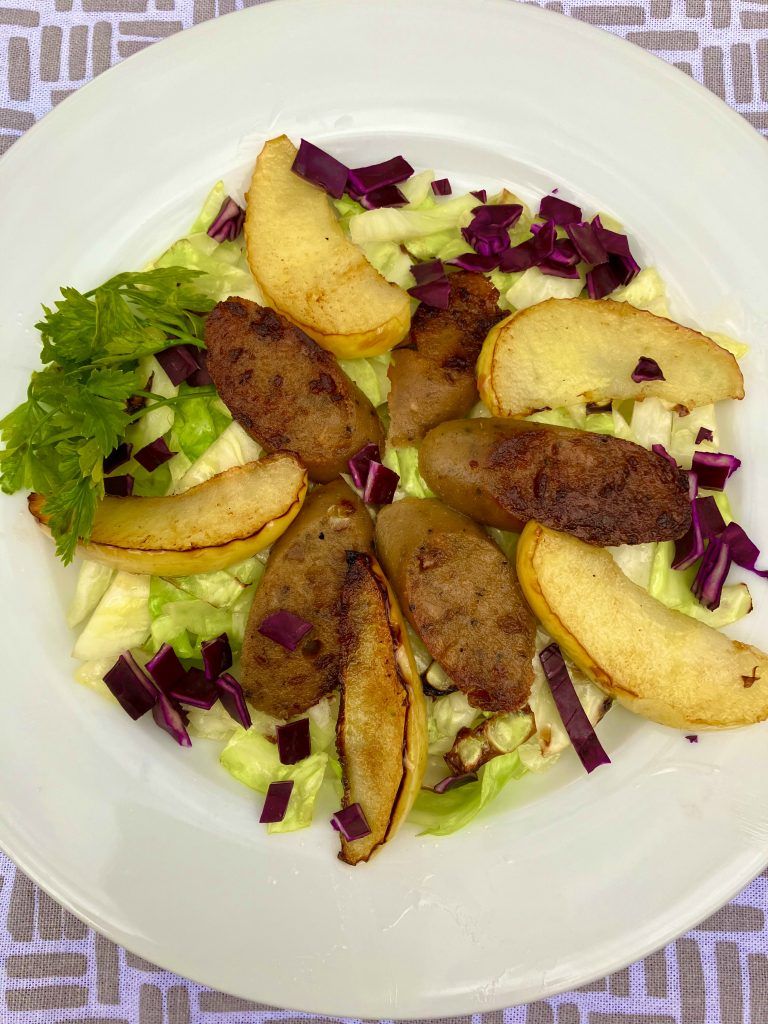 Vegetarian Deconstructed Cabbage Rolls with Sausage and Apple
It is deconstruction skillet cabbage rolls at its finest with vegan sausage and apples. This quick, healthy meal is a staple at my family's house all fall and winter when I can get all the ingredients local! If you miss the usual rice often used in cabbage rolls, serve it on the side!
Makes 4-6 servings.
1 medium head cabbage
1 small onion
2 tart cooking apples
One Package of Link Sausage, you can use this local one No Evil Foods the Stallion or Smoked Apple & Sage | Field Roast
1 tablespoon olive oil
1 teaspoon thyme leaves
Salt and pepper to taste
Slice onions thin and sausage in diagonal slices. Sauté in onions and sausage in a large skillet, using a little olive oil until sausage has browned and the onions have started to get translucent. Add apples and let them soften slightly.
Add cabbage and 1/3 cup oil. Turn down low and add a lid to steam. Stir all the ingredients together every 5 minutes so cabbage can soften and the other ingredients do not overcook. Serve in a bowl for a complete meal or on a plate with a few steamed small potatoes or even a side of baked sweet potato fries.
My picture shows them with the last of my home-grown tomatoes on the plate!
Spinach Apple Salad
My favorite holiday salad uses apples!
Spinach Apple Salad
This is one of my favorite recipes for a holiday meal. The red, green and white just makes me want to celebrate! I hope that it makes you want to make it also!
Makes 2 servings.
1 apple, chopped
1/4 cup chopped red onion or use the green parts of the green onion if you are sensitive to fructans
1-2 tablespoon dried cranberries or cherries
1/8 cup blue cheese (if you want to use a vegan cheese substitute, you may like Follow Your Heart)
Your choice of locally grown greens or spinach
Balsamic Salad Dressing
In a bowl or small plate, add a small layer of salad greens. Top with apple, red onion, blue cheese, walnuts and cranberries. Drizzle with salad dressing.
Try Some Apple Salsa, Vegetarian Deconstructed Skillet Cabbage Rolls and Spinach Apple Salad
I hope that you are pleasantly surprised about the benefits of apples and that you add more of them to eat especially when they are in season! These of some of my favorite ways to fix apples and I hope that you enjoy them too!
As a registered dietitian nutritionist in Asheville, I love teaching clients about the benefits of eating nutrition and share delicious, easy ways to do it with some healthy food recipes! Eating in season and focusing on local is a tasty way to do it and support your local economy too! You also might want to check out my Kale Cabbage Apple Slaw and two other yummy fall salads at Thai Broccoli Salad (vineripenutrition.com)!
If you suffer from IBS like I have, you may benefit from working with a Registered Dietitian Nutritionist with a specific training in the low fodmap diet for IBS. I have been trained by Monash University FODMAP Dietitians Directory – Monash Fodmap and I have a Digestive Wellness Program created just for you. You can find out more at Fresh Approach Gut Health Diet Plan – Vine Ripe Nutrition .
If you are looking for more fall recipes, you might enjoy these recipes!