Packing Healthy on the Go
What do you pack for healthy on the go menus? Seems like we are all trying to get more done in less time. Commute time seems longer with increased traffic. The technology available requires us to do more in less time. With time being a premium, many of us are taking more meals on the road or at least squeezing them into working lunches to fit into our work schedules, exercise training and summer road trips/vacations.
In today's post, I want to share 10 of my favorites to go menu ideas that you can carry easily wherever you go when you need a quick, healthy and delicious bite to eat. I hope that they will make mealtime easier and more enjoyable so you can squeeze in more summer fun!
Here are some Healthy on the Go Menus
Have Smoothie Will Travel                                                                                                                                                                                                                                               
All you need to make this nutritious and delicious portable meal is fresh or frozen fruit, dairy or plant milk or yogurt, a few greens, nut butter or seeds and a little honey or maple syrup in your favorite to go cup! This Peach Lassi Yogurt Drink makes a great smoothie idea! Add a few chunks of ice to make it a little cooler! The sky is the limit to the combinations that you can make. See recipe below in this blog post on fermented foods.
http://www.vineripenutrition.com/fermented-foods-your-health/
2.

Snack Mix: the Meal in the Bag
This is my go-to meal when my husband and I go hiking! I love that it has a balance of fat, protein and carbohydrates to get me to the end of the trail when the going gets tough! It is light to carry and doesn't take a lot of room in my pack either. And what I really like about it is that there is no refrigeration, cooking or preparation necessary. There are a lot of great premade ones all ready to go or you can mix your own with all your favorite ingredients. Just one or two handfuls is enough to keep you going depending on what you are doing. Here are some tasty ingredients to add to yours:
-Pop Corn
-Dried fruit (acai, apples, apricots, blueberries, cherries, cranberries, dates, figs, goji)
-Nuts (almonds, pecans, walnuts, hazelnuts, cashews, pistachios)
-Seeds (pumpkin, chia, flax, sesame, sunflower)
-Whole Grain Cereal
-Toasted Garbanzo Beans
-Whole Grain Pretzels
Check out the link below for one of my favorites: Sweet and Spicy Snack Mix (it is also a great snack mix to have on hand when you are celebrating the Super Bowl)
3.

Mini Pizzas
Making your own pizza with a pita, naan or tortilla as a crust and letting everyone top them with their own favorite toppings and sauces is so easy and fun! These are super easy to pack up and take with you. They don't even need to be reheated if you don't have a microwave or oven since pizza even cold is delicious!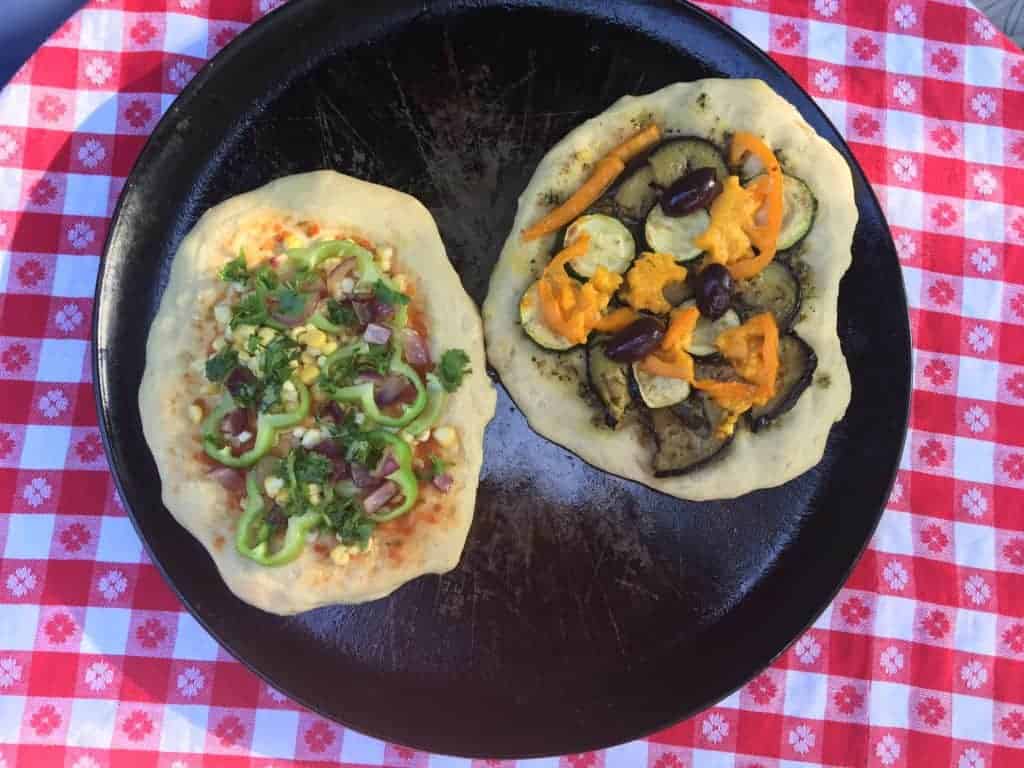 4.

Avocado Toast
I don't know why but eating avocado toast just is fun to eat. I don't know why that is, maybe because it is so colorful! Toast your bread and add mashed avocado with your favorite toppings. This example this one has chopped tomato and egg. The sky is the limit to what tastes delicious on it. If needed pack your mashed avocado and toppings separate from your toast if it is going to be awhile before you have your meal, so it doesn't get too mushy. You can even use avocado slices instead or slice it when you get to your destination if needed.
5.

Lettuce Wrap
These are so easy and portable, all you need is a large lettuce, collard, chard or kale leaf and some delicious filling. Here are 15 ideas for fillings from Cooking Light. You can make most of this plant-based if desired with beans, tofu or tempeh.
Some of my favorite topping ideas include two ideas from my previous post: 3 Cool Summer Quick Healthy Meals below which include Amazing Fruit and Nut Wrap and Vegetarian Vietnamese Bun.
6.

Eggs, Tofu or Tempeh or other protein- lots of Ways!
Egg Tacos
Easy. Simple. Packable. Delicious! (See recipe below under 5 Best Plant Based Recipes)
Breakfast Bowl
I love how the ingredients in these bowls can be made directly in the bowl or mason jar that you are going to run out the door carrying! If you want more of a breakfast bowl, check out the one in 5 Best Plant Based Recipes below or if you want more of a lunch or dinner bowl check out the Buddha Bowl Recipe below also. Bowls can be made with whatever ingredients that you have on hand!
Half or Whole Sandwiches
Egg Sandwiches are delicious and can be made ahead! I love a variety of vegetables cooked in them. Go beyond eggs with a variety of vegetarian or meat options, the sky is the limit on what you can make, pack and bring with you! Some of my favorites include a tuna melt, hummus with veggies and a grilled cheese with a tomato and hummus!
Frittata Cups
These frittata cups can be made with your choice of ingredients and you can use all week for your healthy eating on the run!
https://joybauer.com/healthy-recipes/vegetable-frittata-muffins/
7.

Sweet Potato Toast
You can use this as a gluten free/grain free alternative to bread. Make sweet potato slices ahead of time so you will have them for the week.  I cut my potato lengthwise into 1/4-inch slices and bake about 10-15 minutes at 400 degrees. After they cool, try some of your favorite variety of toppings like sliced avocados, cooked eggs or hummus and toppings like the one shown above! However, you can get creative depending on what you are in the mood to eat.
8.

Hummus and Veggies
Use your favorite vegetables with hummus for a variety of combinations! Cucumbers, tomatoes, carrots, cauliflower, celery or broccoli all taste great dipped in hummus. Hummus can also be made from a variety of beans and veggies. I have also included some also simple tapas snack ideas that make delicious and diverse eating on the run ideas! These take a little preparation ahead of time but can be used for quick meals all week! They are also a little different which keeps things interesting!
http://www.vineripenutrition.com/back-to-school-snacks-grown-up-style-not-your-boring-vegetable-tray/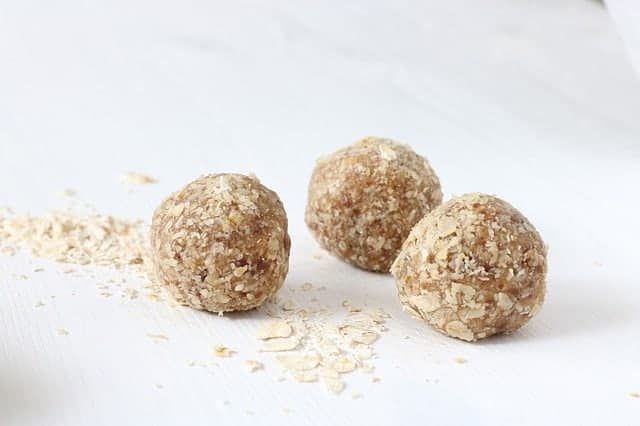 9. Energy Balls
Your favorite combination of nuts, seeds, fruit and grains are the main ingredients for energy balls. They are portable and keep well during the day til when you need them! Check out this recipe from Rachel the Conscious Dietitian!
High Protein Peanut Butter Hemp Energy Balls
10. Yogurt Parfaits
I love making fruit parfaits and they work well for breakfast, lunch, supper or dessert! You can make them with seasonal fruit all year and change up the nuts and seeds. Even add some coconut if desired. They are so simple to make, and you can also make them vegan with the tofu recipe below.
http://www.vineripenutrition.com/2-tasty-ways-to-eat-tofu/
Make and Plan Healthy on the Go Menus
I hope that the ideas on this post are just the beginning of lots of delicious ideas that you can use to make meals to eat in a hurry. I would love to hear additional ideas that you have that I would love to try too! Feel free to share them in the comments below and social media!
This is a great topic any time of year, but right now I am making my shopping list for summer travels and long hikes! I am ready for good times ahead! As a registered dietitian nutritionist living in the mountains of Western North Carolina, I love to help others find solutions to their eating challenges. I am so glad that you stopped by and hope that you check out some of the additional recipe ideas on my blog!