How to Not Gain Weight on Vacation and Holidays
Have you wondered how not to gain weight on vacation and holidays?
Those holiday parties…. some may be work parties, events planned by family members or impromptu get-togethers with neighbors and friends.
The more parties you attend, the more careful you have to be so all those extra calories don't add up. I have some suggestions that have helped me stay on track at holiday parties and also have a fun holiday party menu!
Tips to Survive Those Holiday Parties and Maintain Your Weight This Holiday Season!
To maintain healthy portion sizes, try a small party plate for appetizers or a small dinner plate for a meal.

Be selective. Save the calories for those special occasion foods that are handmade. Skip those foods that you can have anytime of the year like chips, nuts and excessive crackers.

Challenge yourself to leave space between each food on the plate.

Try eating only one plate of food. If you want dessert, try serving a small piece.

Focus on filling half of the plate with fruits and vegetables.

Find a place to hang out away from the food table. That way, you won't be tempted to get second helpings.

Remember to focus on the celebration and the special people in your lives not just the food. Intriguing conversation is calorie free.
Here are some good additional tips:
20 Tips to Avoid Weight Gain During the Holidays (healthline.com)
Christmas from Around the World Theme
For your holiday menu consider a Christmas having a food celebration from another country which that has fun holiday traditions, decorations and recipes! Often, their foods are healthier also with lots of colorful fruits and vegetables. 
I think this Mexican theme makes a vibrant fun celebration! My vegetarian menu can have local chicken or beef added if you like. Feliz Navidad!
Mexican Holiday Celebration Menu
Mini Taco Bar
Black Bean, Poblano and Sweet Potato Tacos
Cabbage, Corn and Red Pepper Slaw
Shredded Cheddar Cheese
Chopped Cilantro
Greek Yogurt
Chopped Avocado
Key Lime Cream Cheese, Pecan and Coconut Fruit Dip with Apples and Oranges
Sparkling Apple Cider Punch or Apple Cider Sangria with Apples and Cranberries
Black Bean, Poblano and Sweet Potato Tacos
These vegetarian tacos are a great vegetable combination with lots of color and use local sweet potatoes! Makes 6-8 tacos!
1 can of black beans, rinsed and drained
1 large sweet potato, peeled and chunked
2-3 poblanos, seeded and cut into 1/2 inch by 1/2 inch pieces
1/2 cup chopped onion
1 teaspoon garlic, minced
1 tablespoon chili powder
1 teaspoon cumin, crushed
1 tablespoon olive oil
Salt and pepper to taste
Heat iron skillet and add olive oil. Saute onions and potatoes until soft and add poblano and cook until they become soft also. Add garlic. Add black beans and seasonings. Add one tablespoon of water if needed to keep from drying out. Use this filling for the main ingredient of your tacos.
Cabbage, Red Bell Pepper Slaw
Cabbage is a cool weather crop and in regions it is available during the holidays. This colorful and festive slaw can be served on the side or to top your tacos.
2 cups shredded cabbage
1/2 cup chopped red pepper
1 cup thawed frozen corn
1/2 cup finely chopped purple onion
1/2 cup chopped cilantro
1 teaspoon garlic
1 lime squeezed
1/4-1/3 cup olive oil
1 teaspoon cumin
Salt and pepper to taste
In a large bowl, mix cabbage, bell pepper, corn, onion, garlic. In a smaller bowl, mix lime, olive oil, cumin, garlic, salt and pepper to taste.
Key Lime Cream Cheese Pecan and Coconut Dip
This healthy dessert recipe can be used to dip seasonal fruit! I have used some local apples with a colorful addition of citrus!
1 eight ounce package low fat cream cheese
1 tablespoon key lime juice
1 tablespoon honey
1/2 cup chopped coconut
1/2 cup chopped pecans
Put all the ingredients in the blender and process into a smooth paste. Chill and serve with local fruit like apples.
Other Menu Ideas on How to not Gain Weight from Vacation and Holidays
If you like the idea of Christmas around the world but would like to have a different country, here are some additional ideas. I also long to learn about the decorations and gift giving ideas that people around the world have. But I love learning about the food traditions.
12 Amazing Christmas Recipes From Around The World – Cooking The Globe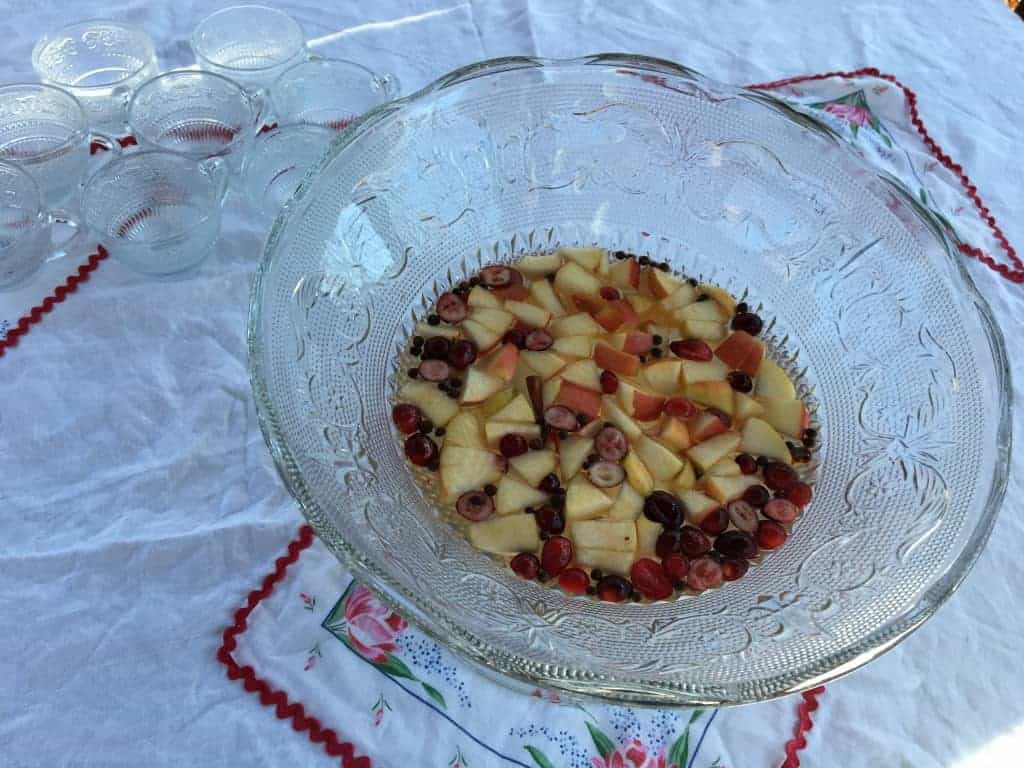 Make a Festive Holiday Menu and not Gain Weight During the Holidays
Now, you know the things about how to not gain weight on vacation and holidays.
I hope that these that you enjoy my healthy recipes and tips for those upcoming parties and dinners! Healthy can be delicious, colorful and fun! The holiday time is a challenge for many of us! I will be sharing some more ideas in the upcoming weeks to help you stay healthy and feel your best!
One of the best ways to not miss a single post is to sign up for my blog and newsletter! As a registered dietitian nutritionist in Asheville, I love to help my clients live a healthier lifestyle and I will be taking new clients in 2016! You can read a little more about me here.