Farm to Table Nutrition Education
Over the past several years, more and more of us have become more interested in where our food comes from and this makes it a great time to share a farm to table nutrition education! We are what we eat so we should be eating the freshest, most nutritious and tastiest food available.
Another great reason, is that eating local helps support local businesses like farms and then these local farmers put the money right back into the community.
I love the fact that many of the farmer's grown heirloom seeds that have more genetic diversity and are more flavorful but also have a history. You can get many more diverse foods from a local farmer than you may find at a local grocery store/supermarket.
Seeing the different varieties of food grown by small farmers can be a learning experience in itself and can be a lot of fun.
If you have not been to visit a farm near you, I would encourage you to see if the farms near you are able to have visitors come for a visit!
Some farms may not have the staff available to accept visitors. The best way to meet local farmers and find out if they allow visitors is to visit a local farmers market and meet them. Some farmers have "You Pick" farms or farm stands which are all great ways to visit a farm.
Some communities even now have local farm tours where a time is set aside for people to come and visit local farms. If these are not available where you live, it may take a little homework to see what it would take to plan a wonderful farm tour where you live and get other people in the community to visit and learn more about how their food is grown.
In our community, we have a local group called Appalachian Sustainable Agriculture Project that (ASAP) supports local Farmers in many ways but one of these is having an annual multi-farm tour where you can drive from farm to farm to meet the farmers and see the food grown. Many of the farms have food to purchase right on the spot. You can find out more about these tours ASAP Farm Tours.
This tour is two days and includes around 25 farms. It is a lot of fun besides being finding out a lot about how food is produced.
Where I live, there are farmers who allow school students to visit farms on a field trip. Taking children to pick berries, pumpkins, apples, peaches and many other delicious foods is a great learning experience for them.
What a great time it is for kids to have hands-on learning outside the classroom learning more about food that is good for their bodies and how food is grown.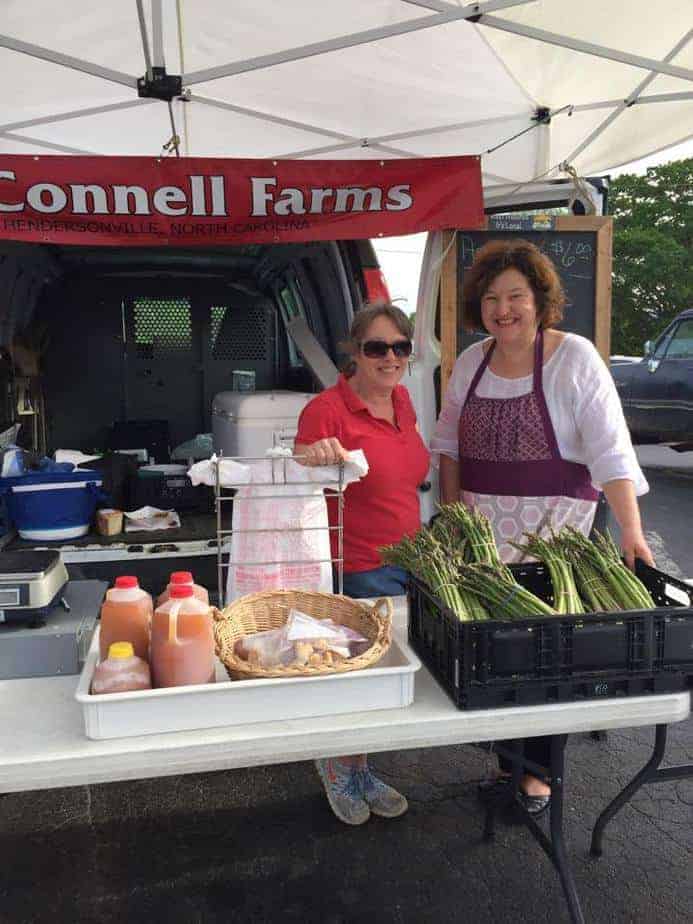 Why Farmers and Registered Dietitians are Allies
A partnership between registered dietitians and farmers is a perfect fit and that is because they have things in common which is for people eating healthy food. The farmer grows it and the dietitian promotes it. I have loved partnering with local farmers in my community by:
Setting up a special dietitian farm tour with my patients and the entire community and meet the farmers. On one farm tour people were able to sample food items I created for a Garden Party and by the food there on the farm from the farmer. We also had some live music and a place to eat outside.

This provided an opportunity to meet the farmer, see where their food was grown and purchase food from the farmer. It was a win/win situation.

I also have had the opportunity to teach several cooking classes at local farms and the participants in the class were about to purchase the foods at the local farm stores on the farm.
Registered dietitians can work with local farmers and their community to organize farm to table dinners where people have a chance to meet their local farmers and meet who grows their food. These are especially fun when the dinner is on the farm!
It is a wonderful experience for a registered dietitian to be involved in some local farmer's market tours where people have had the opportunity to tour the market and at the end taste the food made with ingredients from many of the farmers selling at the market.

This provides an opportunity for people to learn more about food, taste it and find out exactly where to go and get it!
I want to share with you 3 local farms that I have visited where I live and hope that it will inspire you to meet local farmers where you live and support their products!
Three Farms that I Love to Visit in Western North Carolina
Farm Tour One Fishing for Good Health: Sunburst Trout
One of the farms that I had a chance to visit has been Sunburst Trout Farm outside of Canton, North Carolina. I was a had pleasure to take a tour with Sunburst's owner, Sally Eason to see how their trout gets from their farm to our plate.
Sunburst raises the trout sustainably in an environment that is totally free of pollutants like mercury, PCBs or pesticides. The food they provide to the fish contains no animal by-products, antibiotics or growth hormones. One of the greatest health benefits of eating farm raised trout is that it is a great source of omega 3 fatty acids just as wild salmon.
In addition to the health advantages trout has, its flavor, color and texture make it a wonderful choice. Some of my favorite ways to prepare it include poached, grilled or broiled. Besides fillets, Sunburst also offers a variety of products made from trout which include caviar, sausage, jerky and smoked. You can pick up at Ingles, Earth Fare, Asheville City Market, restaurants throughout WNC and even online.
Farm Tour Two Garden Party at First Blossom Farm
Last year, Veronica Solongo, Victoria and I planned a Garden Party and Farm Tour where visitors had the opportunity to visit Veronica's First Blossom Farm and taste some tasty snacks that were grown right on the farm which included cucumber and squash open faced sandwiches, mini quiches made from squash and kale and blueberry kabobs for dessert.
Not only did Veronica take them all over her farm, she also took them to the barn where she dries the garlic that she grows. The participants got to see first hand how the garlic looks before it is trimmed like how it looks when we purchase it. They also got to learn about garlic scapes which is the greens of garlic growing in the ground which can be trimmed and eaten!
Visitors were able to purchase food directly from the farm and go on a fun farm tour given by Veronica. This food event gave people the opportunity to meet who grows their food and try new ways to make it. This can be a great event in a local community for people to connect with local food.
Farm Tour Three Cooking Class at Hickory Nut Gap
Having a cooking class with some nutrition education added on a local farm can be a great way to see for people to see the farm and eat food grown directly on the farm. Jamie Aiger has created a beautiful location on his farm for people to visit and purchase local food at Hickory Nut Gap Farm store.
It was fun being one of the very first cooking classes at Hickory Nut Gap and I was honored to everyone who came to my first cooking class live at a local farm!
Although, Jamie grows a variety of local produce, his farm is best known for its organic, grass-fed meats. My daughter-in-law Victoria and I had the pleasure of working with Jamie and his staff to plan a fun cooking class in their party barn. Our guests made a Thai Beef Salad and a vegetarian tempeh version. They also made a greasy bean and corn saute along with some peach goat cheese tartlets for dessert made from almost entirely local ingredients!
At the end of our class, we had a lovely farm to table dinner together which included candlelight and local flowers in mason jars along with a vintage cloth tablecloth on picnic tables. It was a great chance to get to know everyone and share local food together!

How to Organize a Farm Tour in Your Local Community
Whether you are a registered dietitian or someone else in the community who wants to help people connect to where their food comes from and helping nurture peoples relationship with healthy food, you can work with your local farm community to create an infrastructure to help people find opportunities to do this.
Here in Western North Carolina, we are so fortunate to have the Appalachian Sustainable Agricultural Project that has set this up into place but if you don't have a group where you live, here are some suggestions how you can plan some events.
Planning Local Food Events in Your Community
Providing Farm to Table Nutrition Education Events Where You Live
Meet local farmers in your community and support them by buying their produce and letting other people know that you value their product.
Talk to a local farmer that you know and trust about the vision that you have for a local food event and see if they are interested.
Connect with key local partners that can help you be successful like local newspapers and businesses that may help sponsor and/or allow you to put up flyers.
Learn the liability in your state to protect you and the farm. And make sure the set up and the location is safe.
Find our permits and other things regarding food safety where you live.
Many communities now have farm to table events that you can find but if there are not any near you, work with your local farmers and community members and create your own!
Here is a guide from the North Carolina State Extension Service on how nutrition educators can set up a farmers' market tour in their community:
https://localfood.ces.ncsu.edu/wp-content/uploads/2018/09/FarmersMarketTours_Guide.pdf?fwd=no
I hope some of my experiences that I have shared on the farm have inspired you to seek which farmers allow visits where you live. Stay tuned for more stories about local farmers where I live and if you are in Western North Carolina sign up to attend ASAP's annual farm tour and how you can learn more ASAP Connections

Share Your Experiences Being a Local Food Advocate
Do you have a local farm that you like to visit and learn more about food is grown where you live? I would love to find out more about it! Share below in the comments. I would also love to hear if you organized a local food event and how it went!
Growing Your Farm to Table Nutrition Education
Your can become part of Vine Ripe's local food movement by following us on social media! You can read more about these and other local farmers in my new book Farm Fresh Nutrition! This book has stories of local farmers, local chefs and food artisans. It also outlines some of history of Asheville's local food scene.
I love the opportunities that I have had to be a farm to table dietitian, helping the community learn more about the value of supporting local food and seasonal eating! Being a registered dietitian in Western North Carolina, I have had lots of opportunities to have lots of great teachers in the local food scene here!
If you are looking forward to expanding your farm to table nutrition education, inside my book, I also have tools for seasonal eating and nearly 100 recipes using local ingredients! You can find out more about eating local and organic here!