Early Spring Garden Menu
It is time to plan a spring garden menu for a party! I have been counting down the days for longer hours of sunshine, warmer weather, spring flowers and the popular spring foods! And I wanted to celebrate spring with you by providing a Garden Party Themed Menu which includes seasonal produce available coming soon at local farms near you!
Setting the mood and party favors are a big part of the fun with this party. I hand painted a few garden stakes and got packages of seeds for my guests. A few small terra cotta pots with a geranium would also be a very awesome take home. Some hand cream for gardeners dry hands would also be a great take home gift. Tuck all of it into the little flower pots and tie raffia around it! I also have some vintage watering cans that also look very cute for decorations with cut flowers! I love this little rabbit and baby chick vase with a few tulips and Lenten roses from my garden.
You can even ask your guests to dress up in vintage party outfits if they are daring!
For the menu, I wanted it as fresh and local as possible. It turned out to be very colorful also! I used shrimp for my kabobs but you could substitute meat or meat alternative instead of seafood. I also love tofu on mine!
Spring Garden Party Menu
Lemon Rice Salad with Spring Vegetables
Blackened Shrimp o Tofu Kabobs with Mushrooms and Asparagus
Gluten Free Mini Strawberry Tartlets
Spring Garden Menu Ideas
Here are the recipes for my garden party menu featuring plant based spring recipes. Feel free to mix and match so you can come up with your own collection of spring menus!
Lemon Rice Salad with Spring Vegetables
I love the little radish roses to garnish this lemony salad. I also used some whole snow pea pods and large slices of carrots along with some fresh dill sprigs! You can vary the vegetables of this salad based on the season! For a variation: Thinly sliced green olives with pimentos would look great and taste awesome in this also but I did not use them. Basmati rice would also be great for this!
Makes 8 servings
3 cups cooked jasmine rice (made according to directions
1 bunch of spring radishes (I used 1/2 cup thinly sliced radishes for the salad and made radish roses for the remaining ones for garnish)
1/2 cup carrots sliced on the diagonal (I garnished with a few on the top)
1/2 cup thinly diagonally sliced snow peas (I saved a few for the top of the salad)
1/4 cup chopped green onions
1/4 cup lemon juice from one lemon and 1 teaspoon grated lemon peel
1/4 cup olive oil
1/2 teaspoon salt
Pinch of sugar
2 tablespoon freshly grated Parmesan cheese
Fresh dill (1-2 tablespoons chopped for salad and a few large sprigs for garnish)
Cook jasmine rice according to directions and let cool. While rice is cooking chop radishes, carrots, snow peas and green onions. Squeeze and grate lemon. In a mixing bowl, add rice and add lemon juice, salt, pinch of sugar, olive oil and Parmesan cheese. Stir well. Lightly toss in the vegetables and dill. Add salad into a serving bowl. Garnish and serve. Can chill in refrigerator up to two days before serving and it still holds up great.
Blackened Shrimp or Tofu Kabobs with Mushrooms and Asparagus
I love these shrimp kabobs with spring vegetables drizzled with olive oil and a spicy seasoning. They taste just right!
Makes 6 shrimp or tofu kabobs
6 bamboo kabob sticks
16 medium to large shrimp or 16 cubes of tofu
12 mushrooms
6 asparagus spears, cut in half
1-2 tablespoons of blackened seasoning mix (I used 1 teaspoon paprika, 1/4 teaspoon cayenne pepper, 1/2 teaspoon crumbled thyme, 1/4 teaspoon dried basil, and some freshly ground pepper but I doubled this to make it highly seasoned )
Olive oil
Salt to taste
Thread 2 pieces on shrimp or tofu on each kabob followed by half of an asparagus spear and mushroom. Repeat with shrimp or tofu, asparagus and mushroom. On a cookie sheet, add the kabobs. Drizzle with olive oil. Sprinkle lightly with salt and half of seasoning. Place low on broil and cook until shrimp is pink and opaque. Flip over sprinkle with rest of blackened mix and cook until the other side is pink and not opaque.
Gluten Free Mini Strawberry Tartlets
The gluten free cookie crust is light and crumbly. The strawberries and orange taste great together. Add the topping soon before serving because the topping can make the crust a little soggy. They can hold up for an hour or two after making.
Makes 6 servings
Cookie Crust
1/4 cup of butter softened
1/2 cup tapioca flour
1/2 cup nut flour
Pinch of salt
1/4 cup sugar
1/2 teaspoon vanilla
Preheat oven to 350 degrees. In a mixing bowl, mix flours, salt and sugar. Mix well. Cut in softened butter. Divide dough into 6 balls. On a cookie sheet, add parchment paper and flatten the 6 balls into a cookie shape. Bake for about 8- 10 minutes until slightly browned around the edges. Take out and let cool right on the sheet. Add strawberry topping.
Strawberry Topping
1/2 cup thinly sliced strawberries
1 teaspoon cornstarch
1/3-1/2 cup freshly squeezed orange juice
2 teaspoons orange zest
1-2 tablespoon sugar
In a small sauce pan, add sugar and orange juice. Carefully mix the cornstarch. Heat and constantly stir until the liquid thickens. Take off stove and allow to cool well. Toss in the strawberries and mix. Add the strawberry topping over the cookie crust. Drizzle any additional sauce to the tartlet. Garnish with some orange zest.
Other Spring Party Ideas
You might even go with a Mother's Day High Tea Menu with Victorian tea party food like a recent celebration at my friend Emily's house. She and our friends made finger sandwiches, mini quiche and salads. And I brought some of my mini tarts! For Emily's High Tea Spring Menu, she served some of her best tea that she had been saving. She also served champagne in a large vase filled with her mother's marble collection! Here are a couple of pictures from her spring party!
Here are a few pictures from the party!
Even the beverage table can look decorative! Here is Emily's mother's marble collection in a large vase and our friend Trish's creative draping the champagne bottle she brought in vintage linens and topped with a vintage women's white glove that has lost it's match!
Look at the party favor that my friend Trish made! A rose posey in a mismatched glove! What a great way to recycle something beautiful and make it useful!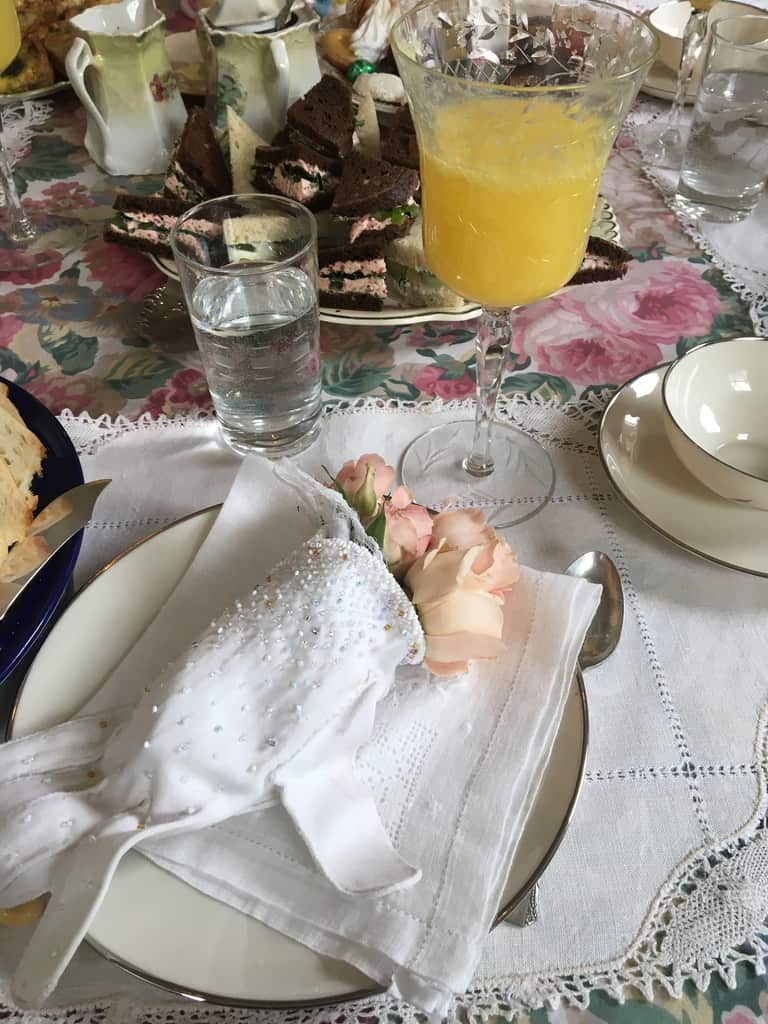 Here I am heading out the door to Emily's party. My husband took a picture before I left to have fun with my friends!
What Do You Serve at a Spring Luncheon?
I would love to hear what you are serving for your garden party! It is always great to share ideas between friends! I hope that this spring celebration menu will inspire you to get real creative with this weather change. As a registered dietitian nutritionist in Asheville NC, I enjoy sharing some of my favorite recipes in my kitchen for you to make in yours. I am so glad that you stopped by! You can also find additional spring celebration recipes from my friends at the Recipe Redux below!