New Year's Eve! The last day of the Year. Time for many of us to celebrate the end of the year to make room for 2016. I enjoy having appetizers to snack on throughout the evening instead of dinner. These recipes are healthy and make the best use of local food available with the produce of the season!
New Year's Eve Festive Appetizers Using Local Ingredients
Kale , Goat Cheese and Caramelized Onion Pizettes
Meat Balls made from Hickory Nut Gap Beef with Smoking J's Fiery Foods Mocha Stout Barbecue Sauce
Smiling Hara Tempeh Squares with Smoking J's Fiery Foods Ninja Porter Barbecue Sauce
Crostini with Pesto, Roasted Butternut Squash and Potato Drizzled with Local Balsamic Vinegar
Local Apple Cupcakes with Praline Glaze
Appalachian Tea
Blueberry Basil Soda from Waynesville Soda Jerks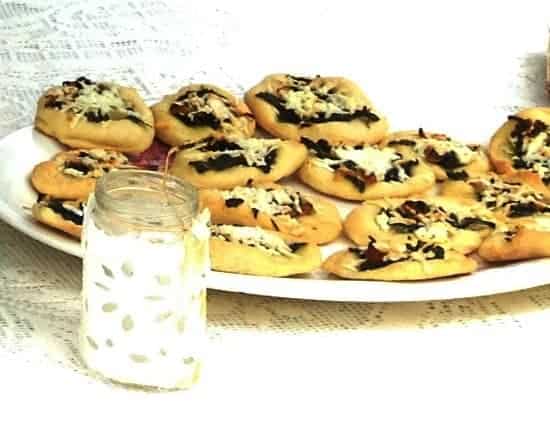 Recipes
Kale, Goat Cheese and Caramelized Onion
To make: Use pizza dough from Farm Fresh Nutrition which I have included here.Roll out into 2 1/2 inch circles.
Top with sauteed kale, caramelized onions and top with goat cheese. Heat in oven which has been preheated to 450 and cook until pizza crusts are slightly browned on bottom.
Meat Balls
One pound lean ground beef if you can use a local beef if available, I used Hickory Nut Gap
1 egg
1/3 cup bread crumbs,
1 tablespoon Worcestershire sauce
1 clove garlic minced
1/3 cup minced onions http://www.hickorynutgapfarm.com/
Form meat balls. Bake in oven at 350 degrees and bake until brown. The meat balls were placed in a clean pan and brushed with Smoking J's Fiery Foods/Mocha Stout Barbecue Sauce. Bake until barbecue sauce is slightly cooked on meatballs.
Tempeh
We used the local Smiling Hara Tempeh With so many varieties it is hard to just pick one so we had all of them and now there is hempeh to try also. They make black eyed pea, black bean and soy. Cube tempeh and saute in a little oil until browned. Transfer into pan and add Ninja Porter Barbeque Sauce, bake until sauce for a few minutes until it is slightly glazed on the tempeh.
Crostini with Pesto, Roasted Butternut Squash Potato Drizzled with Local Balsamic Vinegar
These little toasts are delicious and fun to eat!
Purchase a skinny baguette and slice thin. Brush with olive oil and herbs and toast on both sides. Allow to sit on a cookie sheet. Meanwhile peel and roast butternut squash and potatoes. Toss them in olive oil and roast at 425 degrees until soft. Make kale or herb pesto according to directions in Farm Fresh Nutrition. Top the crispy baguette toasts with pesto and then with vegetables, drizzle with balsamic vinegar.
Cupcakes
These mini cupcakes are full of flavor and easy! Make them with the local apples that are only available a few more weeks!
http://feistyfork.blogspot.com/2011/01/fresh-apple-cake-with-brown-sugar-glaze.html
Appalachian Tea
Make your tea a little more festive by adding some apple cider and chopped apples!
I love the idea of a local soda made from the produce available where I live. These make a special beverage for a celebration!
Hope that you get a chance to make one or all of these tasty recipe ideas! If you don't get a chance to make them for New Year's Eve, try them for another celebration!
As a registered dietitian nutrition in Asheville, I love to share delicious food ideas made from the freshest, seasonal produce! You can find more healthy menu ideas on my blog and also in the recipe section here
I love working with clients to help them improve their quality of life and make mealtime more of a special time! Happy 2016!