Summer Celebration
Memorial Day weekend means the kick-off to summer celebration and for many of us that includes having a barbecue in the back yard! And I have put together some summer recipes to help you plant healthy menus to make your longer days more fun and delicious! I enlisted help from some very talented food blogger, registered dietitian nutritionists from all over to bring you this tasty recipe round-up for summer!
Summer Celebration Recipes
Appetizers
To start off a barbecue right, a new, fresh recipe idea should top the list. Try some of these ideas to get the party started!
Sarah Weiss from Weiss' Words of Wisdom uses roasted cauliflower to add a delicious complexity to this dip!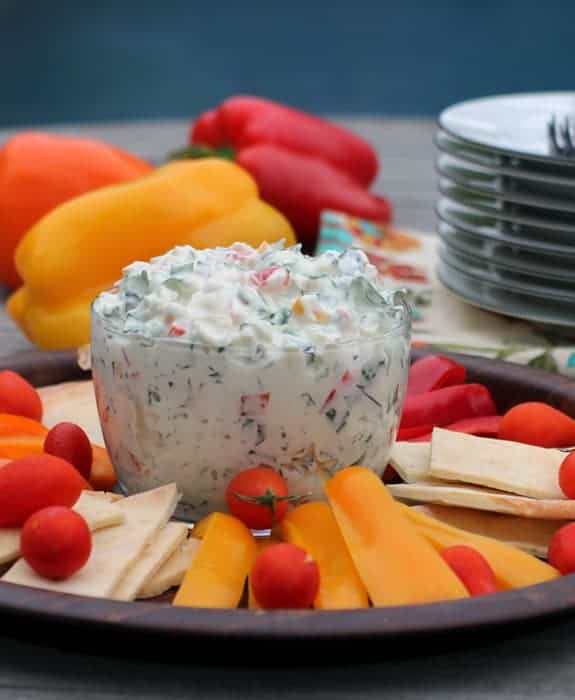 Creamy Triple Pepper and Kale Dip
This dip from E A Stewart, The Spicy RD will pair perfect with your favorite dippers!
I included Emily Kyle Nutrition's recipe in appetizers but it can have your favorite protein added to the kabobs for a main dish or use the grilled veggies for a topping on a salad!
http://hungryhobby.net/recipe/grilled-brussel-sprouts-recipe-10-easy-healthy-grilling-tips/
Try Kelli Shallal from the Hungry Hobby's grilled brussels sprouts instead of fried for your next summer celebration!
http://www.momskitchenhandbook.com/recipes-2/heavenly-herb-creme-fraiche-with-grilled-vegetables/
For a delectable dip for your grilled veggies try this Herb Creme Fraiche from Katie Sullivan from Mom's Kitchen Handbook!
Sides
If you are like me, the sides make the meal! Some of these can be make ahead of time to complement your food on the grill!
Spring Veggies with Tahini Tumeric Dressing
Broccoli Slaw Salad with Flaxseeds & Hemp Seeds
Amy Gorin's broccoli salad will add some crunch and omega-3 fats with added seeds to this salad!
Remember this tasty recipe from Lauren Harris-Pincus' with Nutrition Starring You to make later in the summer, when the tomatoes and zucchini are fresh from your garden and farmer's mark
http://jennabraddock.com/grilled-cantaloupe-salad-with-blueberry-ginger-vinaigrette/
Jenna Braddock with Eating with a Purpose has a salad using cantaloupe & blueberries is a fresh new take on eating your fruits and vegetables!
Jamie Vespa with Dishing Out Health recipe for quinoa salad can be a great base to use what fruit is in season. Strawberries in the spring, peaches and blueberries in the summer and apples in the fall!

Kara Lyndon, The Foodie Dietitian has a coleslaw recipe without the mayo, that may become a staple for your dinner dinners in the yard!

The Main Event
The main dish for many is the highlight of the meal! Try one of these creative and tasty options or make them all!
http://www.laurengibsonrd.com/2015/05/04/grilled-pork-tenderloin-with-rosemary-plum-reduction/
Lauren Gibson with Eating with a Purpose has a recipe using pork tenderloin can be made for all seasons because it uses dried plums! For a veggie version, this would also be great with tempeh or tofu!!
Grilled Eggplant Tomato and Mozzarella Stacks
Jenny Shea Rawn's Eggplant Tomato and Mozzarella Stacks will make a great vegetarian meal when all the eggplant starts coming into season!
Elizabeth Shaw with Shaw's Simple Swaps has a barbecue chicken recipe that will pair well with any of the other recipes shared. It would also work well using tempeh or tofu as the protein!
When bell peppers come available this summer on the grill, here is a recipe using them shared by Sarah Schlichter with the Bucket List Tummy!
Grilled Pork Tacos with Pineapple Salsa
If you want to substitute seasonal fruit for the pineapple, this would be delicious with Amanda Hernandez with Nutritionist Review's pork tacos. You could also try using tempeh or tofu in the recipe!
Chrissy Carroll with Snacking in Sneakers shared a great Caribbean kabob which can also use chicken, tempeh or tofu!
Desserts
http://www.nourishbreathethrive.com/blog/2014/07/grilled-peaches-with-reisling-and-honey-coconut-cream/
Grilled Peaches with Reisling, Honey & Coconut Cream
I look forward to making Katie Cavuto with Healthy Bite's dessert when the peaches come into season!
http://prepdish.com/5-fruits-to-grill-this-summer/
If you are looking for ideas to grill a few other fruits for dessert, Allison Stevens with Prep Dish has some great suggestions.
If you are looking for additional recipe ideas, Wendie Schneider, the Pantry Doctor has put together the Grill Masters:All-Star Series Check it out for more tasty ideas to make this summer!
Enjoy This Summer Celebration Menus
I hope that you enjoy trying these delicious summer celebration recipes and it provides you lots of reasons to light up that barbecue grill. I look forward to sharing more ideas with you this summer as the farmers' markets burst with the abundance of summer and my garden glistens with its bounty! Stay tuned & check out my seasonal nutrition and cookbook Farm Fresh Nutrition. 
As a registered dietitian nutritionist in Asheville, I love to help clients reach their wellness goals!