Cold Dessert Recipes
When it's hot outside, we crave some cold dessert recipes. This often leads to thoughts of ice cream sundaes, milkshakes and whip cream. During the summer is also a great time to have a focus on the fresh, seasonal fruits that are available this time of year.
I wanted to share a collection of cool and creamy desserts that are also light it calories and high in things that are good for us too! I enlisted some help from some registered dietitian nutritionists who are also experts in the field when it comes to tasty food! Each one who shared their favorite cool, summer recipes have a food blog full of creative ideas. I want to thank each of them for sharing them and I hope you get a chance to give some of them a try!
Some of the Best Dietitian Cold Dessert Recipes
When I think of summer, I think about the availability of berries, peaches and melons so I wanted to start off with Kara Lydon, the Food Dietitian's Roasted Peaches and Cream Popsicles.
http://karalydon.com/recipes/desserts/roasted-peaches-and-cream-popsicles/
When we think of spring and summer, strawberries come to mind and here is a great collection of strawberry recipes! From Lauren Harris-Pincus' blog Nutrition Starring You, here are her chocolate filled strawberries! When strawberries are out of season, this could also be used as a spread for other berries, peaches and even apples in the fall.
http://nutritionstarringyou.com/chocolate-mousse-filled-strawberries/
Strawberries pair nicely with bananas provide a great texture for a vegan substitute for ice cream! This Emily Kyle Nutrition recipe was featured in Fitness Magazine. I think that blueberries or raspberries could do great in this when strawberries are out of season.
Mango Coconut Soft Serve Frozen Dessert
Once you tried this, Liz Weiss' Mango Soft Serve Frozen dessert from Meal Mom Makeovers who needs ice cream! I think this could also work well with peaches substituted for the mango.
Be your own barista and save money and calories too without losing the flavor with Jessi Haggerty's Chocolate Toasted Almond Mock-a-Ccino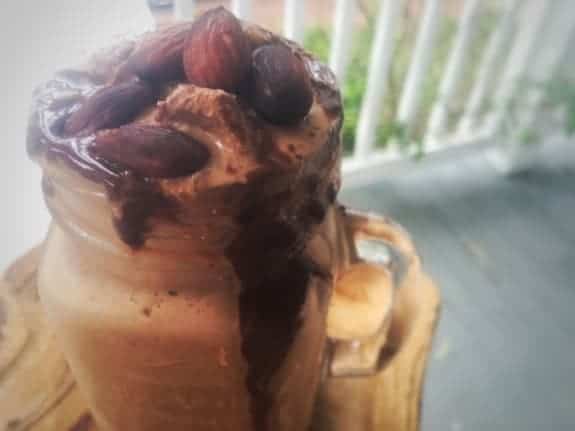 Jessica Penner from Smart Nutrition shared these delicious banana pops that both children and adults will love!
http://smartnutrition.ca/recipes/choco-banana-chocolate-covered-frozen-bananas/
Roxana Begum's blog The Delicious Crescent has this elegant rose custard. I think that the jelly topping could also use a raspberry, blackberry, blueberry or even peach jelly from some local farms! I want to thank all of my nutrition expert friends who have shared their favorite cool desserts and I am going to enjoy making them all summer long! As a registered dietitian nutritionist in Asheville, I love helping others find ways to eat healthy and tasty too!
http://www.thedeliciouscrescent.com/rose-rice-custard-with-pomegranate-jelly/
For folks trying to eat food grown closer to home, you can also freeze peaches and melons also. Check out Vine Ripe Nutrition's blog post on how to make Frozen Fruit Snacks which also includes a Blueberry/Blackberry Lemon Sherbet and a No Bake Summer Tart!
Make Some Cold Dessert Recipes
Now, when the weather gets hot, you will have a great collection of cold dessert recipes to enjoy.
As an Asheville registered dietitian nutritionist, I love to help people find recipes to help them solve food and nutrition challenges. You can find out more about me here.