Today, I am sharing a delicious fresh black eyed pea recipe and talk a little bit about the tradition about how they became a sign of good luck in the new year. I hope this year and these black-eyed pea bowls brings you lots of good health and happy times.
I had never eaten black eyed peas and had never heard of them ringing good luck until I started dating my husband. He told me that he heard that they brought good luck but he did not enjoy eating them. But over the years, he found that black eyed peas out of the can tastes a lot different than cooking them fresh or frozen.
Dried black-eyed peas are also tasty, but you may want to do a quick soaking ahead of time.
Does Eating Fresh Black Eyed Peas on New Years bring luck
I never knew why black-eyed peas eaten on New Year's Day were considered to bring luck, so I read up a little about how this tradition started. I was reminded that they were brought to the United States from West Africa by black slaves. I also found that they have started being a staple for the Jewish New Year's for centuries.
I also read a story about during the Civil War, how they were one crop that the North did not eat or burn and may have been the food that fed Southerners during hard times. No matter how the tradition started, the greens are the are the color of money so most of us don't want to start the new year without them!
I hope that you like my black-eyed peas and greens recipe to help you start off new year!
Fresh Black Eyed Pea Recipe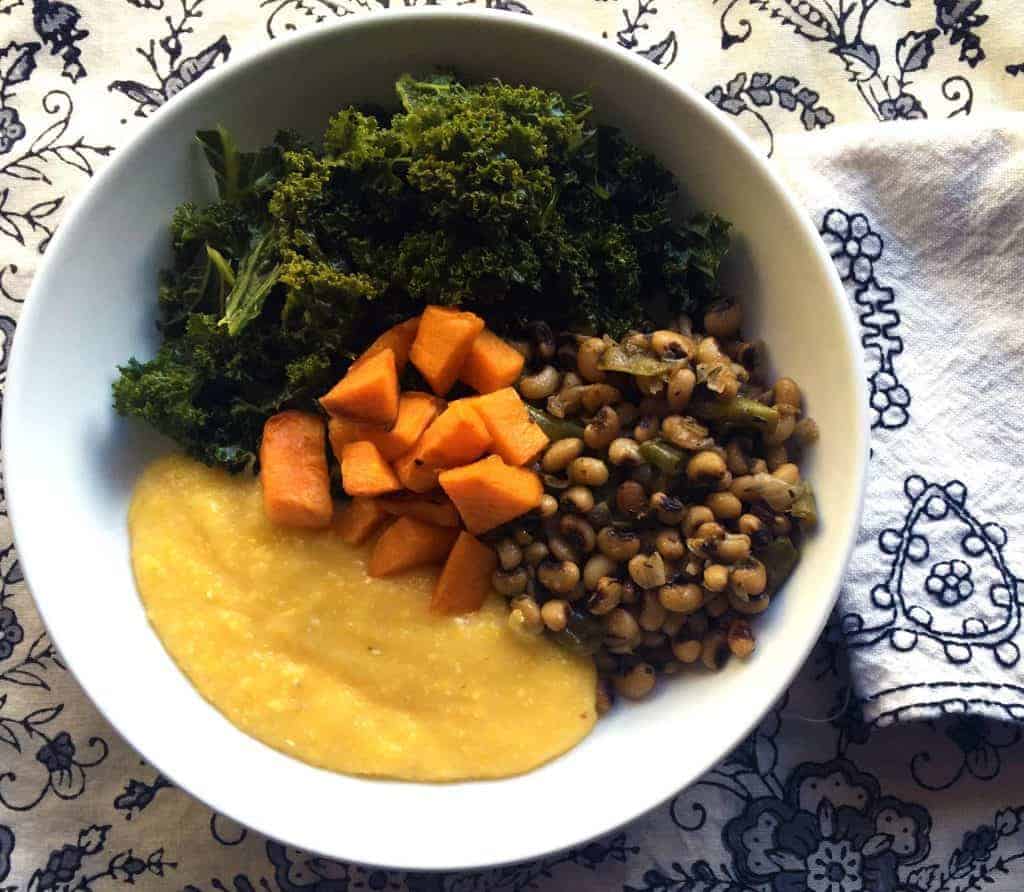 Black Eyed Pea Bowls

You will have lots of luck this New Year with this layered grit bowl recipe that I adapted from a dish at the Tupelo Honey restaurant. And you will want to make it throughout the year! If you don't want to use the pre-breaded frozen okra, try using fresh and make this this recipe Life Love and Good Food or try my roasted recipe/ but cut into smaller pieces before roasting for a healthier more delicious option.
For seasoning of the oven breaded okra, I skipped the Parmesan cheese and added 1 teaspoon garlic powder, 1 teaspoon onion powder and 1/4-1/2 teaspoon cayenne. If you are eating low fodmap, skip the garlic and onion powder, the cayenne is okay and keep the Parmesan cheese. Another option for gluten-free is to use gluten free panko. You can even keep the sweet potato in there.
10 ounces fresh or frozen black-eyed peas (I got fresh ones from Sunny Creek Farm from Tryon, NC)
1 large bunch locally grown kale or other greens (this will cook down so you may even want two bunches)
10 ounces frozen breaded okra or you could also substitute sauteed chunks of sweet potato for a gluten free version (I love the recipe above for oven roasted okra from Life Love and Good Food). See above how I altered the seasonings to make it very Southern delicious!
1-2 garlic cloves
½ teaspoon thyme
½ teaspoon paprika
black pepper
2 bay leaves
¼ teaspoon cayenne pepper
Salt and pepper to taste
1 Batch of goat cheese grits
How long to cook fresh black eyed peas?
To prepare black eyed peas, cook in a large pot over medium heat and add about 1cup water (or vegetable broth) to the peas. Cover, cook until they start to boil and reduce heat to simmer. Add 2 teaspoon of olive oil. Simmer peas for 30-45 minutes making sure that the pan does not go dry. Cook until they are tender (Frozen peas require around the same cooking time).
If you are using dried peas, here are some suggestions on cooking them. You may want to allow extra time to soak your black eyed peas if they are dry.
Towards the end of the cooking time when peas begin to soften, make sure most of the water is gone. Add thyme, paprika, bay leaves, cayenne, salt and pepper.
To prepare greens, stem and cut fine. Mince garlic fine. In an iron skillet, over medium heat adds 1-2 teaspoon olive oil and add garlic. Quickly add the greens and stir well being careful to not burn the garlic. Cook until greens become soft.

To cook okra, you can follow the directions on the frozen back to pan fry or you could go a little healthier and toss with some oil and bake at about 425 degrees until brown and turn to brown the other side. Or if the breading is not your thing, you can use un-breaded or fresh and roast it also.

Goat Cheese Grits
I used some soft goat cheese locally made from Three Grace's Dairy, Marshall, NC and stone-ground grits from Crooked Creek Grits Fairview, NC!
2 cups milk
2 cups water
2 tablespoons unsalted butter
1 teaspoons salt
1 cup stone ground yellow grits
2 ounces soft goat cheese (about 1⁄2 cup)
In a saucepan, combine milk, water, butter, and salt; bring to a boil. Stir in the grits. Reduce heat to low; cook about 15 minutes or until thickened, stirring often. Stir in the goat cheese. Serve immediately.
To layer the bowl, start out with a layer of cheese grits, add a layer of greens, next include a layer of black-eyed peas and top with a few pieces of okra.
Other Ways to Eat Fresh black eyed peas
Try these black-eyed pea bowls, but in addition you may also want to try this colorful and tasty hoppin john recipe in the Farm Fresh Nutrition book! It has a variety of colorful vegetables chopped and sautéed in a skillet and added to the black-eyed peas.
I love using as many foods as I can from local farmers. Purchasing close to home makes me feel very lucky! After trying this recipe for black-eyed peas, you may also want to give my Hoppin John recipe from my Farm Fresh Nutrition book. You can purchase my book on the Vine Ripe Nutrition website or locally in Asheville, NC.
Black eyed peas also make a great side dish! Things that are delicious to serve with black eyed peas include rice, cornbread, grits and even quinoa!
Here is a black-eyed pea salsa recipe that you may like to make also!
Make My Recipe for fresh black eyed peas
We know that it is not all by chance and luck that makes it a good year, but it is our behaviors that really make a difference. If you are ready to make health changes and need a supportive health care provider to work with you, I am here to help. You may be interested in one of the Fresh Approach to Eating Programs. I look forward to working with you!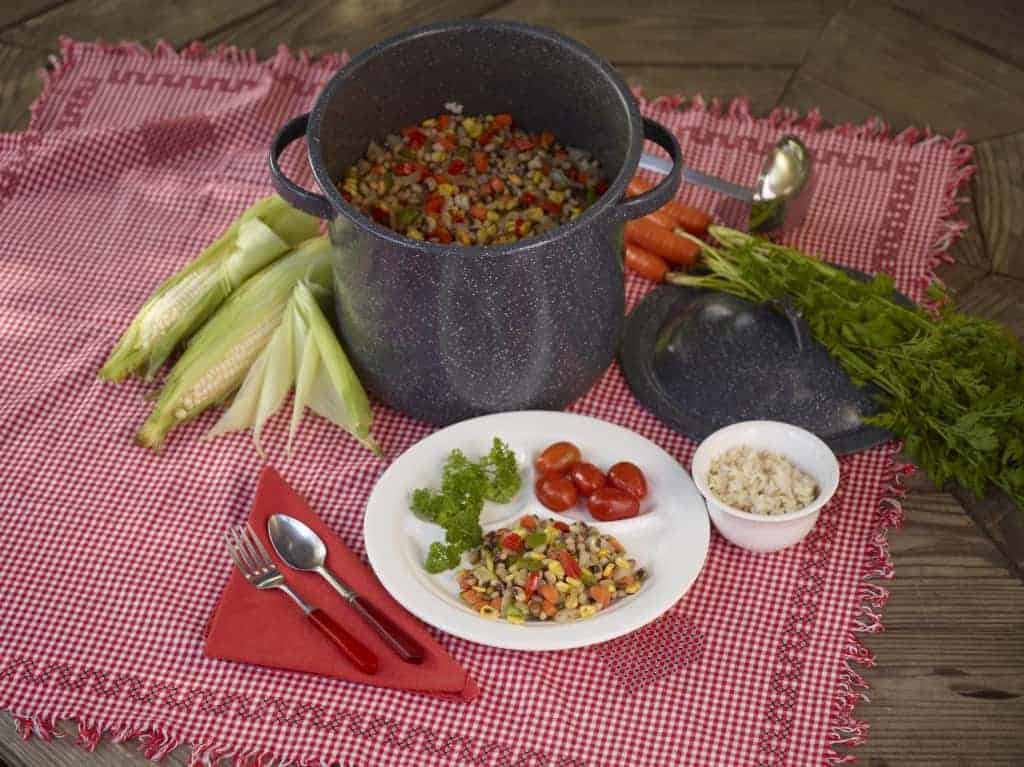 If you are looking to work with a Asheville registered dietitian nutritionist, I would love to partner with you on healthy you have a healthy 2016! Check out some of the ways that we can work together here !