Shop Local Christmas
It is time to shop local holiday season! I love giving local for the holidays and making as many of my own gifts as possible! Did you know that when you buy from a local business, local farmer, artisan or restaurant that over 48 % of the money made from the purchase recirculates back into the local economy which is a lot more than the 14% from a big box store.
When you buy online, unless you buy from a local business, this number is even less if not at all. Buying local is the one thing that each of us can do to improve our local economy! A gift made locally most of the time is more creative and personal than any gift than you can buy at the fanciest chain store plus it is a greener gift because it does not come from overseas.
Purchasing a gift locally can also be a greener choice especially if it is made where you live because the green house gas to get the gift to us can be significant.
I wanted to share with you some of my favorite local food artisans and artists/crafts people and give you an opportunity to enter a chance to win this gift basket of locally grown and made goods from Western Carolina.
Here is a list of Items that You Can Shop Local for Christmas
Smoking J's Fiery Foods
I discovered Smoking J's at the local tailgate markets here in Asheville when they were sharing samples of their sauces and salsa. I became an immediate fan! Their creative combinations are unique and fun! Joel and Tara Mowrey grow their own peppers and make their products which is why they taste so good!
Making these value-added goods also helps extend the availability of their season. Their sauces and salsa range from mild to hot depending on someone's preference. You can find out more about Smoking J's here.
Imlardis Farm
I first tried Imlardis Farm blueberry jam at one of my favorite local restaurants here in town. The jam tasted just like fresh blueberries and not weighted down with sugar. Then when I heard the story of how Walter and his wife, Wendy left their careers and began working on the farm that his great grandparents used to farm, I became I fan for life!
I had the opportunity to spend a day with them last year at the Blue Ridge Food Ventures Holiday Food Market where they sold their jams and preserves, and I signed a few books. It was such a treat to get to know both of them and I felt that I was among local celebrities! Walter and Wendy make several varieties of jams including blueberry, raspberry, blackberry, mixed berry and apple butter. You can find out more about their farm and products here.

The High Fiber
You probably figured out by now that one of my favorite places to shop is at the local tailgate markets and that I am not just looking at the local produce! I became acquainted with The High Fiber linens there too! It has been exciting to see the explosion of creativity and love that Daphne Cohan has given to her linens and other items.
Her husband makes a wonderful team member to support and help her along the way. This handmade, hand printed towel would look lovely in your kitchen this holiday season! She has some holiday linens available too, but I am just smitten with this red citrus towel! You can purchase some of her wares around Western North Carolina or on their website The High Fiber!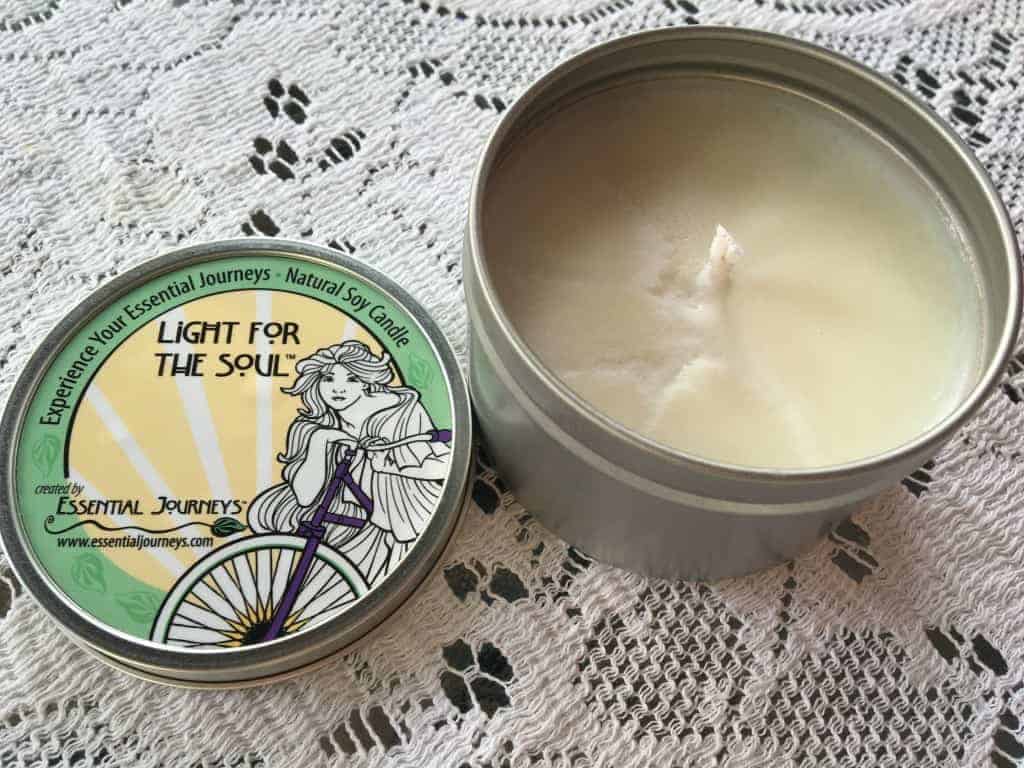 Essential Journeys
A Local Holiday Giveaway basket would not be complete without a cranberry candle from Essential Journeys. Essential Journeys is so close to my house, I have literally walked by hundreds of times! It is hard to buy much more local than that!
Kimberly Masters has a wide variety of soaps, lip balm, lotions, bath salt, body butter and candles which all are made from natural, healthy ingredients. You can find out more about Essential Journeys here!
The hardest decision that you may have to make this season is which one gifts to give your loved ones! You may need one or two of everything!
We Can Shop Local Christmas
I hope that you can find local businesses where you live that you can support. If not, support a small business outside of your area. Here is a little more about handmade for the holidays.
You may also like my book on local food and health Farm Fresh Nutrition ! You can also purchase it online on my website or in addition to some local shops! As an Asheville registered dietitian nutritionist, I feel that buying fresh and local matters not only to the health of our community and earth but also to our personal health! You can find out more about me here!