Make These Gluten Free Blueberry Pancakes
I am excited about sharing these gluten free blueberry pancakes. Some of my happiest memories as an adult on family vacation include foraging and picking local food in the region where we were visiting. One year on a camping trip in Iowa, we picked wild gooseberries, and I made a cobbler in an iron skillet over the campfire.
Another time, we just happened upon a cherry orchard in Door County, Wisconsin and picked a 5-gallon bucket which we took back to Saint Louis to make cherry muffins, pancakes and cherry wheat beer. How I wished I had known about a cherry pitter back then!
One of our most exciting wild food finds was when we visited the mountains of Western North Carolina and discovered wild blueberries on a hiking trip! We were living on the eastern side of the state near Raleigh at the time and loved to vacation in the Blue Ridge Mountains. Wild blueberry season comes to Southern Appalachian mid to late August and lasts through Labor Day.
Lucky for me, our family has since moved to Western North Carolina and made wild blueberry picking an annual tradition every year. This year will be the first time that we will go without our faithful dog, Baxter who enjoyed picking and eating them right off the bush!
In addition to the delicious flavor and beautiful color of blueberries, this super food is packed with phytochemicals and antioxidants that may help with night vision, motor skills and memory. They are also rich in fiber and Vitamin C.
You may wonder, where do we pick them? They are all over but save some for the bears and the birds, just take a few. And if you don't live out this way or don't want to get out and hunt for them, you may be able to head to the local farmers' market for the local late berries depending on where you live. Be sure to freeze some so you have plenty for later.
What to make? How about a blueberry barbecue sauce, a yogurt and granola parfait for breakfast or muffins. One of my favorite ways to eat blueberries is pancakes! This healthy breakfast recipe is one that I created for a seasonal cooking class that I gave at the North Carolina Arboretum a few years ago. In addition, these pancakes are gluten free!
Recipe for Gluten Free Blueberry Pancakes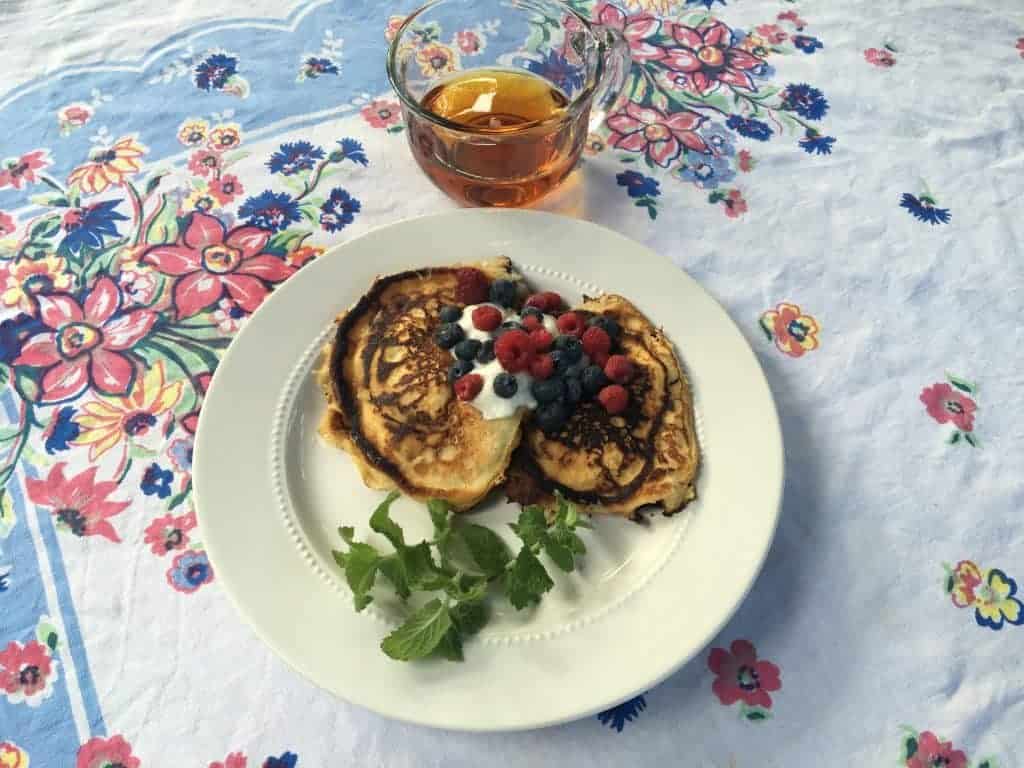 Gluten Free Blueberry Pancakes

Because gluten has so many desirable baking qualities that it provides, it takes a blend of flour to give these pancakes just the right texture and taste. The xanthan gum helps the flours come together to make a nice product. As you can see to top it off, I have a lovely pop of red from the last bite of raspberries from our raspberry bushes and a splash of mint for a garnish from my garden!
½ cup corn starch (you can use instead either arrowroot starch or tapioca starch)
½ cup sorghum flour
¼ cup almond meal
¼ cup corn meal (you can also substitute millet flour)
½ cup rice flour
1 teaspoon xanthan gum
½ teaspoon salt
1 teaspoon gluten free baking powder
1 tablespoon brown sugar
2 eggs beaten
1 ½ cup milk or almond milk
2 tablespoon canola oil
½ teaspoon gluten free vanilla
1 pint blueberries (I try to add about 1/4-1/3 cup blueberries to each pancake and use for a garnish)
Yogurt for topping if desired
Mint and raspberries for garnish if desired
Maple syrup
Combine corn starch, sorghum flour, corn meal, almond meal, rice flour, xanthan gum, sugar, gluten free baking powder and salt in a bowl. Begin preheating griddle. In a separate bowl mix eggs, milk, oil and vanilla and add lightly to dry ingredients being extra cautious to not over-stir. Lightly grease griddle and begin lightly adding batter to griddle. Toss in blueberries in uncooked side of pancake. Turn pancakes when slightly bubbly. When take pancakes off of griddle top with syrup and almonds. Makes about 8 medium sized pancakes.
More Gluten Free Recipes to Add Fruit
Here are a few more recipes to add the fruit that you picked on your trips.
Gluten-free Fruit Muffins
Gluten-Free Fruit Muffins with Streusel Topping Recipe | King Arthur Baking
Low Fodmap Cranberry Walnut Coffeecake
Low Fodmap Cake Recipes- Cranberry Walnut Coffeecake (vineripenutrition.com)
Enjoy These Gluten Free Blueberry Pancakes
Let me know if you make these gluten free blueberry pancakes.
Even though most of our food finds on our trip were by accident. Planning a vacation in an agritourism region where there are special local treats can be a satisfying experience! If you have not thought about it before, it can provide new opportunities and a great learning experience for children.
As we get into fall, there will be opportunities for apple picking, pumpkin patches, wine tastings and in our region this winter Christmas tree cutting. Where you live, there may be other fun traditions to get started!
I hope that you enjoy the gluten-free blueberry pancakes! As a registered dietitian nutritionist in Asheville, NC, I love to teach people lots of tasty ways to improve their health! I like to use ingredients from local farmers as much as possible in my healthy menu planning. Thank you for checking out my vacation food excursions and please check out some of my other posts and recipes!