Even though the days are getting shorter and the weather is getting cooler, there is an abundance of winter squash at the local farmers markets and now there are more varieties available than ever! These include amber cup, autumn cup, buttercup, carnival, delicata, butternut, gold nugget, hubbard, kabocha, sweet dumpling, turban squash and acorn.Here is a picture of some squash and gourds available at Flying Cloud Farm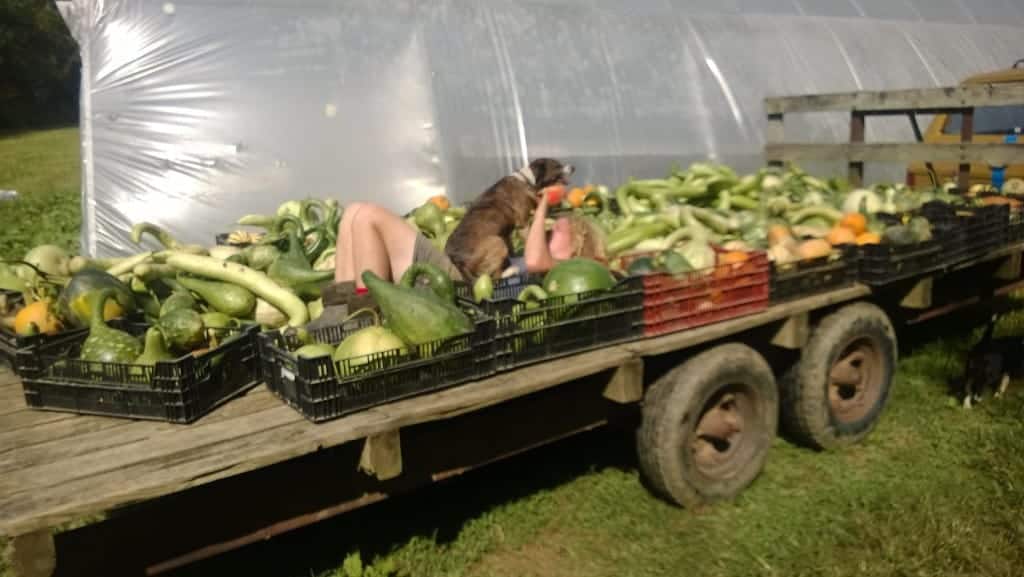 The colors and flavor of winter squash are absolutely lovely! You can display them around to decorate for fall until you bake them! Winter squash is rich in vitamins A, E, B6 and A and is low in calories. It also contains the minerals magnesium, potassium and maganese. I am sharing two delicious recipes using the local produce from the fall season!
Kale, Apple and Butternut Squash Saute
This flavorful skillet dish is one that I created for the North Asheville Tailgate Market for a food tasting at the farmers' market! I hope that you love the taste of fall on your plate!
4 servings
1 tablespoon olive oil
3 pounds butternut squash, about 3 1/2 cups cut into ½ knobs
1/2 cup diced yellow onion
2 garlic cloves, minced
4 1/2 cups chopped fresh kale
1/2 teaspoon salt
1/2 teaspoon pepper
½ teaspoon thyme
½ cup chopped apples
4 tablespoons chopped local nuts if available
4 tablespoons crumbled local goat cheese
In a large skillet, heat oil over medium-high heat. Add squash, onion and apples. Cook, stirring constantly, until squash is lightly browned and slightly tender, about 7 minutes. Add kale, thyme, salt and pepper and cook until kale is wilted and squash is tender, 5 to 7 minutes. Remove from heat. Add cheese and nuts; toss to combine. Sprinkle with goat cheese.
Butternut Squash Penne Pasta
The blend of orange squash in a cheesy cream sauce is pure comfort food! Serve with a fall salad or sauteed greens!
16 ounces whole grain penne pasta
1 cup chopped onion
1 teaspoon garlic
3 tablespoon olive oil or Smart Balance tub margarine
3 tablespoon flour
2 cup milk
2 cups smoked gouda, grated (local if you can get it!)
1 large winter squash such as butternut or other variety
1 teaspoon thyme
1/3 cup bread crumbs if desired
Preheat oven to 425 degrees. Split squash in half and place with inside down on a lightly oiled cookie sheet. Rroast in the oven until it becomes soft and begins to caramelize in about 30-40 minutes. Turn down the oven down to 375 degrees and allow squash to cool. When cooled, scoop the squash from its skin into a medium bowl and lightly mash. In a skillet add tub margarine and add onions. Lightly brown. Add garlic and just barely cook. Lightly sprinkle flour over vegetables and make a roux. Slowing start adding milk and make a white sauce. Add thyme and salt and pepper. Allow to cool and add grated cheese except for 2 tablespoons to reserve. Bring a large pot of water to a boil. Cook pasta for 6-8 minutes until al dente. Lightly grease a medium sized casserole dish and add in the cooked pasta and fold to coat all of the noodles. Top with cheese and bread crumbs. Place pot in oven and bake until casserole bubbles about 20 minutes.Allow to cool slightly before serving.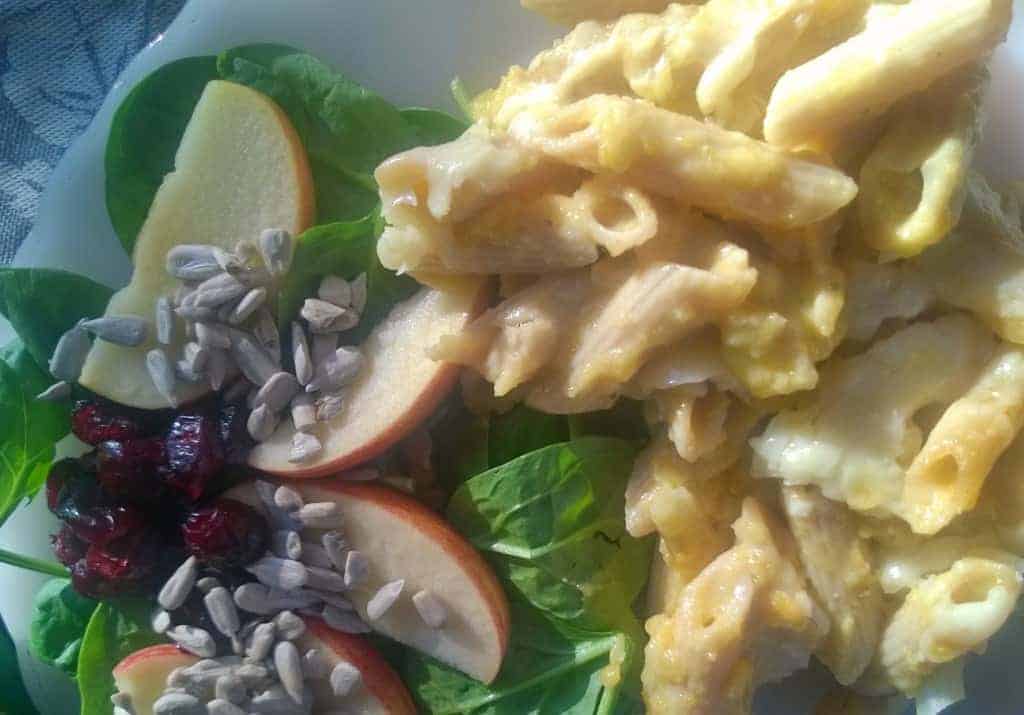 I hope that these ideas will inspire you to include more of the abundance of local food available in the fall season! Here are a few other healthy vegetarian recipes ideas from other food bloggers!
Black Bean and Butternut Squash Quesadilla
Winter Squash Soup with Black Beans and Corn
As an Asheville registered dietitian nutritionist, I have fallen in love with our local farms and farm to table restaurant scene. My husband and I have grown a garden every year since we have been married and we prepare much of our own food based on the seasons! I am so happy that you have stopped by and I hope that you enjoy my healthy recipes! Find out more about me here