Tofu Salad
Learn how to make this delicious tofu salad recipe. By posting this recipe, I am entering a recipe contest sponsored by Kikkoman and I am eligible to win prizes associated with the contest. I was not compensated for my time.
Umami is a term for the savory flavor that we taste. Soy sauce is just one of the foods that give a unique savory flavor to foods and it is a perfect ingredient to add to plant based meals that include beans, tofu, tempeh, seitan or vegetables. Soy sauce can also help meat eaters enjoy smaller portions because it adds umami to the rest of the meal so it is more satisfying! You can learn more about umami below in one of my previous blog posts.
http://www.vineripenutrition.com/exploring-the-taste-of-umami/
In addition to adding umami flavors to recipes, another great benefit of using soy sauce, is that when it is used in place of table salt in recipes, it helps reduce the sodium in recipes by half! This means that if 1/2 teaspoon of table salt is replaced with 1/2 teaspoon of salt that the recipe can be 1000 milligrams of sodium less while adding more flavor!
This was a wonderful thing since a diet high in sodium has been linked to elevating blood pressure, retaining fluid in the body and also may have a link to bone loss. Soy sauce can help round out the flavor of recipes overall and can help enhance the palatability of a wide variety of foods like vegetables, whole grains and meat alternatives!
Kikkoman recently asked registered dietitians and other nutrition experts with Recipe Redux to share some of their Sodium Saving, Flavor Raising Recipes so I wanted to share one of my favorite salad recipes with you!
Tofu Salad Recipe
Tofu in salad?
Yes, it's super delicious and even nutritious! This recipe was inspired from a favorite from Lily's Pizza in Raleigh, NC. I hope that you love my version if you can't get over to our beautiful Capitol City!
This tofu salad recipe that I am sharing is not a typical recipe that you might think about when using soy sauce, but it comes together wonderfully, and I hope that you give it a try!
Savory Tofu, Cherry, Pecan Green Salad
Using soy sauce in this marinated tofu salad works well because it helps caramelize the tofu and it is so flavorful that even meat eaters will love it. But for hard core carnivores out there, the marinade can easily be used for chicken or even shrimp. The balsamic vinaigrette uses soy sauce in place of table salt, so it needs less sodium, and it adds lots of umami flavor!
Makes 4 servings of salad.
1 recipe marinated Tofu (see recipe below)
1/2 cup red onion
1/2 cup dried cherries
1/3 cup toasted pecans
1/2 cup shredded white cheddar cheese
1 small head of romaine, washed, drained and gently torn

Balsamic Vinaigrette (see recipe below)
In four large salad bowls, divide salad greens, onions, cherries, marinated tofu and pecans. Lightly dress with balsamic vinaigrette and sprinkle with white cheddar cheese.
Balsamic Vinaigrette
1 teaspoon honey
1/4 cup balsamic vinegar
1 teaspoon crushed garlic
1/2 cup olive oil
1/2 teaspoon Kikkoman soy sauce
Pepper to taste.
Mix all the ingredients and gently shake
To make marinated tofu:
For making a marinated tofu salad, a great tofu marinade is a must!
1 tablespoon Kikkoman soy sauce
1 tablespoon Kikkoman Rice Vinegar
1/2 tablespoon Kikkoman Sesame Oil
1 tablespoon sorghum
1/2 teaspoon fresh garlic
1/2 teaspoon ground ginger
1/2 teaspoon red pepper flakes
Below are some pictures and directions to make baked, marinated tofu. Below is a block of tofu, just before being cut and marinated.
Slice the tofu into the size that you would like the final pieces into. This picture has the tofu sliced into 1/3 inch triangles but in this tofu salad recipe, I sliced the tofu into 1/2 inch by 1/2 inch cubes.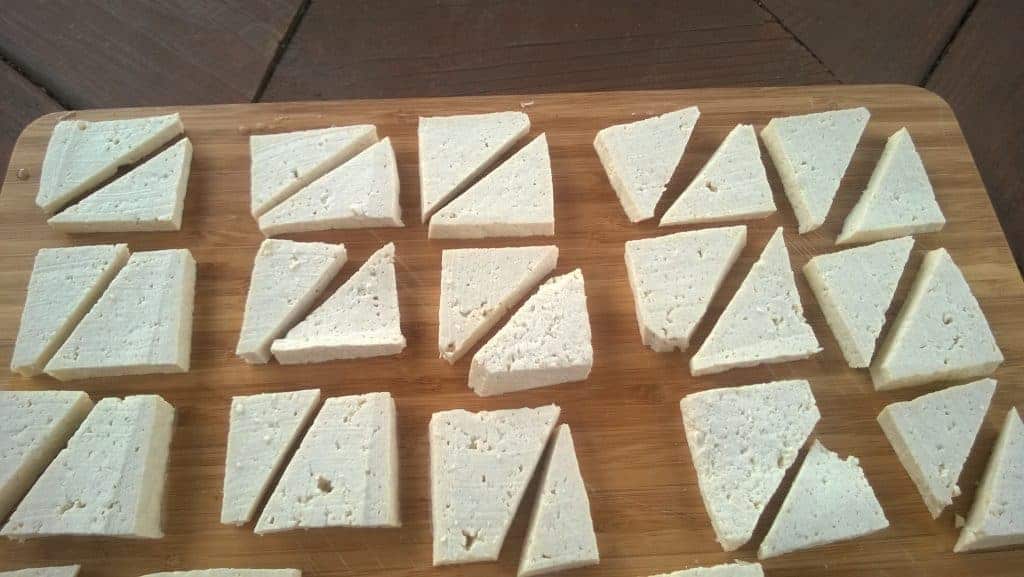 In addition to the Kikkoman's regular soy sauce, rice wine vinegar and sesame oil. They also have a 50 % less sodium, gluten-free tamari soy sauce, a less sodium teriyaki marinade and sauce and a 50 % less sodium, gluten-free teriyaki marinade and sauce.
If you have some people in your family who like a creamy salad dressing, here is one for a vegan ranch!
Make Some Tasty Salad with Tofu
I hope that you give this tofu salad a try using some flavorful soy sauce! Eating salads, vegetables and moving towards a plant-based diet can help lower the calories for those of us cutting back after the holidays and the bulkiness of the plant-based foods and the satisfying taste can help us feel fuller. I am glad that you stopped by the Vine Ripe Nutrition website and blog! I am a registered dietitian nutritionist in Asheville, and you can find out more about me here on my bio page!