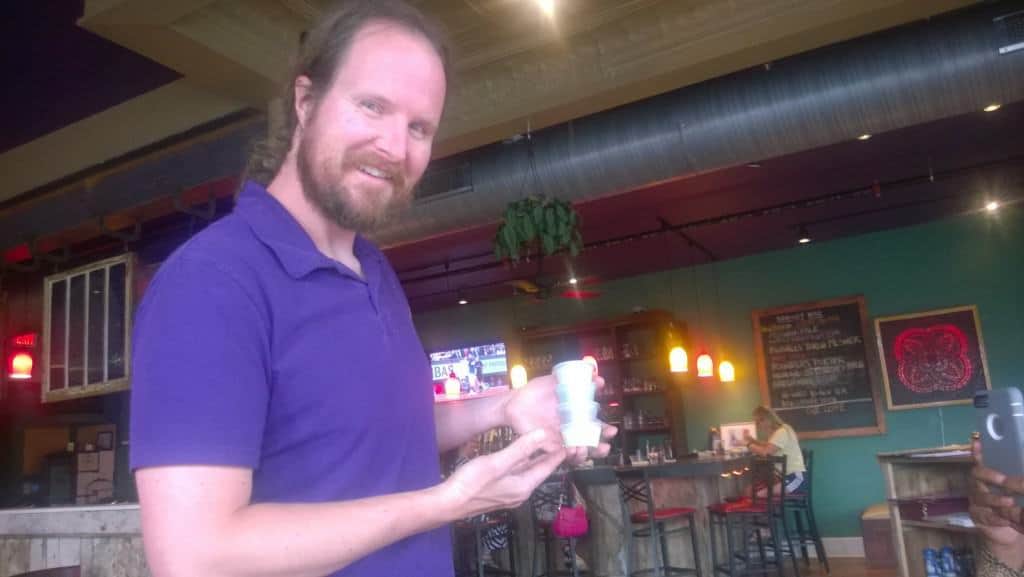 In my recent posts, I have been sharing lunch ideas with you that I hope inspire you to pack your lunch and get creative with your meals. I have shared some benefits to bringing your lunch but sometimes we all want to go out to lunch with a friend at a restaurant by the end of the work week. When its time to leave the lunch at home, try making the restaurant choice a healthy one! Saving money during the week by bringing my lunch, gives me a little more spending money to go somewhere special. And because I saved a lot of time running and getting a walk in most of the week, I have a chance for a more leisure lunch!
Last week, I had lunch with my friend, Aisha with Aisha Adams Media http://aishaadamsmedia.com/ to meet for a delicious, healthy lunch and to talk with Nate Ray, one of the owners of Nine Mile.
First of all, I must share that my family and I have been fans of Nine Mile www.ninemileasheville.com since it beginning, known for its Caribbean inspired pasta and rice dishes. I also found out that it is one of Aisha's favorites restaurants. Its use of fresh vegetables, fruits, lean proteins and healthy fats make it a nutritionist's dream restaurant. But more than it even being healthy, its fun, flavorful, creative combinations and spice blends make it so tasty that it is a living example of how what is good for you can also taste good! Let them know if you want your food mild like I do or "face melt" like my husband. The festive atmosphere with fabulous artwork and reggae music in the background makes me happy in addition to all the delicious food options. They have a whole lot of menu options!
I recently discovered that Nine Mile has a strong commitment to supporting local farms and small businesses in our community. Some of these local foods include Smiling Hara, No Evil Foods, Mountain Foods, West Village Market, West Asheville Tailgate Market and Fresh Point produce, local spring trout and Wild Salmon Company. They receive produce deliveries every day except Sunday so the food is super fresh.
I ordered The Meshach with tofu which had mushrooms, bell pepper and tomatoes over pasta. I gave my meal a two thumbs up. Aisha ordered the Nine Mile. Aisha lives a vegan and gluten free lifestyle so she ordered hers with zucchini noodles and tofu. The Nine Mile features tomatoes, hot peppers, squash and zucchini. Aisha said her food was very delicious also!
If you have not tried Nine Mile, give it a try. They have a locations in Montford and West Asheville! Tell them that Denise and Aisha sent you!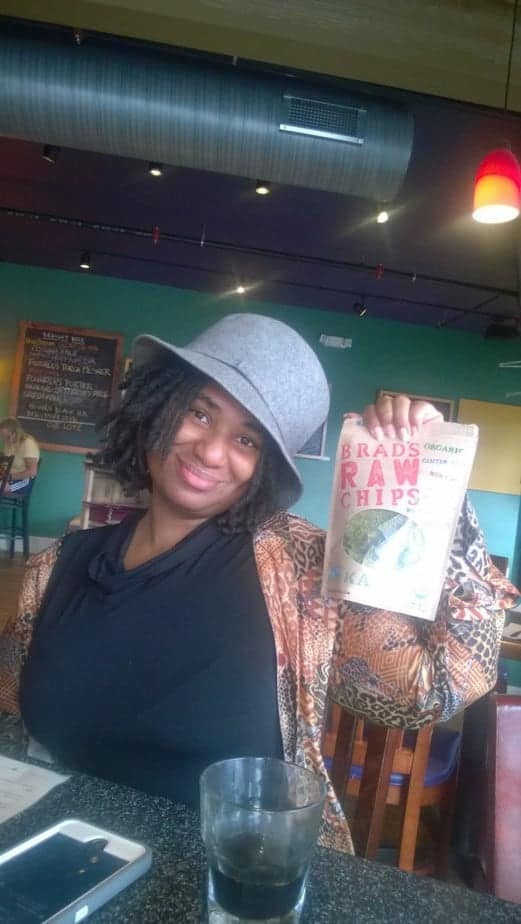 Aisha holding up some kale chips.